Are Battery-powered Smoke Alarms Legal?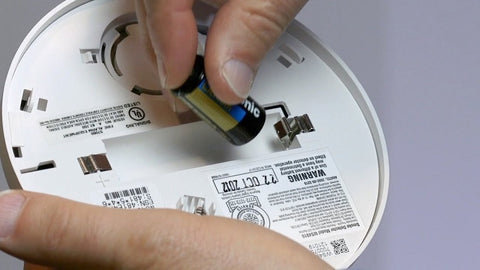 Recently there are new standards that need to be set regarding battery–powered smoke alarms, whenever there are carbon-fueled appliances, a carbon monoxide detector is needed.
Smoke alarms not only detect smoke and fire but have combination units that detect carbon monoxide, so all homes must follow these standards.
Now it has become a part of legislation in many countries to install smoke alarms in every store, home and sleeping areas like in Ontario (Canada).
The standards that must be considered include one smoke alarm in every possible space that is or might exposed to fire specially in kitchen, all alarms should be fitted in ceiling and interlinked.
Not only are these alarms legal, but also very important after the incident of fire at Grenfell tower in London. To escape from fire in unfortunate events you may have only few seconds to escape so to make detection of fire beforehand, these alarms play a vital role.
Smoke alarms that have low battery span must be replaced when smoke alarm doesn't work properly in like every 6 months. These alarms are interconnected so when one smoke alarm detects fire, all other installed alarms produce sound.
Smoke detectors are an essential first line of defense for you and your family. But, install and maintain these devices correctly in order to provide you with sufficient protection.
Hardwired vs. Battery Powered Smoke Alarms
Different smoke detectors may look alike but there are vital features that vary with different models. Some models include a built-in carbon monoxide (CO) detector, which alerts you to deadly levels of this toxic gas according to consumer report.
Hard-wired as the name indicates involves wiring and requires electricity that must be powered by the building in which it is being installed, if there is load shedding or some other issue with electricity these hard-wired smoke alarms must have a backup feature of battery installation.
Hardwired smoke alarms must be replaced with the one of its kind as a battery operated smoke alarm couldn't be its substitute. Hardwired are more generally considered because they do not solely depend upon electricity. They have a battery backup.
Whereas battery-powered smoke alarms are totally dependent upon batteries and we are not sure about the life of a battery. Hardwired alarms have both the power of electricity and batteries so they do not turn off until they shut off externally while the amount of time Battery Powered Smoke Alarms sound depend upon how much battery is left.
In a solution to this problem there are now lithium batteries with the life efficiency of 10 years so the need to replace battery is now reduced. These are also easy to use than the hard-wired Smoke Alarms which installation needed to be interconnected if there are more than one.
What kind of Batteries Do Smoke Detectors Take?
Mostly smoke detectors have alkaline batteries with the voltage of 9V or AA (cylinder shape). These AA batteries are three times more effective than 9V batteries but need to be replaced after every 6 months while some detectors use lithium batteries that have life span of 10 years.
These are the built in batteries and we don't have to replace them, it is also known as hassle-free smoke detector in terms of battery. X-Sense SD01 Smoke Detector 10-Year Battery with the photoelectric sensor of high performance and LED escape light providing a safe path of exit in case of emergency.
They also reduce false alarms and are easy to install. These are approved by ETL and BSI means the products have been tested to set safety standards. Rechargeable batteries are not often considered as you have to replace them again and again.
In a report according to the National Fire Protection Association (NFPA) one quarter of the US homes fires incidents are due to the failure in the functioning of smoke detectors, the main cause were the dead batteries.
How Long Do Smoke Alarm Batteries Last?
It is essential that you see and test home smoke alarms regularly change the batteries in order to assure they are working properly.
Lithium smoke alarm batteries are tamper-proof which means they are sealed inside alarm making battery non replaceable and there wouldn't be a need to replace battery instead whole alarm should be replaced after 10 years while other 9 Volt battery lasts 6 months. There are rechargeable batteries but as they degrade with time and sensitivity in smoke detection is reduced so they are not suitable for smoke alarms.
Any alarm that is bought will contain information about its lasting time and date should be checked on which the system must be changed – this can be up to 10 years.
Changing batteries could be difficult and not safe so sealed tamper proof batteries are preferable. This preference is also based on several tragedies happened in past where alarms have not worked because of the expiration date of batteries or might be removed by people.
The National Fire Protection Association (NFPA) approved the suggestion of changing the batteries in smoke alarm after every 6 months. At First, 10-year smoke alarms are offered that have a built-in 10-year battery, which ends the need for battery replacements for the life of the alarms.
How to Replace Smoke Alarm Batteries?
It's approved to change your fire alarm batteries two times a year. Note down to change your smoke detector batteries when you're doing other adjustments like changing cells in clocks in the fall and spring seasons. This way, it'll be easy to remember.
Some smoke detectors have twist off while some have compartments in which batteries are installed.
To remove the old battery and replace it with new there are number of steps you have to follow. These replacement batteries procedures are different for different detectors but there are some common features, for easy access as these detectors are ceiling mounted, a ladder would be required. Remove the detector by twisting it counter-clockwise in such a way that mounting plate remain on the ceiling and smoke detector is released.
Some smoke detectors will have a tamper-resistant characteristic to stop children from interfering the device. Children might withdraw the smoke detector with the locking pin.
Now the next step is replacing the battery as shown by the smoke detector instructions book or given manual then place the smoke detector back in the mounting joint or bracket and lightly twist clockwise.
The smoke detector should be engaged. Testing part involves the testing button, it is usually present on the face of the unit on smoke detector.
How Often Should You Charge Smoke Alarm Batteries?
You should always change your smoke detector battery soon after it gives a warning beep or a chirp alerting that the battery is low.
In addition, most smoke detector makers recommend that you replace the battery at least one time once in a year. To give yourself an even wider margin of security, the battery should be replaced two times in a year, with the changes equally spaced out.
If an area uses daylight savings time, then change in time can be used as a reminder for changing the battery. Within one year, change the battery once when switching to daylight savings time, then replace it again when switching back to standard time.
Do Smoke Alarms Work Without Batteries?
Present times smoke detectors are wired on one circuit, which means these alarms will in any case work regardless of whether the batteries are dead.
A hardwired smoke detector seem like equivalent as a smoke alarm that is battery-powered when it's on wall or roof, its consistent electrical current restricts the chance of failure.
It's essential to take note that in case of a power outage, hardwired smoke alarms have a battery back-up to ensure it still works but it would in any case work if there's no battery.
If your smoke alarm isn't a two featured model with a CO detector built in, you need to also purchase a CO alarm and set up in your home. CO alarms should be set up outside all sleeping areas and on every level of the home.
Will My Smoke Alarm Stop Chirping If I Take the Battery out?
Despite the fact that most smoke detectors are different, their sounds will in general have similar implications. For instance, in case of a fire, your smoke alarm will continuously give a signal. If it beeps with spaces, possibilities are, the batteries are low.
Regardless, to 100% determine the meaning of the noise, you should consult the manual or producer's website. Moreover, they should also have suggestions as to how to stop smoke detector from blaring. If you believe your smoke detector is not working properly and you are still under your one year warranty, contact warranty for help.
It's a great idea to test smoke detector. Tragically, some of the time those tests turn into your most exceedingly terrible bad dream (where the smoke detector does not stop beeping).
Moreover, the test/silent button can occasionally be pushed even when it was not intended. In any case, if your smoke alarm is yet signaling after attempting the three strategies below, remove the detector and test it when the batteries are not inside.
Any Dirt Smoke alarms have to be cleared of any residue or dust to work accurately. Sadly, if spider webs or other interruption find its way into the smoke alarm, it's at risk to glitch, even in case of a fire.
Moreover, dirt and other residue can also make it to beep. If alarm is yet beeping, blow inside the alarm's vents with the help of blower.
Can You Use a Hardwired Smoke Detector with Battery?
Hardwired detectors come fitted with a battery backup that will continue to work when home lose power. Having two sources of power enhances peace of mind, hoisting the hardwired smoke detector.
Most hard-wired smoke detectors incorporate a 9-volt backup battery that's should kick in if your home loses power. If that battery is running slow, your detector alerts you with a piercing beep.
Prior to doing maintenance work for hardwired smoke detectors, you need to ensure that the power is turned off in the main electrical board. Beside the alert, wiring must likewise be checked by an expert professional.
What Are the Best Battery-powered Smoke Alarms?
While looking for the best smoke detectors, there are different type of mechanisms on the basis of which they work, these include photoelectric and ionization smoke detectors that are smart, helpful and work for safety.
X-Sense XS01-WR Mini Wireless Interconnected Smoke Detector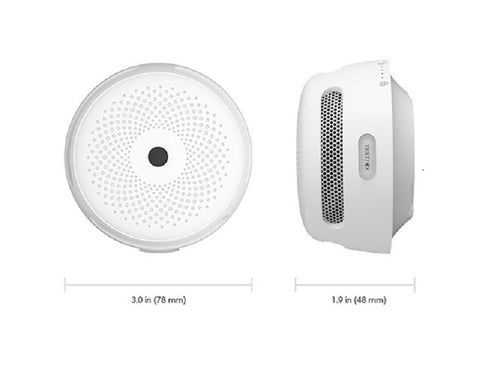 If you are hunting for affordable smoke alarm detectors having smart wireless interconnection with replaceable battery, easy fitting, and no fancy supplements, then XS01-WR is the best choice for you. X-Sense acknowledges the value of your life and your property and offers excellent functionality to keep you away from danger.
Key features:
It is a Wireless technology in which radio frequency is used for the transmission and receiving messages.
If in case one alarm switches off, the rest of the alarms that are interconnected will ring as well.
It has a five-year battery that can be replaced and ten-year life of a sensor.
Also have upgraded photoelectric sensor that is sensitive and reduces bogus alarms.
It is easy and simple to install on walls or roofs without hardwiring.
Safety standards are met and EN 14604 (EU).
X-Sense XS01-WT Wi-Fi Smoke Detector with Replaceable Lithium Battery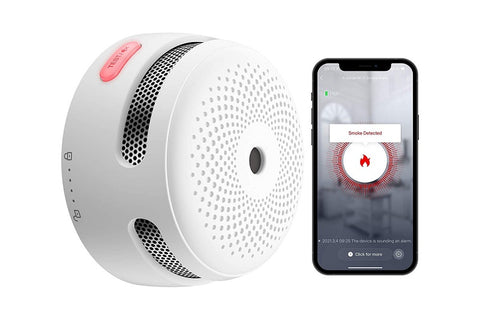 Having reliable smoke detectors installed in your house with Wi-Fi connection and monitoring through mobile application sounds fascinating yet arduous to find. X-Sense XS01-WT combines brilliance with efficiency and allows you to control alarms through your mobile phone. It displays real-time notifications on your mobile phone when there is smoke in the room and supervises battery health. This alarm also functions efficiently, even if there is no Wi-Fi connection, to ensure safety.
Key features:
Lithium battery CR123A is installed.
Wi-Fi connection: 2.4GHz connectivity is valid and couldn't connect with 5GHz network.
Notification of Real-time is received on phones.
Installation is easy.
Advanced photoelectric sensor plays role in increasing the sensitivity of alarm.
X-Sense SD01 10-Year Battery Smoke Detector with Escape Light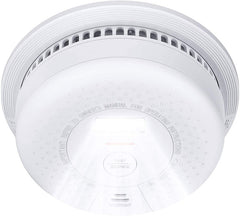 If you are bored with smoke detectors having inefficiencies in functionality and features, then X-Sense SD01 can change your mood with its surprising set of features. SD01 has three colors LED indicators to indicate the severity of smoke level. It also has a Test button to check alarm functionality weekly, a unique air channel design to avoid false alarms and long battery life.
Key features:
Ten-year's lithium battery power with high-capacity is sealed.
It's easily installed on wall or roof.
Auto-check of the detector's working power and battery status.
Safety standards are met UL 217 (US) and EN 14604 (EU).
The upgraded photoelectric sensor can immediately detect dangerous levels of smoke.
Conclusion
Now you have known everything about smoke alarms and how they work. Therefore, you should properly select, and maintain the smoke alarms in your house, so that you can have the peace of mind. Choosing the best Smoke alarm will be an important step for the protection of your family in case of fire. Consider our 3 best suggestions and choose the one which suits you best.