Hard wired smoke and carbon monoxide detectors are the most common type of detectors most people use. They, however, have alternatives that can serve you the same way or even better in some instances. In this release, we are going to look at the other options one should consider, their benefits, and why they should consider the alternatives.
Battery-powered CO detectors and those with backup batteries are some of the alternatives one can opt for. The advantages you get from choosing the alternatives include the fact that your home is protected in the event of a power outage, and how easily you can install them.
All about the Hardwired Smoke and Carbon Monoxide Detector
There are various types of detectors which are the alternative to Hardwired smoke and carbon monoxide detector. There are some with battery backups, AC carbon monoxide detectors, and the hardwired CO detectors. We shall cover their differences in terms of features and specifications.
1. Hardwired smoke and carbon monoxide detectors
An excellent example of such a detector is KN-COSM-IBA, it can detect both fire and the poisonous CO poisonous gas in the environment. It also offers low battery warming and peak memory, which keeps records of previously detected CO levels of 100 and above. Its key features include,
Two types of sensors; electrochemical and ionization
Smart interconnect ability, with up to 24 units of the same model
10-year battery power source
Hush button and LED display lights for different alerts
2-AA backup batteries
Alarm tamper resist
Test button with different functions
Battery lockout system
2. AC Hardwired smoke and carbon monoxide detectors
Kiddle i12010SCO is a good example of an AC hardwired smoke and carbon detector.it also has a back battery. Its key features include,
Both electrochemical and ionization sensors
Smart interconnect feature (can connect up to 24 devices)
Sealed 10-years lithium backup battery
Peak Level Memory for storing previous readings of CO of more than 100ppm
Hush button to silence and test the detector
LED display lights for different alerts
3. CO detectors with backup batteries
The Kiddle i12010SCO is still a perfect example of hardwire detectors with backup batteries, which makes it one of the alternatives to Hardwired smoke and carbon monoxide detector. We have looked at is key features in the previous sections. In this part, we shall, however, dwell on its 10-year lithium sealed backup battery.
The tamper-proof lithium backup battery eliminates the need for frequent replacement since it gives you ten years of service.  It also offers continued services even in the case of power outages.
The Benefits of Hardwired Smoke and CO Detectors
Having a scenario where you don't have to worry about dead or low batteries is very beneficial. Besides the worries, some don't work during power outage, and it's therefore necessary to choose detectors with battery backup options.
The fact that a skilled technician will install them gives you some assurance that they will be strategically installed to serve you efficiently. In addition to professional installation, you have the option to interlink them. After the interlinking, you may also choose to connect them to the alert system of the fire department.
The Alternative to Hardwired Detectors
The alternatives to the alternative to Hardwired smoke and carbon monoxide detector include carbon monoxide detectors with backup batteries, battery-powered, and the AC hardwired CO and smoke detectors. We have already looked at their features but we shall look at the reasons you should go for the alternatives, and the pros and cons of the same.
10% OFF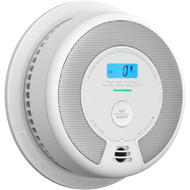 X-Sense SC07 Smoke and Carbon Monoxide Detector
Sealed 10-year lithium battery power supply lasts for the entire life of the alarm.
2-in-1 smoke and CO detector with dual photoelectric and electrochemical sensors.
A single button to test the alarm and temporarily silence nuisance alarms.
Easy to install onto any wall or ceiling without an electrician.
Why you should Choose Battery-Powered Smoke Detectors
Many adverts insist on the importance of regular checking of batteries of smoke alarms. This is, however, not necessary in the case of the mains system. This is because, the hardwired detector powers itself directly from the home's main electrical system. You, therefore, live without the need to check regularly and replace batteries. The worries of low batteries in between the checks are also a thing of the past.
Besides the above, the mains electricity system will contain more than one detector. Their ability to interconnect makes them more suitable for large buildings with different spaces like in cases of stores and shops. The detectors in the interconnection are likely to pick a problem and give a quick alert while a central detector may miss or take longer to sound alerts.  
The Radio Frequency technology in the units triggers an alarm in all of them when one is triggered.  Research and tests have shown that hardwired smoke detectors are more efficient than their battery-powered counterparts.
Pros
They are easy to install; hence you don't require the services of an electrician.
They work during power outage keeping your home safe at all times.
They are easy to modify and move around in case it's necessary.
The cut the cost of installation wires since they do not require such
Hardwired Smoke Alarms or Battery Powered Smoke Detectors
The relevance of his question, in many cases, depends on the specific user of the different detectors. How reliable you are as a homeowner to keep the detector working through the scheduled testing intervals to ensure proper working of the detector is very important.
 Replacing the battery in the required time is a smart way to keep your home safe. Despite that, most people wait until they hear the annoying chirping signals to indicate low battery. If you are among the majority who wait for the low battery alert, then, hardwired smoke detectors are the best option. This is because you are safe as long as there is electricity.  
Conclusively, hardwired smoke and carbon monoxide detectors have alternatives, which include the AC carbon detectors, battery-powered, and those with backup batteries.  The battery-powered detectors, however, seem to be the most suitable alternative. This is because they are easy to install, and they ensure your home is safe even during a power outage.