The Best Smoke Detectors of 2022
Thu, Apr 16, 2020
A smoke detector is a very useful gadget to have in our homes. It alerts us in time against potential damage. While it is difficult to single out one model as the best smoke detector, we have nevertheless compiled a list of top 18 smoke detectors. We have prepared this list based on the performance, quality, reliability, features, and cost of the smoke detectors. We will discuss them one by one later in this article.
Why Do You Need to Install the Smoke Detector Fire Alarm
Before we go any further, let us first highlight the importance of smoke detectors. Why everybody should need to have one in their homes? According to the research conducted by the National Fire Protection Association (NFPA), smoke detectors slash the probability of fire-related deaths by nearly fifty percent. Despite that there was no smoke detectors in 40% of homes that caught fire and reported causalities. International charity and relief giving organization Red Cross also throws its weight behind smoke detectors. According to their study, having both a sprinkler and a smoke detector can bring down the chances of fire-related deaths by as much as 82 percent. It also states that if all the homes in the US have smoke detectors, 900 lives can be saved from fire-related deaths. These figures strongly support the presence of a smoke detector in the house. However, it is equally important that you regularly check your smoke detectors can keep them in working order. NFPA says dead batteries account for some 40 percent smoke detector failures. So, keep checking your smoke detectors for regular replacement and maintenance. 
How to Get the Right Smoke Detector
To answer this question, we need to have some basic knowledge about smoke detectors. We can make the right decision once we know how a smoke detector is powered, how it functions, what are its alarm mechanism, and what additional amenity features are available in them. We will first highlight how and from what sources a smoke detector gets its power.
1. Power Type:
A smoke detector can work both on your regular electricity supply (hard-wired) or it can get its power from batteries. By having a hard-wired smoke alarm, you eliminate the factor of batteries, and you do not have to worry about their maintenance or replacement as there would be none. However, in case of an electricity failure, your smoke alarm would be non-functional, unless you have an alternate source of supplying power. By having a battery-charged smoke alarm, your smoke detector will work even when there is power outage but you will have to keep changing them, once they become old and worn out. The best option is to go for a hybrid set up to supply power to your smoke detector. This makes sure that your smoke detector remains in working order throughout.
2. Alarm Type:
You can get a ionization, photoelectric or both these types of alarms. A photoelectric alarm is made to detect slow-burning and smoldering fire. An ionization alarm will catch a fast-burning and fast-spreading fire instantly. A combination alarm will catch both types of fire and it is better to have it.
3. Other Features:
Technology is bringing new and innovative features in smoke detectors as well. You can have them with light which is effective during nighttime and beneficial for people living in the neighborhood in case the house is empty. Smoke detectors with strobe lights are also available that cater to the hearing-impaired people. You can also get smoke detectors with carbon monoxide detection. 
The Types of Smoke Alarm
Hard-Wired vs. Battery Operated:
Electricity charged (hard-wired) smoke detectors are connected to your electricity supply system. They require professional help to install but their running cost is negligible. You can install the battery-charged smoke detector on your own. But you need to check the batteries regularly to make sure they are working properly. The best option is to go for an electricity charged set up that is backed by a battery in case the electricity supply is disrupted. 
Ionization vs. Photoelectric:
Here again, we strongly recommend that you go for a dual-sensing fire alarm. The one that can detect both a slow build-up of smoke or fire and the flames that rise and spread quickly. In this way you will be saved, no matter what kind of fire emergency you encounter at home.
The Top 16 Smoke Detectors of 2022
Now we come to our main topic: the top 16 smoke detectors. We will discuss them and highlight their key features and their relative and comparative advantages. So, let's get going.
1. Nest protects Smoke Detector
A smart, efficient, and reliable smoke detector that also detects carbon monoxide. It connects to your smartphone, tablet, and other devices through an app. The app is easy to understand. There are different types of alarms, integrated with lights according to the threat levels. It is a little expensive but is very effective. 
Key features:
The split spectrum sensor quickly detects both ionization and photoelectric fires.
Through the app, you can test the smoke alarm and also get notifications when the batteries need changing.
2. ADT Smoke Detector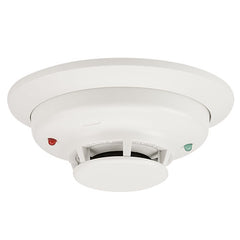 ADT smoke detectors are known for their dependability and robust performance. They also connect to your smart devices via an app and notify you with alerts whenever there is fire. 
Key features:
24/7 monitoring
Can be fully personalized as per your specific requirements.
Very quick response
Emergency buttons, including a 'Smart Check', feature whenever it requires cleaning. 
Connects to ADT's security system and local fire department
High quality
3. Siterwell Smoke Detector and Fire Alarm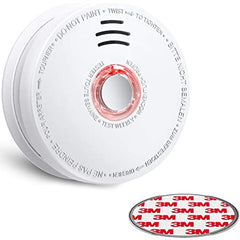 This pack of 3 smoke detectors is made with fire-retardant material. It has LED light signals beside the sound alarm to alert you whenever there is a fire emergency. The smart connectivity through an app will give you round the clock protection. 
Key features:
Easy installation
In the normal working condition, it will give off green LED light which will turn red in case of a fire emergency.
It has photoelectric sensors to detect low-rising flames from any corner. 
4. X-Sense XS01 Mini Smoke Alarm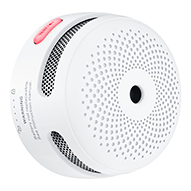 The X-Sense XS01 mini smoke detector with 10-year sealed battery powered. With the advancd photoelectric sensor which is the most accurate and reliable, longest sensing range. This mini smoke alarm can be installed easily on any wall and ceiling.
Key features:
Its photoelectric sensor is said to be very sensitive and has the longest range among its competitors.
It operates on a sealed battery that has the age of 10 years at least.
Meets the European standards of quality and has the approval of TUV.
Automatically check for alarm circuitry and temporary silence of nuisance alarm.
5. X-Sense SD01 Smoke Alarm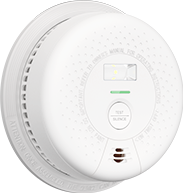 X-Sense SD01 smoke detector and fire alarm. This one again has 10 years' warranty. It is powered by a high capacity lithium battery. An additional feature here is the presence of emergency exit light. It automatically lights up in case of fire and smoke and will help you find your way in smoke. 
Key features:
Easy to install
Automatically checks the workability of the unit and the battery life. 
Equipped with advanced photoelectric sensors for quick detection of fire and smoke.
Compliant with all the international quality standards
6. First Alert Onelink Smoke Detector
It is suited for both fire and carbon monoxide detection. It uses a photoelectric smoke sensor and for carbon monoxide, it makes use of an electromechanical carbon monoxide detector. Being a smart device it is compatible with your mobile, tablet, etc. and will alert you through notifications.
Key features:
Works on a combo of hard-wired and battery backup. The battery has an average life of 10 years. So, it is maintenance-free.
Compatible with both Apple and Android systems.
It can be connected with the existing hard-wired alarms of your house and other onelink devices in such a way that if one device sounds, they all do. 
7. Honeywell Wireless Smoke and Heat Detector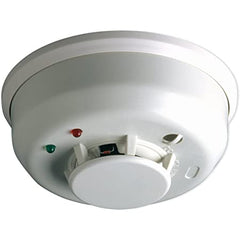 A quality product that comes with approved UL listings for both residential and commercial establishments. It has an improved RF field strength. Due to this, the distance between the detector and the receiver can be further increased without any need for a repeater. 
Key features:
It has a green and red LED light features for normal and emergency conditions.
It is easy to install with a sturdy mounting base to handle uneven surfaces.
It notifies you when it requires cleaning.
8. X-Sense XS01-WR Wireless Smoke Alarm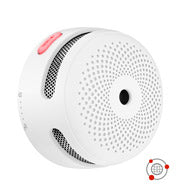 X-Sense is a leading name in security and fire alarm system that is why its products keep appearing in our list. As the name implies it is interconnected with all the other alarms, so if one goes on the others follow suit. X-Sense XS01-WR mini wireless smoke detector, the alarm working and protecting on your full house. 
Key features:
Its photoelectric sensor is said to be very advanced and sensitive. It can also detect false alerts and go off automatically.
Its lithium battery has a life span of 10 years. 
It has a three-color (red-yellow-green) LED light status for those who are short on hearing. The LED has improved visibility to help those who are visually challenged. 
Its alarm has the approval of ETL and complies with the UL 217 standard.
9. Fire Sentry i9040E Smoke Alarm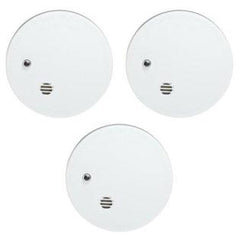 A smoke alarm that is in everybody's reach. It is powered by two 9V batteries and has an ionization sensor for sensing fiery flames. It has a durable body and is easy to install as well. 
Key features:
Due to batteries, it has a wireless connection. 
Comes with a dust cover for added protection.
Its flashing LED light quickly alerts you of any fire and smoke-related emergency.
10. Ardwolf Photoelectric Smoke and Fire Alarm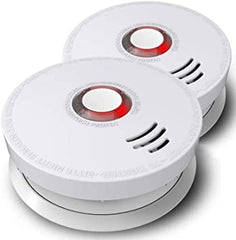 This one also operates on a 9V battery and as the name suggests it has a photoelectric sensor. It alerts you with an 85-decibel powerful alarm. The battery keeps the device going even when there is no electricity.
Key features:
Efficient photoelectric sensor to detect low-forming fumes and smoke.
For re-setting and testing purpose you just need to press a single button.
11. First Alert SA511CN2-3ST Smoke Alarm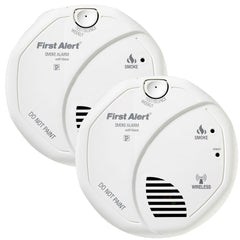 This set of 2 alarms is charged by a battery and communicate wirelessly. If you have other First Alert security devices at home, they will connect to create an integrated home security system. 
Key features:
It produces an 85-decibel alarm to alert you.
There is a button for testing and shutting off false alarms, a warning sign for low battery, photoelectric smoke sensor.
There is an option of programming 11 different locations in your house that will tell you the flashpoint of fire.
Trusted quality from an established manufacturer of smoke alarms. 
12. Elvicto Photoelectric Smoke Detector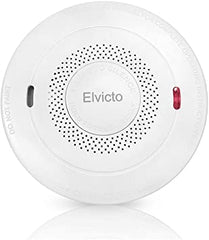 A pair of two alarms that is both dependable and affordable. It is charged by lithium batteries so do not have to worry about wiring or rewiring. It uses both a loud alarm and flashing LED light for alerting you. The photoelectric smoke detector is very reliable and will alert you in time. 
Key features:
The lithium battery comes with a 10 years guarantee.
It is equipped with amenities like a test/silence button, end of life signal, and a loud alarm.
The alarm is loud enough to alert you. 
13. Kidde Smoke alarm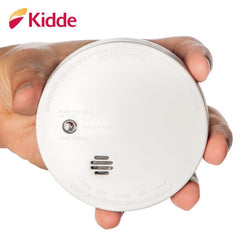 The kiddie smoke alarm is fitted with ionization technology. It comes with a sealed battery that has a life of 10 years. It will stop working on the expiry of that period and there are no replacements required during that period. This makes it a hassle-free and maintenance-free smoke detector. It is also easy to install and gets activated automatically as soon as you mount it. 
Key features:
The flashing red LED alert has four modes: standby, alarm mode, hush mode, and memory set.
It can temporarily silence a nuisance alarm.
14. SimpliSafe Smoke Detector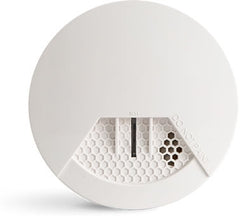 SimpliSafe smoke detector will help you keep your home safe from any fire-related mishap. The detector comes with a very dependable photoelectric smoke sensor. It will not let the fire spread and alert you well in time. 
Key features:
The sensor can distinguish between false and real fire emergencies most of the time.
It can alert you and the firefighters through call and also through SMS/email notifications.
15. First Alert BRK 312OB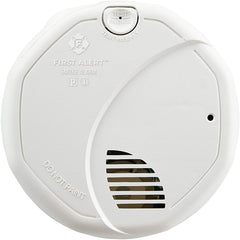 It's got a dual sensing smoke alarm, meaning thereby it has both photoelectric and ionization technologies. It has a proven track record of performance and good quality and it is very easy to install and operate.
Key features:
Wide-ranging fire coverage due to dual sensors
A single button is available for testing the alarm and silencing it.
Battery backup is available
Low battery and alarm originating indications
Works in the temperature range of 40°F (4°C) to 100°F (38°C)
16. Kidde Hardwire Smoke Alarm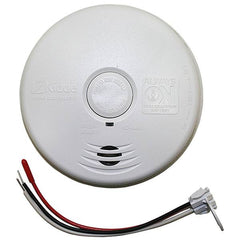 A single piece alarm that is well-designed to protect your home from fire hazards. It has a self-activation battery that starts working when you install it. The installation itself is a fairly simple process and you won't require technical help to do it. 
Key features:
Dust cover protection for the sensors.
Battery backup in case of power failure.
It can be connected with up to 24 devices. 
Where to Install Smoke Detectors?
The National Fire Protection Association has issued the following guidelines regarding their installation at homes:
In all the rooms of the house.
In every floor of the house.
In areas just outside of your bedrooms or sleeping areas.
In living rooms or areas used as living rooms.
In the stairs
To avoid false alarms, they should be installed ten feet away from the cooking areas or appliances.
The smoke detectors should be installed on the ceiling or high up on the wall.
If you have a sloped or arched ceiling, then they should be installed at within the 3 feet area of the peak of the ceiling.
Smoke Detectors Installation and Maintenance Tips:
Wherever needed, seek professional help for the installation of smoke detectors. This is especially true for mains-powered smoke detectors.
Domestic smoke alarms (at home) are much easier to install. Still, don't shy away from seeking help if needed. If you are installing on your own, follow proper procedures and guidelines.
Know about the life span of your smoke detectors. Note it down somewhere where you can see it regularly. In this way, you will not forget when there is time to change them.
Like any other device, it is a good idea to clean the smoke detectors and wipe dust and other impurities off their surface. It will help them function better.
As per a study conducted by FEMA, most fire incidents occur at night when the occupants of the house are asleep. To cope with such emergencies, install one smoke detector in every bedroom. 
The best placement of smoke detectors is on the ceiling. If you have to install them on the wall, it better to be close to the wall, distance of not more than one feet is advisable. 
To avoid false alarms do not install the smoke detectors near kitchens or cooking gadgets that are likely to produce smoke or steam.
You may also like: Top Brand Wi-Fi Smoke Detectors