X-Sense is a global brand that manufactures home safety appliances like smoke detectors, heat detectors, fire alarms, carbon monoxide alarms, etc. In the wireless interconnected system of X-Sense smoke alarms, you will not have to face the trouble of wiring. The interconnected alarms will give and take signals to each other via radiofrequency. These alarms are mostly battery-driven thus can give you protection even in power cuts. But people have queries on interconnected smoke alarms, how they function or work.  So here in this article, you will get answers to some of the wireless interconnect alarms FAQ. 
10% OFF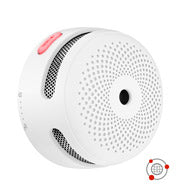 X-Sense XS01-WR Wireless Smoke Detector
Wireless technology uses radio frequency to transmit and receive messages.
If one alarm goes off, the rest of the interconnected alarms will alert as well.
5-year replaceable battery and 10-year sensor life.
Advanced photoelectric sensor is more sensitive and reduces false alarms.
1. How many Wireless Interconnect Smoke Alarm can be Interconnected
In a wireless interconnected smoke alarm system, you can connect up to 24 smoke alarms at a time. For a complete integrated wireless smoke alarm and carbon monoxide alarm system you can use the X-Sense Wireless Interconnect system. NFPA advised that for hardwired units up to 18 units can be interconnected by radiofrequency or by hardwire. Maximum 12 of which will be the smoke alarms and rest will be carbon monoxide alarms for balanced and right safety alerts. X-Sense Wireless Interconnect system thus provides you with the advantage of flexibility and protection at the same time.
2. How to Interconnect X-Sense Wireless Smoke Alarm
To interconnect your X-Sense wireless smoke alarms follow these steps:
Step 1. Remove the battery insulating films from their compartments to power on 2 smoke alarms at a time. Note that for a successful interconnection you need to put only 2 alarms in power at a time.
Step 2. Take one of the two smoke alarms and press its test/silence button 4 times. Then the alarm of that smoke detector will beep once but the LED will flash continuously. This is the indication that it has entered into the interconnecting mode. This alarm will automatically beep and exit the interconnecting mode once you create an interlinked network. To make sure that all smoke alarms enter the same network you will have to ensure that one smoke alarm enters interconnecting mode at a time.
Step 3. For the interconnection of the third smoke alarm press its test/silence button 4 times. Thus it will get connected with the previously connected smoke alarms. You can interconnect up to 24 smoke alarms at a time by this process.
Step 4. Follow the section named 'alarm test' in your user manual to test your smoke alarms.
NOTES:
1. The interconnecting mode will last up to 60 seconds and during this time the LED light will flash continuously. Repeat step number 2 after 60 seconds. If required press the test/silence button of the two alarms to stop sending out RF signals. Then the red LED light will stop flashing and the alarm will get back to its normal status.
2. Before installation makes sure that all your wireless smoke alarms are interconnected.
3. Maximum 24 smoke alarms can be interconnected.
4. Only the XS01-WR alarm can be interconnected with other X-Sense wireless smoke alarms.
How to Disconnect
To disconnect the smoke alarm pres the test/silence button 4 times. The smoke alarm will beep once. Hold it down until it beeps once again. When it is finally disconnected then you can again connect it or enter it to the interlinked network.  
3. Are X-Sense Wireless Smoke Alarms listed to UL Standards?
Yes, X-Sense wireless smoke alarms are listed to UL standards. ETL, the credible and nationally recognized testing lab, lists X-Sense smoke alarms to ANSI/UL 217 standards and carbon monoxide alarms to ANSI/UL 2034 standards.
4. Does X-Sense use photoelectric smoke sensor technology?
Yes, X-Sense wireless interconnected system uses photoelectric smoke sensor technology in it. It is especially useful in kitchens and bathrooms to avoid making false alarms. The ordinary smoke alarms cause nuisance alarms often due to the cooking smoke or steam from the showers. Thus the country requires photoelectric alarms in some of its areas to stop false alarms.
5. How to Silence the X-Sense Wireless Interconnect Smoke Alarm
To silence the smoke alarms you will have to press the test/silence button 4 times and wait until it stops beeping. You can anytime re-connect it by pressing the same button.
6. What type of batteries do X-Sense Wireless Interconnect alarms use?
X-Sense wireless smoke alarms use replaceable 3 V CR123A lithium batteries in it. These batteries are extremely easy to install in any wall or ceiling. They can give you up to 10 years of continuous power. 
7. The length of the X-Sense Wireless Interconnect alarm warranty?
X-Sense wireless interconnected smoke alarms come with 5 years limited warranty. You can even exchange and get a new one if any technical problem occurs during this period.
Hope these answers are helpful to satisfy your queries about X-Sense wireless interconnect alarms FAQ. For more inquiries, you can always contact X-Sense service online or visit your nearest X-Sense store.