Description
Specifications
FAQs
Reviews
X-Sense XS01 Smoke Alarm
Small yet Powerful

Packs outstanding functionality into an elegant design.

Market Approval and Recognition

Meets the UL 217 standard for high durability, quality, and safety.

Easy to Install

No wiring or complex installation procedures.

Low Battery Warning

A low battery notification for device replacement.

Insect-Proof Design

A buffer isolates the sensor from pesky insects.

Loud 85 dB Buzzer

A loud alarm is a life saver.
Compact Design, Powerful Performance
This X-Sense miniaturized smoke alarm packs outstanding functionality into a streamlined design, allowing for more rapid and accurate detection of smoldering fires.
10-Year Battery Life for a Decade of Constant Protection
A high-capacity battery provides 24/7 protection for the entire family, so you won't need to worry about battery replacements or power failures.
Premium Quality Material for Enduring Use
Durable, corrosion-resistant, and flame retardant, this X-Sense smoke alarm has been upgraded to provide reliable protection for your home.
A Loud Buzzer in a Life Saving Alarm
Once a fire starts, this X-Sense smoke alarm will emit an 85 dB alarm, ensuring your entire family is woken up and given time to evacuate.
Specifications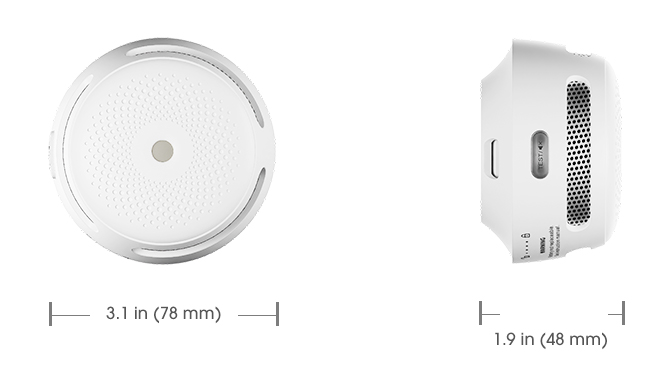 | | |
| --- | --- |
| Item Model Number | XS01 |
| Operating Life | 10 years |
| Power Source | 3 V CR123A lithium battery (non-replaceable) |
| Sensor Type | Photoelectric |
| Safety Standards | UL 217, EN 14604:2005 |
| Certification | TÜV and CE listed |
| Standby Current | < 6 µA (avg.) |
| Alarm Current | < 30 mA (avg.) |
| Operating Temperature | 40–100°F (4.4–37.8°C) |
| Operating Relative Humidity | ≤ 85% RH (non-condensing) |
| Alarm Loudness | ≥ 85 dB at 10 ft (3 m) |
| Silence Duration | ≤ 9 minutes |
| Indicator Light | Red LED |
| Color | White |
| Material | ABS |
| Installation Method | Screw fixings and mounting bracket supplied |
| Usage | Indoor use only |
| Product Weight | 0.20 lb (92 g) |
| Product Dimensions | 3.0 × 3.0 × 1.9 inches (78 × 78 × 48 mm) |
| Package Contents | 1 x Alarm Unit + 1 x Mounting Bracket + 2 x Screws + 2 x Anchor Plugs + 1 x User Manual |
FAQs
What are the differences among the XS01, XS01-WR, and XS01-WT?

XS01: A standalone smoke detector that can quickly and accurately detect smoldering fires. However, it cannot be interconnected or connected to Wi-Fi via the app.

XS01-WR: A wireless interconnected smoke detector that can be interlinked with up to 24 X-Sense wireless alarms. If one detector is triggered, all detectors will alarm, delivering earlier alerts.

XS01-WT: A smart Wi-Fi smoke alarm that can be connected to Wi-Fi via the app. It sends alerts to your phone and lets you know what's going on in and around your home, even when you're away.

RC01: RC01 remote controller only works with XS01-WR (interconnected) smoke detector.

If you want to learn more about XS01 Series, CLICK HERE.

Does this type of smoke alarm use photoelectric or ionization technology?

X-Sense adopts photoelectric technology, which is more sensitive and eco-friendly.

Do they have a light that flashes periodically that lets you know that the unit is on and working?

The red LED indicator flashes every 60 seconds in standby mode, indicating normal operation.

How will these alarms notify you when the battery is low? I see that there is an LED, but is there also an audible alarm?

When the device has a low battery level, the red LED indicator will flash every 60 seconds, and the device will beep once every 60 seconds.

Are these smoke alarms good for un-heated garages?

We do not recommend that you install this device in the garage. The dust in your garage may cause false alarms, and the inside temperature and humidity may exceed our recommended range, reducing product life.

Can it be hung on a wall, or does it need to be hung on a ceiling?

The device can be installed on a wall or ceiling. It is better to install it on the ceiling, as smoke usually reaches the ceiling first.

Are these devices interconnected? If one goes off in my basement, would the alarms on the upper level be triggered at the same time?

This device works as a standalone unit. If you want interconnected alarms, you can purchase X-Sense model XS01-WR smoke alarms in the X-Sense store.

Do these smoke alarms have a flashing LED light that flashes while in normal operation? The reason I ask is because I'm planning on installing one in every bedroom.

The X-Sense model XS01 is definitely the way to go for your bedrooms. The LED indicator flashes red once every 60 seconds when working normally. This light is fairly dim and shouldn't bother you or disturb your sleep.

Can this mini smoke detector be interconnected with other devices?

This is a standalone alarm and cannot be interconnected. If you'd like to purchase interconnected alarms, check out the X-Sense XS01-WR alarm available in our store.