Description
Specifications
FAQs
Reviews
Learn More About X-Sense SD19-W Wireless Interconnected Smoke Detector
Wireless Interconnection

Links together wirelessly by radio frequency so when one alarm sounds, all alarms in the system will sound.

Total Home Coverage

Connects up to 24 Link⁺ wireless alarms to detect potential danger anywhere in your home and increase your total home protection.

LED Indicator

Features a red flashing light with audible beeps to let you know the detector's working status.

10-Year Battery

A built-in 10-year lithium battery means no more having to replace batteries and continuous power for 24/7 protection.

Insect-Proof Design

An effective insect-proof filter design prevents small insects from entering the sensor and causing false alarms.

Market Approval and Recognition

Meets the UL 217 standard for high durability, quality, and safety, ensuring its reliable performance.
Wide-Range Coverage for the Entire Home
Up to 24 Link⁺ wireless alarms can be interconnected to create a home security network, so when one alarm sounds, all alarms sound. You will be able to hear and react to the alarm from anywhere in the house, giving you and your family peace of mind knowing your entire home is fully protected.
Quick Location of Source Alarm
The faster the source alarm can be located, the faster action can be taken. To determine which alarm is the source, simply press the test/silence button on one of the interlinked units. If all alarms are muted, the device you pressed is the source alarm, but if another alarm is still sounding, then that one is the source alarm.
Automatic Self-Check to Ensure Reliable Performance
This wireless interconnected smoke detector has been fitted with an automatic self-test function which ensures the unit is functioning properly. Every 60 seconds, the unit tests its battery, sensor, and critical circuits to ensure fast and accurate alerts.
10-Year Battery Life for Uninterrupted Protection
The battery life of a detector is an important part of choosing an alarm. The 10-year sealed battery in this detector will last a decade, providing 24/7 protection for the entire family and eliminating the need for battery replacements. A low battery warning will remind you when it's time to replace the detector.
Specifications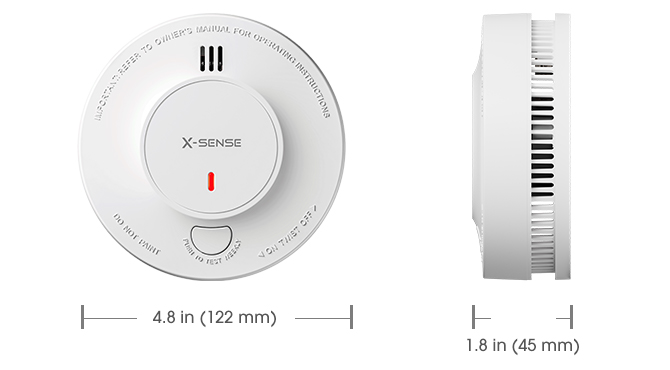 | | |
| --- | --- |
| Item Model Number | SD19-W |
| Operating Life | 10 years |
| Power Source | 3 V CR123A lithium battery (non-replaceable) |
| Sensor Type | Photoelectric |
| Safety Standards | UL 217 and EN 14604:2005 |
| Certification | TÜV and CE listed |
| Standby Current | < 6 µA (avg.) |
| Alarm Current | < 30 mA (avg.) |
| Operating Temperature | 40–100°F (4.4–37.8°C) |
| Operating Relative Humidity | ≤ 85% RH (non-condensing) |
| Alarm Loudness | ≥ 85 dB at 10 ft (3 m) |
| Silence Duration | ≤ 9 minutes |
| Operating Frequency | 915 MHz (UL), 868 MHz (TÜV) |
| Maximum Number of Interconnected Units | 24 wireless units (only compatible with X-Sense Link+ wireless alarms) |
| Indicator Light | Red LED |
| Color | White |
| Material | ABS |
| Installation Method | Screw fixings and mounting bracket supplied |
| Usage | Indoor use only |
| Product Weight | 0.38 lb (171 g) |
| Product Dimensions | 4.8 x 4.8 x 1.8 inches (122 x 122 x 45 mm) |
| Package Contents | 1 x Alarm Unit + 1 x Mounting Bracket + 2 x Screws + 2 x Anchor Plugs + 1 x User Manual |
FAQs
Will the battery last 10 years? Can it be replaced?

This detector has a sealed lithium battery that lasts 10 years without needing to be replaced. When the battery is weak, you should replace the entire unit.

How will these alarms notify you when the battery is low?

When the battery becomes low, the red LED light will flash once with one beep every 60 seconds. Each alarm will give its own warning independent from the others.

Can it be connected to Amazon Alexa?

Though this unit is a wireless interconnected combination detector, it is not Wi-Fi compatible, so it cannot be controlled by an app nor work with any AI assistants. However, you should check out the X-Sense XS01-WT smart Wi-Fi smoke detector if you want a Wi-Fi alarm.

Does X-Sense provide a combination CO/smoke detector that can be interconnected with other alarms?

Yes! Our X-Sense Link⁺ series includes smoke alarms, carbon monoxide alarms, and combination smoke and carbon monoxide alarms that can be interlinked with each other to create a wireless security network using advanced RF technology.

Can I customize the wireless network?

Of course yes. Wireless alarms in a multi-pack have been pre-connected and are ready to use. For a customized network, you can simply disconnect the devices from the network, add new devices to the network, or create multiple networks.

Is it safe to install the detector with heavy-duty fasteners or magnetic pads?

It is not recommended to use heavy-duty fasteners or magnetic pads which could interfere with the device working properly. Instead, mount the alarm to a wall or ceiling with the included mounting bracket, screws, and anchor plugs for safe use.