Description
Specifications
FAQs
Reviews
Learn More About X-Sense CO03D-W Wireless Interconnected Carbon Monoxide Detector
Wireless Interconnection

If one alarm is triggered, all other units will alert.

Full Home Coverage

Up to 24 X-Sense Link⁺ alarms can be interlinked to create a full-home safety network.

Test/Silence Function

Test a device or mute a false alarm with the simple push of a button.

Hassle-Free Installation

Easy to mount onto any wall by twisting clockwise onto the bracket.

Replaceable Batteries

3 replaceable AA batteries provide continuous power to this carbon monoxide alarm.

Self-Check Function

A regular self-test helps detect faults and ensures normal functioning.
Expandable Wireless Safety Network
Create a reliable, stable home safety network by adding X-Sense Link⁺ series wireless detectors to fully monitor and protect your home.
Easy Location of Source Alarm
When danger is detected, the interlinked alarms will flash in different patterns—the source alarm will flash red, and all others will alternate flashing red and green.
Faster Response to CO Levels
Adopting a cutting-edge Figaro electrochemical CO sensor, this detector continuously monitors carbon monoxide in the air and will provide early warning based upon the concentration level.
Informative LCD
This LCD allows you to see if there are dangerous levels of CO in the air and to take action before any harm is done. It also gives an at-a-glance view of the working status and battery level.
Specifications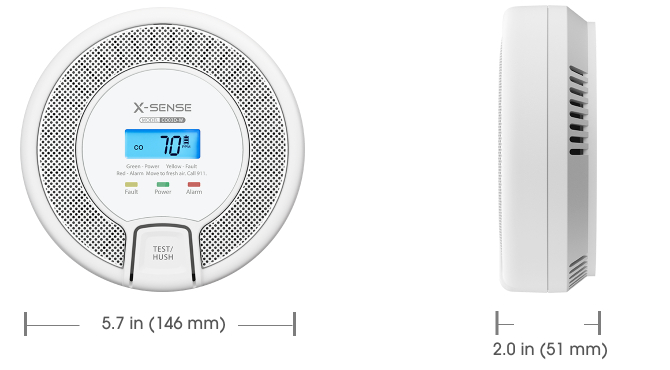 | | |
| --- | --- |
| Item Model Number | CO03D-W |
| Operating Life | 10 years |
| Power Source | 3 x 1.5 V AA alkaline batteries (replaceable) |
| Sensor Type | Electrochemical |
| Safety Standards | EN 50291:2010 |
| Certification | Kitemark and CE listed |
| Standby Current | < 20 µA (avg.) |
| Alarm Current | < 45 mA (avg.) |
| Operating Temperature | 40–100°F (4.4–37.8°C) |
| Operating Relative Humidity | 10%–85% (non-condensing) |
| Alarm Loudness | ≥ 85 dB at 3.28 ft (1 m) |
| Silence Duration | ≤ 9 minutes |
| Indicator Light | LED (red/yellow/green) |
| Display | LCD |
| Color | White |
| Material | ABS |
| Installation Method | Screw fixings and mounting bracket supplied |
| Usage | Indoor use only |
| Product Weight | 0.29 lb (133 g) |
| Product Dimensions | 4.3 x 4.3 x 1.5 inches (110 x 110 x 37 mm) |
| Package Contents | 1 x Alarm Unit + 1 x Mounting Bracket + 3 x 1.5 V AA Batteries + 2 x Screws + 2 x Anchor Plugs + 1 x User Manual |
| Operating Frequency | 915 MHz (UL), 868 MHz (TÜV) |
| Maximum Number of Interconnected Units | 24 wireless units (only compatible with X-Sense Link⁺ wireless alarms) |
| Transmission Range | Over 820 ft (250 m) in open air |
FAQs
What are the differences between the CO03D and CO03D-W?

CO03D: A standalone carbon monoxide detector that can quickly and accurately detect CO. However, it cannot be interlinked with other X-Sense Link⁺ wireless alarms.

CO03D-W: A wireless interconnected carbon monoxide detector that can be interlinked with up to 24 X-Sense Link⁺ wireless alarms.

RC01 Pro: RC01 Pro remote controller only works with X-Sense Link⁺ series wireless alarms, including the CO03D-W wireless interconnected carbon monoxide detector.

Does X-Sense provide a combination CO/smoke detector that can interconnect with other alarms?

Yes! The X-Sense Link⁺ wireless interconnected combination alarms can be interlinked with other smoke alarms and carbon monoxide alarms in this series via advanced RF technology.

How long do the batteries last?

The 1.5 V AA alkaline batteries will last for at least 3 years under normal conditions.

How can I tell if my device is functioning properly and monitoring for CO leaks?

The green LED will flash once every 60 seconds while in standby mode, which indicates that it is working properly. When the CO concentration reaches 30 ppm or higher, the LCD will display the concentration level.

What is the recommended installation location and height level?

It is best to install a carbon monoxide alarm on a wall. If you want to install a CO alarm in a room with a fuel-burning appliance, it should be installed above any doors and windows but at least 5.9 inches (150 mm) below the ceiling. If you want to install this CO alarm in a bedroom, mount the CO alarm relatively close to where the occupant will be sleeping.

Will cooking trigger false alarms?

False alarms are highly unlikely. Unlike smoke alarms, CO alarms are not affected by ambient particles such as dust, steam, or cooking fumes.

Do I have to run a weekly test manually, or will the detector automatically run the test?

The carbon monoxide alarm has an automatic self-check function to ensure that the key sensor and critical circuits are working properly. However, we also recommend that you press the test/silence button once a week to verify that the alarm is still working properly.