Description
Specifications
FAQs
Reviews
X-Sense SC08 Combination Smoke and Carbon Monoxide Alarm
2-in-1 Protection

Provides complete protection from both smoke and carbon monoxide in a single device for your convenience.

Informative LCD

Built with an easy-to-read backlit LCD that clearly displays real-time CO concentrations, battery status, and working status.

Intelligent Chipset

Equipped with dual sensors and an advanced chipset, enabling quick, accurate detection of dangerous smoke and CO levels.

10-Year Battery

Built with a sealed lithium battery that allows you to enjoy peace of mind, knowing the alarm is always monitoring your home 24/7 for up to 10 years.

LED Indicator

Features a multi-colored LED indicator that flashes red, green, or yellow, paired with audible beeps, to indicate the alarm's different working states.

Self-Check Function

Performs an automatic electronic self-test every 60 seconds, ensuring that the key sensors and battery are working properly.
Twice the Protection from One Alarm
Fire and carbon monoxide are 2 terrible threats to our daily lives, so X-Sense has made it easier to protect yourself from both! This combination alarm has adopted the latest in sensing technologies that work together to detect both fire and the odorless, colorless, tasteless gas known as CO—the silent killer.
Convenient and Easy-To-Read LCD
An easy-to-read backlit LCD shows real-time CO concentrations, allowing you to clearly discern the CO levels in the surrounding environment. When the battery is low, if there is a fault, or if the device has reached its end of life, the LCD will tell you in a timely manner.
10-Year Battery for Hassle-Free Protection
The sealed lithium battery will power the unit for the entirety of its 10-year life, eliminating the need for battery replacement. This alarm will protect you from both fire and carbon monoxide, even during power outages!
Automatic Activation
This device is easy to mount onto any wall or ceiling with the provided mounting bracket, screws, and anchor plugs. The alarm will automatically activate when properly attached to the mounting bracket. There are no pull-tabs or switches; everything is automatic!
Specifications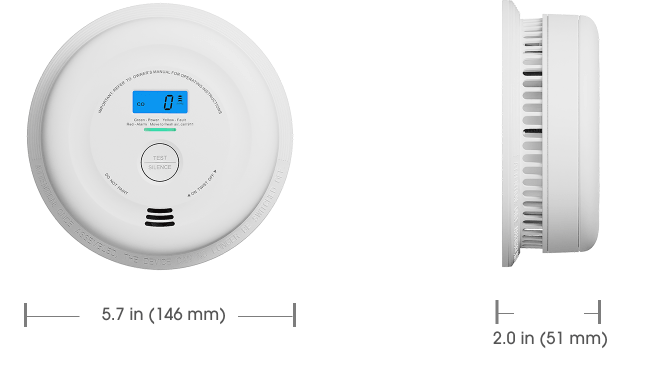 | | |
| --- | --- |
| Item Model Number | SC08 |
| Operating Lifetime | 10 years |
| Power Source | 3 V CR123A lithium battery (non-replaceable) |
| Sensor Type | Smoke: photoelectric; CO: electrochemical |
| Safety Standards | UL 217, UL 2034, ULC S531, CSA 6.19-01, EN 14604:2005, EN 50291 |
| Certification | Kitemark and ETL listed |
| Standby Current | < 6 µA (avg.) |
| Alarm Current | < 60 mA (avg.) |
| Operating Temperature | 40–100°F (4.4–37.8°C) |
| Operating Relative Humidity | 10%–85% (non-condensing) |
| Alarm Loudness | ≥ 85 dB at 10 ft (3 m) |
| Silence Duration | Smoke: ≤ 9 minutes; CO: ≤ 6 minutes |
| Display | LCD |
| Indicator Light | LED (red/yellow/green) |
| Color | White |
| Material | ABS/PC |
| Installation Method | Screw fixings and mounting bracket supplied |
| Usage | Indoor use only |
| Product Weight | 0.66 lb (300 g) |
| Product Dimensions | 5.7 × 5.7 × 2.0 inches (146 × 146 × 51 mm) |
| Package Contents | 1 × Alarm Unit + 1 × Mounting Bracket + 3 × Screws + 3 × Anchor Plugs + 1 × User Manual |
FAQs
Are the batteries CR2032? 

No, this unit comes with a sealed CR123A lithium battery that can last for 10 years and cannot be replaced.

Are electrochemical sensors the same as ionization sensors?

No, they are different sensors. Ionization sensors are used to detect smoke, and electrochemical sensors are used to detect carbon monoxide. The SC08 adopts a photoelectric sensor which is more sensitive to smoldering fires when compared to an ionization sensor, allowing you to detect smoke or fire earlier than before.

What does 'non-hardwired' mean?

This unit comes with a sealed 10-year lithium battery with no need for wiring or AC power, so it is regarded as non-hardwired.

Is this good for natural gas?

No, this product is only used to detect smoke and carbon monoxide.

Does a green light flash every minute in standby mode, and does it also flash every minute if CO is detected for a short amount of time?

Yes, the LED indicator flashes green once every 60 seconds in standby mode. When the CO exists for a short time, the alarm will not be triggered, so the unit is still in standby mode.

Can this alarm be interconnected?

These alarms work independently, and they are not interconnected. Wireless interlinked smoke alarms are currently available, and we will launch wireless CO alarms and wireless combination alarms later this year. Please stay tuned to hear about our latest updates.

What does auto-check mean?

Auto-check means the device automatically checks its electronics every 60 seconds to ensure that the key sensors and critical circuit are functioning properly. The LED indicator will flash green every 60 seconds, indicating it is functioning properly.

Can it be used in a garage where it can get below freezing and still function when the heat is on?

The optimum operating temperature is between 40°F (4.4°C) to 100°F (37.8°C). In extreme weather conditions, the product performance and lifetime will be affected. Generally, there is heavy dust in the garage, which may cause false alarms.