Description
Specifications
FAQs
Reviews
X-Sense SD01 Smoke Alarm
LED Escape Light

Quickly and safely makes your way out in an emergency.

360° Monitoring

Keeps an eye on smoke concentration from all directions at all times.

Advanced Photoelectric Sensor

Detects smoldering fires in seconds and alerts you as soon as possible.

10-Year Battery

No need to worry about power failures or frequent battery replacements.

Dust-Proof Design

Ensures that dirt and dust won't affect device performance.

Test/Silence Button

One touch to test the alarm or temporarily silence it.
LED Escape Light
Once an alarm is triggered, a clear escape route will be illuminated by LED lights, helping you quickly evacuate to safety.
360° Monitoring with No Blind Spots
A 360° air intake system allows for constant monitoring of smoke concentration from all directions, enabling you to have complete peace of mind, knowing that your home is fully monitored and protected.
Dust-Proof, Durable Design
High standards in product design, manufacturing, and testing ensure delivery of the most durable and reliable devices available. A dust-proof plating keeps dust and dirt away, maintaining optimum device performance.
10-Year Battery Life
A 10-year sealed lithium battery provides uninterrupted 24/7 protection of you and your home, freeing you from worrying about frequent battery replacements or power failures.
Specifications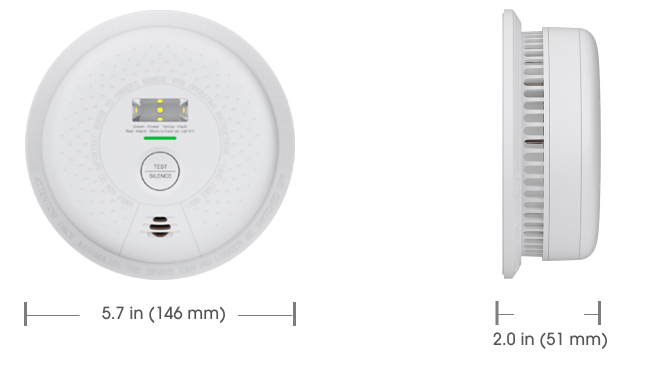 | | |
| --- | --- |
| Item Model Number | SD01 |
| Operating Life | 10 years |
| Power Source | 3 V CR123A lithium battery (non-replaceable) |
| Sensor Type | Photoelectric |
| Safety Standards | UL 217, ULC S531, EN 14604:2005 |
| Certification | Kitemark and ETL listed |
| Standby Current | < 6 µA (avg.) |
| Alarm Current | < 90 mA (avg.) |
| Operating Temperature | 40–100°F (4.4–37.8°C) |
| Operating Relative Humidity | ≤ 85% RH (non-condensing) |
| Alarm Loudness | ≥ 85 dB at 10 ft (3 m) |
| Silence Duration | ≤ 9 minutes |
| Indicator Light | LED (red/yellow/green) |
| Color | White |
| Material | ABS/PC |
| Installation Method | Screw fixings and mounting bracket supplied |
| Usage | Indoor use only |
| Product Weight | 0.63 lb (284 g) |
| Product Dimensions | 5.7 x 5.7 x 2.0 inches (146 x 146 x 51 mm) |
| Package Contents | 1 x Alarm Unit + 1 x Mounting Bracket + 3 x Screws + 3 x Anchor Plugs + 1 x User Manual |
FAQs
Is the LED escape light bright enough to wake me up? Is this ADA rated for people with disabilities?

The LED indicator is fairly dim and will not disturb most people. The escape light is used for emergency lighting and does not comply with American standards for people with disabilities.

Does the battery life really last 10 years? Can it be replaced?

The battery has a 10-year lifespan without replacement. If your alarm reaches its lifespan, we suggest you replace the entire unit.

What is this made of?

This device has a sensitive sensor with an intelligent chipset and corrosion-resistance PC plastics. For further information, please refer to the user manual or contact our customer service.

Can I just install the detector by hanging it on a nail?

We do not recommend you install this device by hanging it on a nail, which can make the device fall off of a wall easily. You should install the device onto a ceiling, following the procedures in the user manual provided, and then securely fix it to prevent it from falling.

Once this alarm is mounted and activated, can it be unscrewed from the base and relocated to another place without affecting it? I have more identical screws.

Yes, this device can be unscrewed from the base, but you need to ensure the device stays on. You cannot deactivate a device temporarily and resume using it afterwards. Once it is deactivated, it will no longer function, and you need to replace the entire unit.

Does this work for vape smoke?

It depends on smoke concentration when you use a vape. If smoke concentration from a vape reaches the alarm level, the device will alarm.

Can this smoke alarm detect CO as well?

This device can only detect smoke concentration. If you want a device that detects both smoke and carbon monoxide detection, then you can choose from our combination detectors in the X-Sense website.

Why does my alarm keep going off? Sometimes every day, sometimes a week will go by between alarming. There's never any smoke or other reason to set it off.

Our products seldom make false alarms. We recommend that you check the installation and maintenance of your device. For example, see if the device has been clogged up with dust. For any questions, please contact our customer service.