Description
Specifications
FAQs
Reviews
X-Sense SD2K0AX Photoelectric Smoke Detector with 10-Year Battery
Advanced Photoelectric Sensor

An advanced photoelectric sensor enables the alarm to detect smoldering fires in seconds.

360° Monitoring

A 360° air intake system monitors smoke concentrations from all directions.

Market Approval and Recognition

Meets the UL 217 standard for high durability, quality, and safety.

Low Battery Warning

Reminds you to replace the unit to ensure constant protection of your home and family.

Insect-Proof Design

Prevents small insects from entering the alarm, enabling accurate, precise alarms.

Test/Silence Button

Allows you to temporarily silence an alarm or determine if the alarm is working properly.
Quick and Accurate Detection
Fires can be deadly, but can often start unnoticed. This X-Sense smoke detector can accurately detect smoldering fires and alert you swiftly, giving you time to prepare for an emergency.
10-Year Battery Life for Constant Protection
A built-in 10-year lithium battery provides uninterrupted 24/7 protection for the entire family and saves you from constantly having to replace batteries or worry about power failures.
Self-Check Function
This detector will automatically perform a self-check every 60 seconds and notify you of any abnormalities via a flashing light and beeping.
Wire-Free Installation in Minutes
Easily install the alarm with the provided screws and anchor plugs for a secure, sturdy fit. Or, purchase a 2.8 in (70 mm) magnetic pad to mount it to a wall or ceiling.
Specifications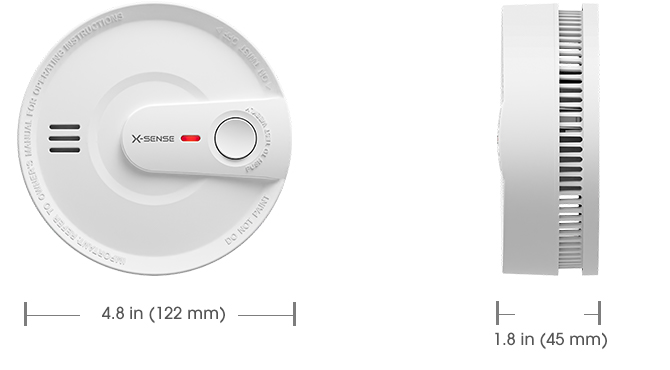 | | |
| --- | --- |
| Item Model Number | SD2K0AX |
| Operating Life | 10 years |
| Power Source | 3 V CR123A lithium battery (non-replaceable) |
| Sensor Type | Photoelectric |
| Safety Standards | EN 14604:2005 |
| Certification | TÜV and CE listed |
| Standby Current | < 6 µA (avg.) |
| Alarm Current | < 30 mA (avg.) |
| Operating Temperature | 40-100°F (4.4-37.8°C) |
| Operating Relative Humidity | ≤ 85% RH (non-condensing) |
| Alarm Loudness | ≥ 85 dB at 10 ft (3 m) |
| Silence Duration | ≤ 9 minutes |
| Indicator Light | Red LED |
| Color | White |
| Material | ABS |
| Installation Method | Screw fixings and mounting bracket supplied |
| Usage | Indoor use only |
| Product Weight | 0.38 lb (171g) |
| Product Dimensions | 4.8 x 4.8 x 1.8 inches (122 x 122 x 45 mm) |
| Package Contents | 1 x Alarm Unit + 1 x Mounting Bracket + 2 x Screws + 2 x Anchor Plugs + 1 x User Manual |
FAQs
Does the battery life really last 10 years? Can it be replaced?

The battery has a 10-year lifespan without replacement. If your alarm reaches its lifespan, we suggest you replace the entire unit.

Does this type of smoke alarm use photoelectric or ionization technology?

X-Sense adopts photoelectric technology, which is more sensitive and eco-friendly.

Do they have a light that flashes periodically that lets you know that the unit is on and working?

The red LED indicator flashes every 60 seconds in standby mode, indicating normal operation.

How will these alarms notify you when the battery is low? I see that there is an LED, but is there also an audible alarm?

When the device has a low battery level, the red LED indicator will flash every 60 seconds, and the device will beep once every 60 seconds.

Are these devices interconnected?

This device works as a standalone unit. If you want interconnected alarms, you can purchase X-Sense model XS01-WR smoke alarms in the X-Sense store.

Can I mount this device using a magnetic pad?

Yes, you can purchase 2.8 in (70 mm) diameter magnetic pads to install this device onto a wall or ceiling. However, to ensure a secure fit, it is best to use the provided screws and anchor plugs. For more details, please refer to the user manual.

Does this product operate without the need for wiring? Can I just turn it on and have it start operating?

Yes, this alarm is battery-operated. It requires no AC wiring or power outlets, allowing for effortless installation in any ideal location. Simply attach the mounting bracket onto the surface of a wall or ceiling with the provided screws and mount the alarm into the bracket by pushing them together and twisting the unit clockwise. After properly installed, the alarm will automatically activate.