Description
Specifications
FAQs
Reviews
Learn More about the X-Sense HFS07 Smart Smoke Detector Kit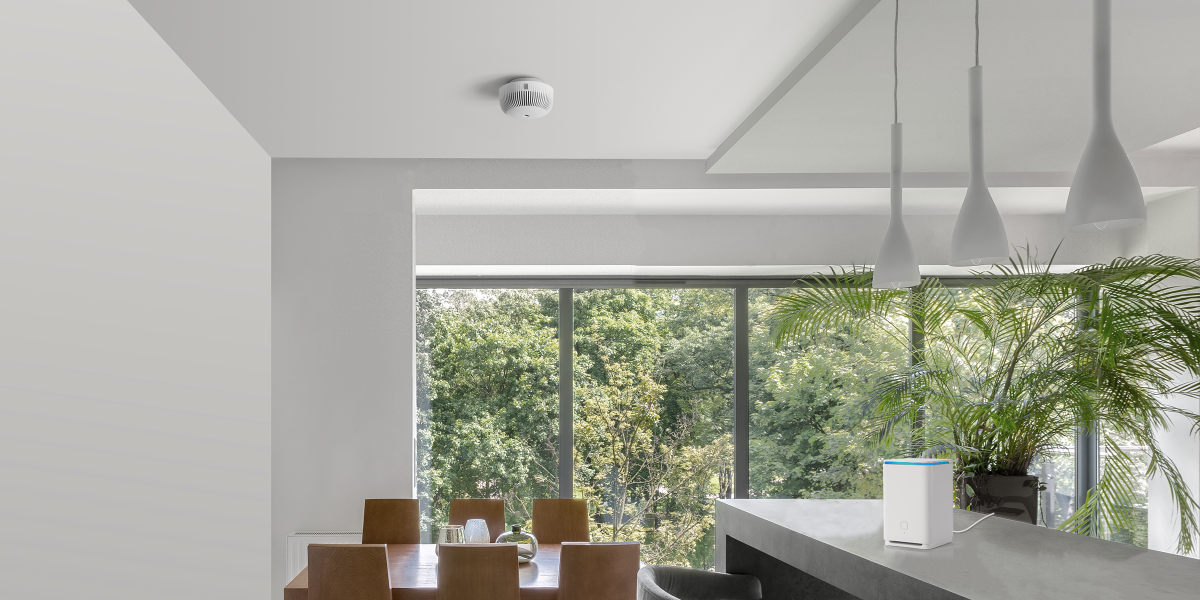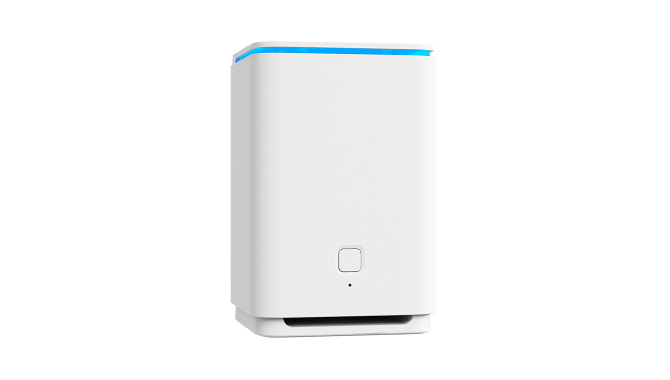 Base Station

Keeps your smoke alarms and sensor devices connected and gives you full control of home safety in your property.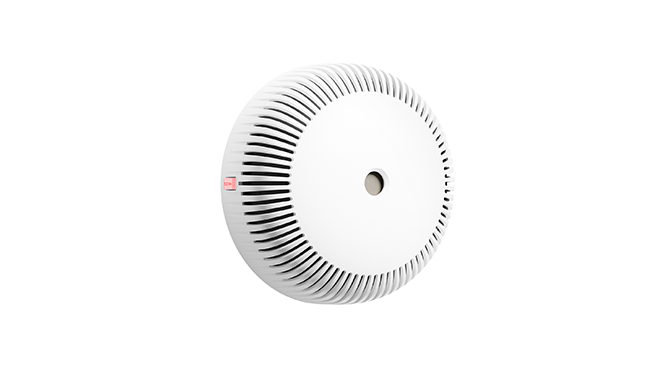 ProConnected Smoke Detector

Interconnect these XS03-iWX devices to build a whole-home fire safety network, so you can rest assured that you will not miss any fire alert.
Base Station
ProConnected Smoke Detector
24/7 Fire Safety Protection
Keep your devices connected with the latest LoRa technology, providing you with the earliest possible warnings of fire hazards.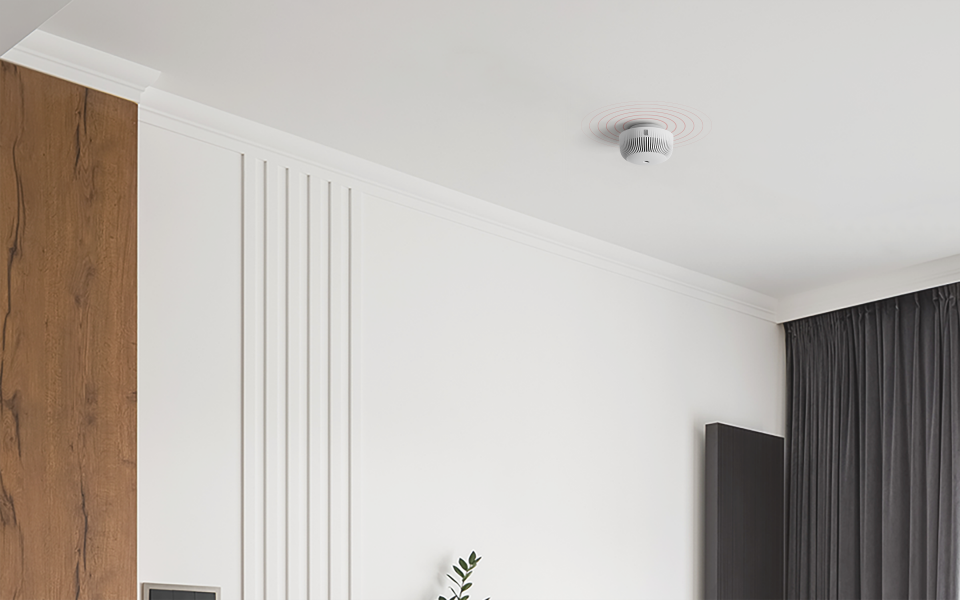 Interconnected Safety
Pair multiple XS03-iWX smoke alarms with the X-Sense SBS10 base station to create a fire safety network. If one device goes off, all the other detectors will too!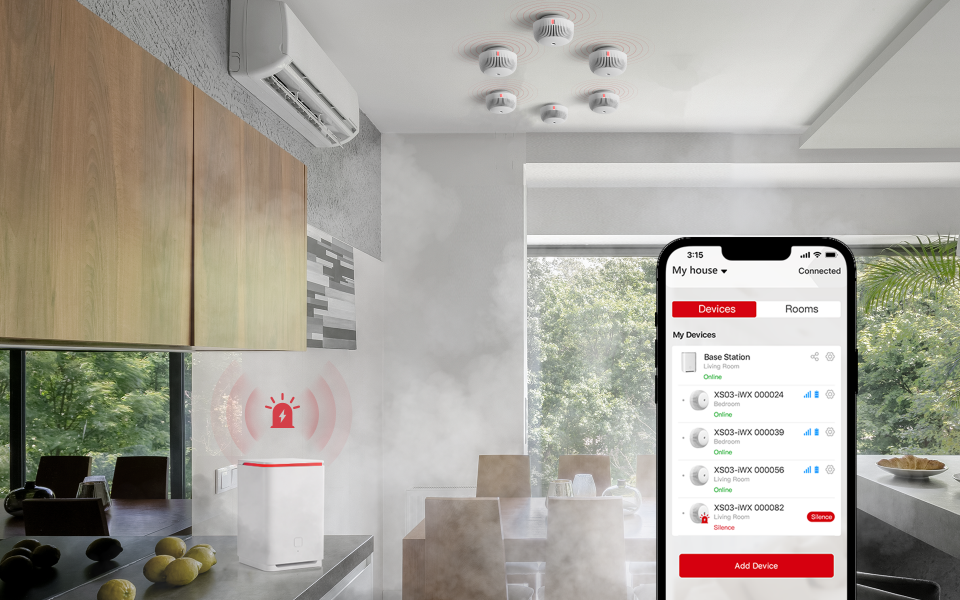 Instant App Notifications
Receive instant notifications on your phone from the X-Sense Home Security app when any of the interlinked detectors go off.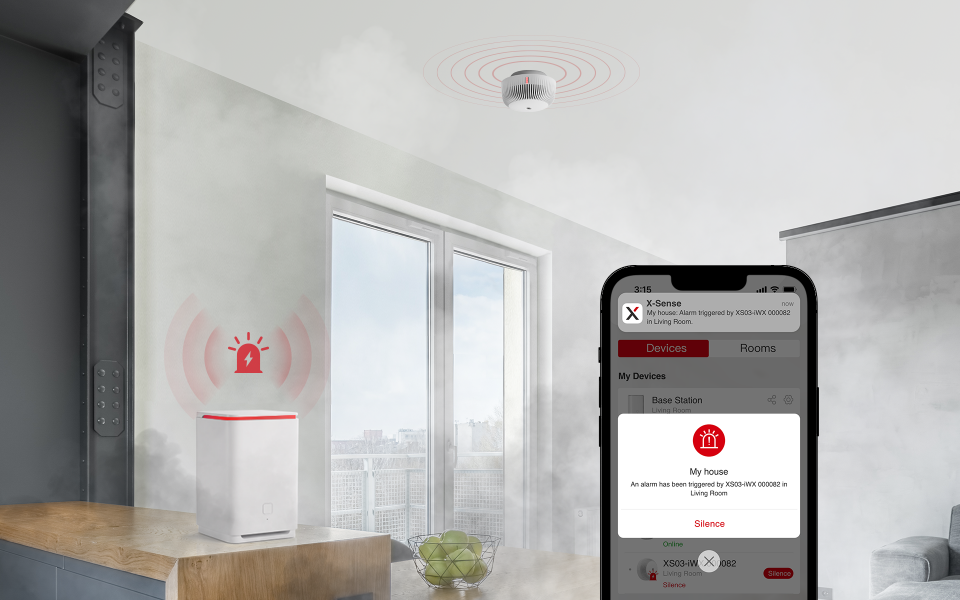 Test/Silence at Your Fingertips
Use the app to easily mute an unexpected alarm, without the hassle of having to reach for the Silence button on the device.
Specifications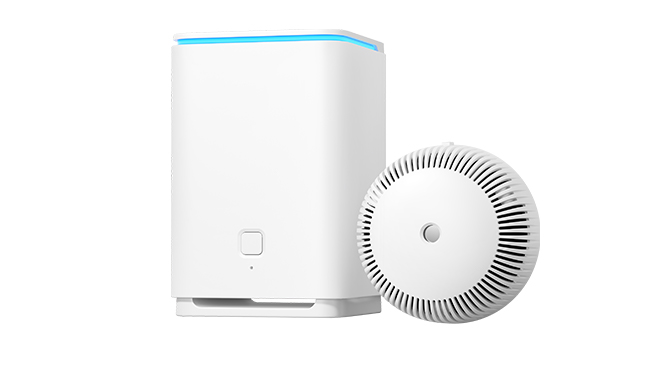 Base Station
| | |
| --- | --- |
| Model | SBS10 |
| Max Connectivity | Up to 32 sensors and 6 remote controls |
| Power Supply | AC 100-240 V, 50/60 Hz or USB Type-C 5 V/2 A |
| Backup Battery | 1800 mAh Li-ion battery, 12-hour power supply |
| Radio Signal Range | Up to 1 ¼ miles (2 km, without obstruction) |
| Operating Temperature Range | 32-104°F (0-40°C) |
| Operating Humidity | Up to 75% |
Smoke Alarm
| | |
| --- | --- |
| Modal | XS03-iWX |
| Power Supply | Replaceable 3 V CR123A lithium battery |
| Operating Life | 10 years |
| Battery Life | 1 year |
| Sensor Type | Photoelectric |
| Coverage Area | 215–430 sq. ft (20–40 m²) |
| Operating Temperature | 40–100°F (4.4–37.8°C) |
| Operating Relative Humidity | ≤ 85% (non-condensing) |
| Alarm Volume | ≥ 85 dB at 10 ft (3 m) @ 3.2 ± 0.3 kHz pulsing alarm |
| Silence Duration | About 9 minutes |
| Operating Frequency | 915 MHz (US), 868 MHz (EU) |
| App | X-Sense Home Security (both Android and iOS supported) |
FAQs
Can it communicate with other detectors from the Link⁺ series?

No, the XS03-iWX only can be interconnected with other devices of the same type (XS03-iWX) via the X-Sense SBS10 base station.

Is there a cost for the app?

You will receive push notifications via the X-Sense Home Security app free of charge.

How do I add more users to the X-Sense app in order to enable them to monitor the alarms on their phones?

Go to "Device Settings" and select "Device Sharing." Add your family and friends to the system by entering the email addresses of their X-Sense accounts. This will allow all users to receive notifications and enable them to control the devices in their app.

Can I add additional smoke detectors after I have set up the system?

Yes! You can pair up to 32 smoke detectors with the same base station to provide full protection for your home. For more details, please refer to the user manual.

Can this smoke detector work without being paired with the base station?

Yes. If the alarm becomes disconnected from the base station, it still works as a standalone smoke detector. You will see "Offline" marked on the app's device list and receive a push notification in this case.

How long will the battery of the X-Sense XS03-iWX smoke detector last? Can it be replaced?

Although the device itself has a 10-year lifespan, its battery only lasts for one year. Once it nears this point, the device will send a low-battery reminder to prompt you to replace the battery.