Description
Specifications
FAQs
Reviews
X-Sense SC03 Combination Smoke and Carbon Monoxide Alarm
2-in-1 Protection

Built with dual sensors to detect both smoke and carbon monoxide, delivering reliable protection that you and your family can trust.

Low-Battery Warning

When the battery level is low, the LED indicator will flash yellow, and the device will beep once every 60 seconds.

Intelligent Chipset

Built with an integrated chipset to deliver higher accuracy when detecting smoke and CO levels.

10-Year Battery

Provides continuous power for the entire lifetime of the alarm, ensuring 24/7 protection with no need to replace batteries.

LED Indicator

Flashes red, green, or yellow to indicate the alarm's working status, letting you discern if an alarm has been triggered or if there is a fault.

Self-Check Function

Automatically checks the key sensors and critical circuits every 60 seconds to ensure proper functioning.
Dual Sensors for Dual Protection
This alarm is built with both a photoelectric smoke sensor and an electrochemical CO sensor that work independently of each other, providing you with reliable protection from 2 deadly threats—smoke and carbon monoxide—all in one unit.
Monitors Your Home Day and Night
A sealed 10-year lithium battery enables continuous protection and saves you the hassle of constantly having to change batteries. This alarm will keep you and your family fully protected, 24/7.
Automatic Activation
This alarm easily mounts onto any wall or ceiling with the included mounting bracket, screws, and anchor plugs. After proper installation, this device will automatically turn on and start monitoring.
Perfected Design for Optimum Performance
The inside isolation plate prevents dust from entering into the electronic circuit board, extending the service life of the alarm. An internal insect-proof mesh has been incorporated to prevent insects from causing false alarms.
Specifications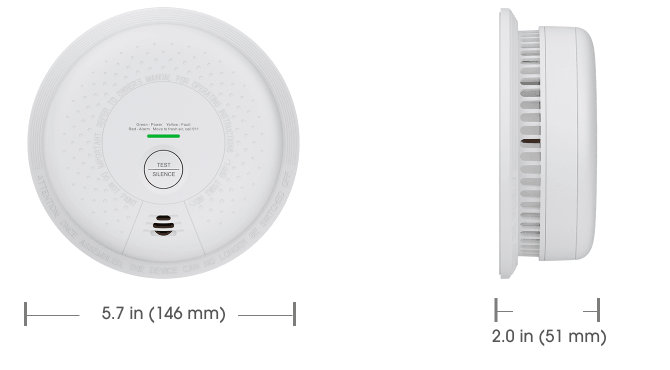 | | |
| --- | --- |
| Item Model Number | SC03 |
| Operating Life | 10 years |
| Power Source | 3 V CR123A lithium battery (non-replaceable) |
| Sensor Type | Smoke: photoelectric; CO: electrochemical |
| Safety Standards | UL 217, UL 2034, ULC S531, CSA 6.19-01, EN 14604:2005, EN 50291 |
| Certification | Kitemark and ETL listed |
| Standby Current | < 6 µA (avg.) |
| Alarm Current | < 60 mA (avg.) |
| Operating Temperature | 40–100°F (4.4–37.8°C) |
| Operating Relative Humidity | 10%–85% (non-condensing) |
| Alarm Loudness | ≥ 85 dB at 10 ft (3 m) |
| Silence Duration | Smoke: ≤ 9 minutes; CO: ≤ 6 minutes |
| Indicator Light | LED (red/yellow/green) |
| Color | White |
| Material | ABS/PC |
| Installation Method | Screw fixings and mounting bracket supplied |
| Usage | Indoor use only |
| Product Weight | 0.66 lb (300 g) |
| Product Dimensions | 5.7 x 5.7 x 2.0 inches (146 x 146 x 51 mm) |
| Package Contents | 1 x Alarm Unit + 1 x Mounting Bracket + 3 x Screws + 3 x Anchor Plugs + 1 x User Manual |
FAQs
What is the difference between the X-Sense SC01 and SC03 combination alarms?

The SC01 and SC03 have the same basic functions. The only difference is that the SC01 features an LCD, and the SC03 does not. The LCD indicates real-time carbon monoxide concentrations in the surrounding air, the remaining battery life, and the alarm's working status. You can purchase the SC01 or SC03 based on your preferences.

Does this detector meet the California Fire Marshall requirements for installation in rental units?

Yes, this combination alarm has been approved by the California State Fire Marshal.

Is it okay to replace the existing hardwired detector for a non-hardwired one?

Yes, our product is battery-operated, so there is no need for wiring. It can be installed in any ideal location. The distance of the screw holes in the mounting bracket is 4 inches (100 mm). If you want to know whether this alarm can cover your existing electrical box, please check the size of the electrical box.

Can this detector be interconnected?

This alarm works independently, and it is not interconnected. If you need to purchase interconnected alarms, you should consider buying our X-Sense XS01-WR wireless smoke detector.

How long are the mounting screws?

The mounting screws measure 0.98 in (25 mm) long. Drill the screw holes to a depth of 1.18 in (30 mm) using a 1/4 in (Ø 6.0 mm) drill bit.

Can it use a reusable smart battery?

No, you cannot. This alarm comes with a sealed lithium battery that can last for 10 years and cannot be replaced. It is required to replace the entire product when the battery is low.

Can this unit be installed in a kitchen near a gas stovetop, in an attic near a gas furnace, or in a garage near a gas water heater?

No, we do not recommend installing it in kitchens, unfinished attics, garages, furnace rooms, or bathrooms. Do not install it within 5 feet (1.5 m) of heating or cooking appliances. For more details, please refer to our user manual.

How do I know when I should replace the alarm?

Once the product's maximum lifetime (10 years) is reached, the alarm will deliver 2 beeps and the LED will flash yellow twice every 30 seconds. This indicates that it is time to replace the entire alarm.