Description
Specifications
FAQs
Reviews
X-Sense SD06 Photoelectric Smoke Detector
3-Color LED Indicator

Anti-glare 3-color indicator helps differentiate between various situations at a glance.

360° Monitoring

An encompassing ring of inlets detects the slightest whiff of smoke, missing nothing.

Advanced Photoelectric Sensor

Sophisticated sensor detects the smallest smoke particles to avoid smoldering fire risks.

10-Year Battery

Maintenance-free battery eliminates constantly changing batteries and annoying beeping.

Self-Check Function

24/7 self-checking maintains reliable performance and keeps the alarm in excellent condition

Test/Silence Button

Large, noticeable button allows easy operation with just one push.
360° Detection with No False Alarms
A 360° ring air intake design searches for smoke particles from all directions, eliminating smoldering risks, guaranteeing total peace of mind without false alarms.
Photoelectric Sensor for Disruption Elimination
An advanced photoelectric sensor and chipset enables more responsive performance when compared to ionization smoke detectors, only capturing the smoke particles from smoldering fires that pose a real risk without disrupting normal kitchen activities.
Self-Check Function, 24/7 Perfection
The constant self-check function ensures normal functioning of the device, calls attention to faults or a low battery, and informs you of the working status of the smoke detector with both an 85 dB alarm and a noticeable LED indicator.
Premium Quality Material for Improved Performance
An upgraded PC material enables higher resistance to fire, better impact resistance, and excellent structural performance. The material upgrade enhances the ability of the smoke detector to maintain durability and a clean look over time, making it a great addition to your home improvement.
Specifications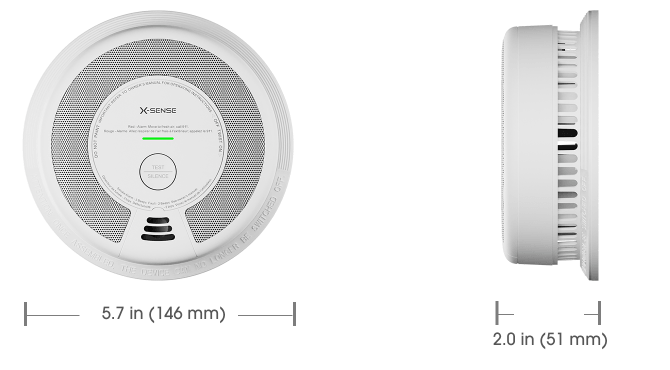 | | |
| --- | --- |
| Item Model Number | SD06 |
| Operating Life | 10 years |
| Power Source | 3 V CR123A lithium battery (non-replaceable) |
| Sensor Type | Photoelectric |
| Safety Standards | UL 217, ULC S531, EN 14604:2005 |
| Standby Current | < 6 µA (avg.) |
| Alarm Current | < 60 mA (avg.) |
| Operating Temperature | 40–100°F (4.4–37.8°C) |
| Operating Relative Humidity | ≤ 85% RH (non-condensing) |
| Alarm Loudness | ≥ 85 dB at 10 ft (3 m) |
| Silence Duration | ≤ 9 minutes |
| Indicator Light | LED (red/yellow/green) |
| Color | White |
| Material | ABS/PC |
| Installation Method | Screw fixings and mounting bracket supplied |
| Product Weight | 0.63 lbs (284 g) |
| Product Dimensions | 5.7 × 5.7 × 2.0 inches (146 × 146 × 51 mm) |
| Package Contents | 1 × Alarm Unit + 1 × Mounting Bracket + 3 × Screws + 3 × Anchor Plugs + 1 × User Manual |
FAQs
What are the advantages of a photoelectric sensor?

Compared to ionization sensors, photoelectric sensors are more sensitive to smoldering fires and are more eco-friendly.

Does the LED indicator light up green constantly?

No. The LED indicator flashes green once every 60 seconds in standby mode, indicating normal operation.

Can this type of smoke alarm be interconnected?

SD06 works as a standalone unit. If you want interconnected smoke alarms, you can choose the X-Sense model XS01-WR wireless smoke detectors in the X-Sense website.

How long is the silence period when the Test/Silence button is pressed?

The silence time is less than 9 minutes. Please note that the device will alarm again if the smoke concentration remains at or above the alarm level. We recommend you install it outside of the kitchen and away from smoke sources.

Is this hardwired or battery-powered only?

All X-Sense products available are battery-powered only.

Can this detector be hung on a nail?

We do not recommend you install this alarm by hanging it on a nail. You should install the device following procedures in the user manual with the accessories we provide and fix it in place to prevent it from falling.

When mounting to a wall, how can you ensure that it is twisted on properly?

You will hear a click when twisting it right. For more details, please refer to the user manual or contact our customer service.

What is the detection area of this smoke alarm?

The single room coverage is 215-430 sq. ft. If your room is larger, you should install several devices.