Summary for this topic. Carbon mono oxide is a harmful gas and for the same reason, different types of devices have been manufactured these days so that you can easily detect if there are traces of Carbon mono oxide in your surroundings. Well, if you have a detector to trace the gas, it needs to be tested for efficiency with the help of Carbon Monoxide tester. Here you will get to know a bit about the device and its working.
Overview of Carbon monoxide (CO)
Of all the harmful gases, Carbon mono oxide is the most dangerous one as it is considered a silent killer. The reason being, it is not odorless, but it is also tasteless and invisible. According to the statistics by the Centers for Disease Control and Prevention, the undeliberate leakage of the gas causes about 430 deaths and 50,000 emergency casualties every year. The numbers are always on a high during winter season as there is an increased consumption of heating units. In order to stay safe and sound, you need to know the sources of this killer gas in your homes.
Carbon Monoxide Tester
You must have heard about the smoke detector tester and heat detector tester but you must have a carbon Monoxide tester at your home to stay safe as it checks if the carbon mono oxide detector is working properly or not. Carbon mono oxide detector traces the presence of the gas in the air while Carbon mono oxide meter tells you the exact amount of the gas present in your surroundings. So, all these devices are equally important and useful.
In addition to smoke alarm testing, you should know about the carbon mono oxide detector. Yes, this is a different instrument than the carbon Monoxide tester. With the increasing risks of leakages, the law codes in many buildings require you to have such a device to avoid accidents. Under the given laws, if you do not have a Carbo mono oxide detector in your property, the inspector is may flag your property and may also hinder its sale.
You may go for OTC detectors but then they are not as accurate as the portable multi-gas monitors or carbon mono oxide meters and they are designed to measure only when it comes down to 30PPM. The gas detectors basically serve as the last warning alarm and are not as useful to be used near the source of leakage like kitchen or furnaces. In fact, the Carbon mono oxide detectors should be installed at a distance of 5 feet or more from the cooking range and at least 20 feet away from the furnaces.
Well, carbon Monoxide testers enable you to check the detector and its efficiency so that you know well in-time when there is a chance of leakage of the gas. The testers are available widely and you can get one at affordable price. So stay safe and enjoy the comfort of your home.
10% OFF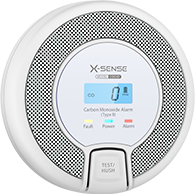 X-Sense CO03D Carbon Monoxide Detector
Digital LCD clearly displays real-time CO concentration levels and battery power.
10-year sensor life with replaceable batteries provides uninterrupted 24/7 protection.
Detects CO threats accurately with the advanced Figaro electrochemical CO sensor.
Easy to install onto any wall or ceiling without hardwiring.