Holiday orders ( 28th Sep. - 8th Oct.) ship within 7 workdays.
Description
Specifications
FAQs
Reviews
XC04-WX Wi-Fi Carbon Monoxide Alarm
Get mobile alerts if dangerous carbon monoxide levels are detected in your home.
5-Year Warranty

Free Shipping

Secure Checkout

Technical Support
Bulk Pricing Service(Applies to 1-Pack item price only)
Learn more
SPECIAL OFFERS
Quantity

Discount
15 - 50

10% OFF
51 - 100

15% OFF
101 - 200

18% OFF
More than 200

20% OFF
Add accident protection offered by
Learn more
Learn more about the XC04-WX Wi-Fi Carbon Monoxide Alarm
2.4 GHz Wi-Fi Connection

Download the app, connect the device to it via a 2.4 GHz Wi-Fi network, and you're ready to protect your home from harmful CO levels.
Silence at Your Fingertips

Simply mute any annoying alarm from your smartphone app without the need to press the test/silence button.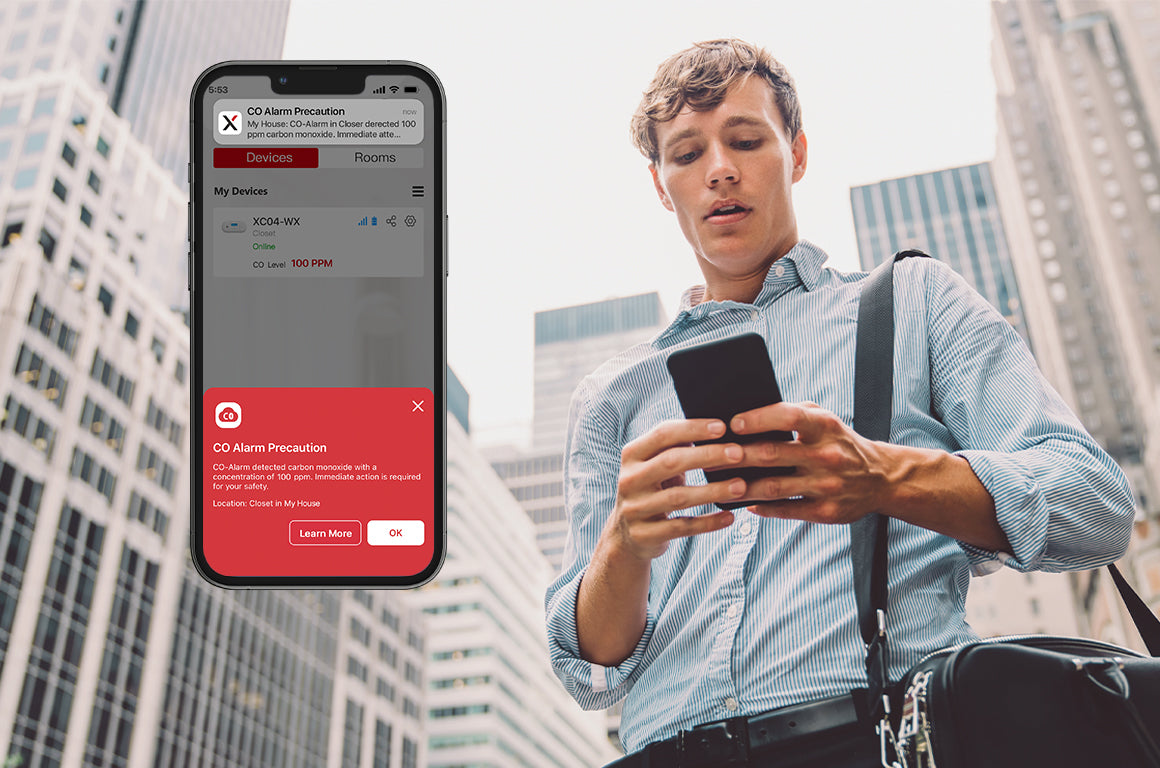 Real-Time Notifications

In case of a carbon monoxide leak inside your home, a push notification will be sent to your phone via the app. Therefore, you're always aware of what's happening when you're not at home and you can take action right away.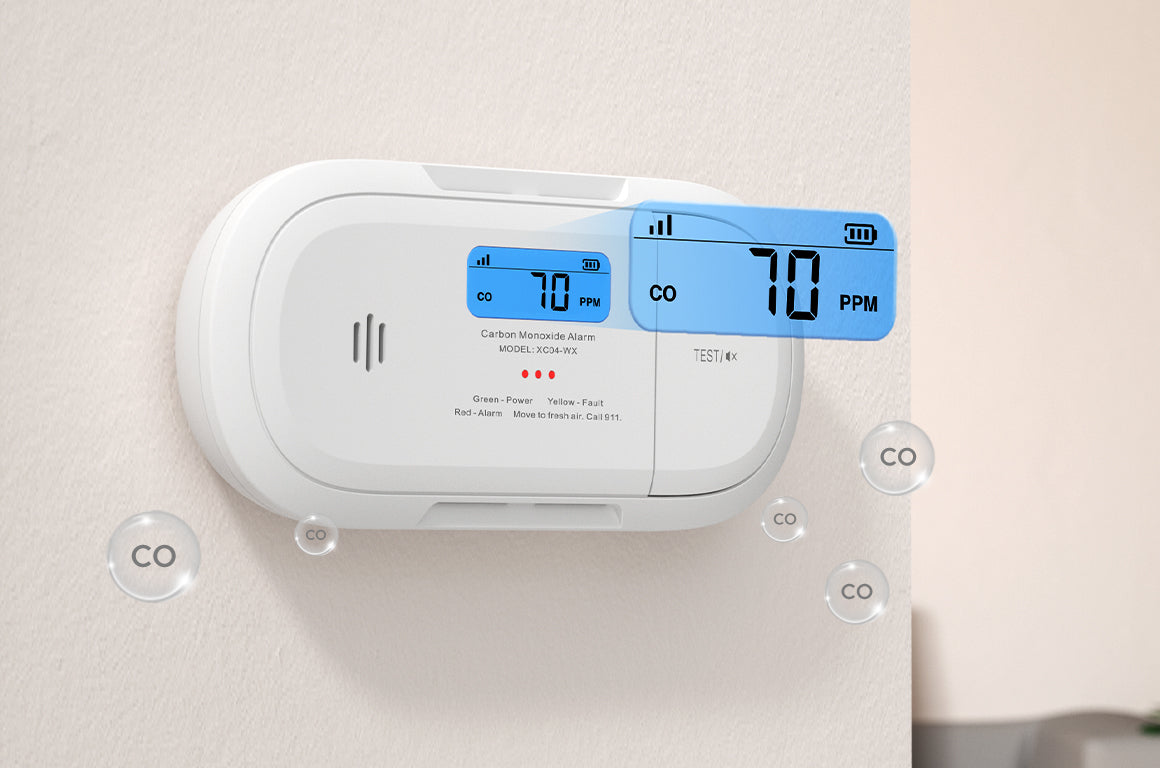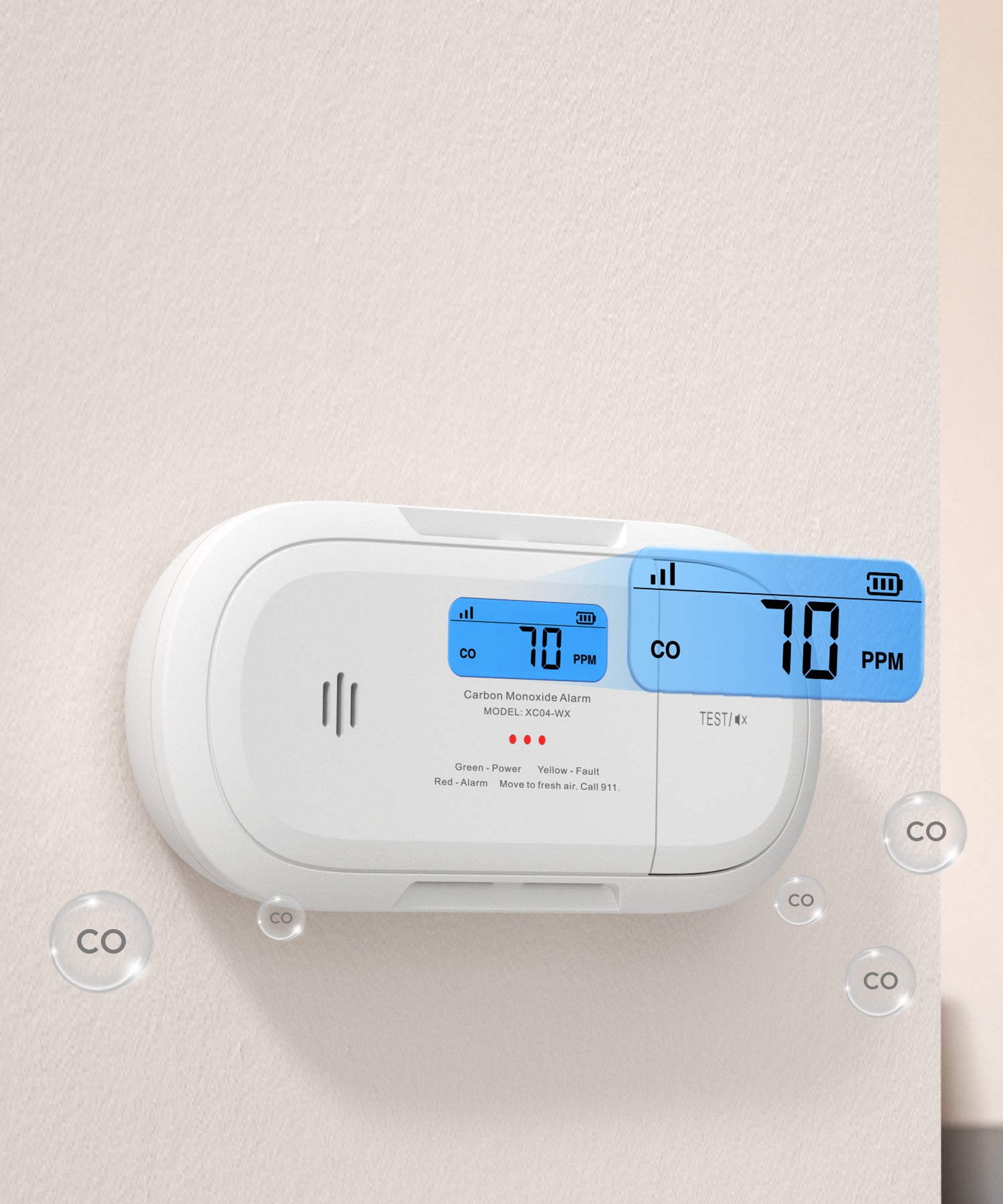 Easy-to-Read LCD

The large LCD indicates how much carbon monoxide the alarm is detecting, ranging from 30 to 999 ppm, while an 85-decibel alarm is standing ready to alert you if the level becomes dangerous.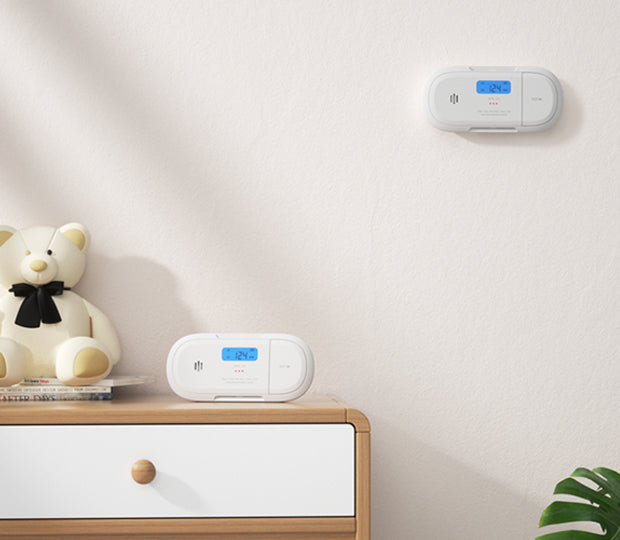 Can be left on a shelf or fixed to a wall using the included hardware.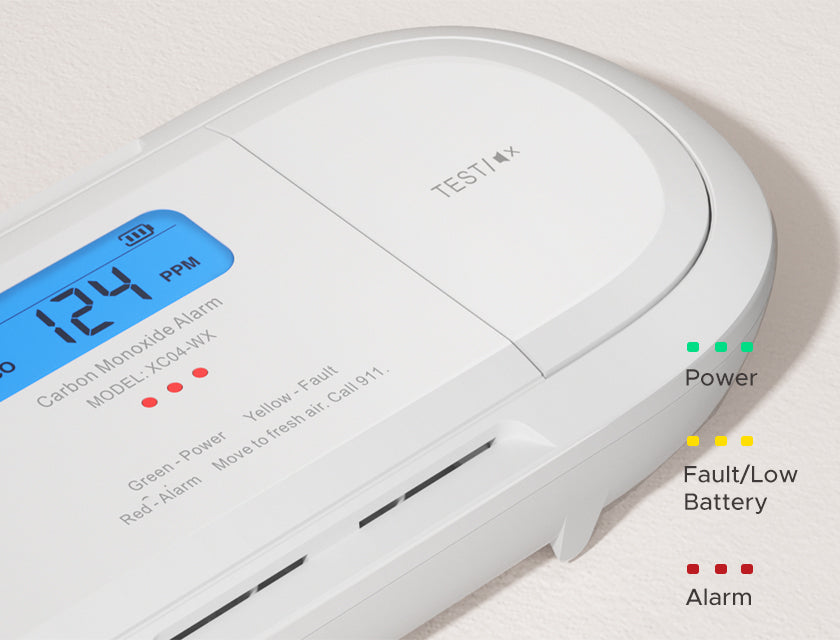 Beeps and flashes red, green, or yellow to show the alarm's status.
Allows you to test the unit's functionality and silence any false alarms.
Specifications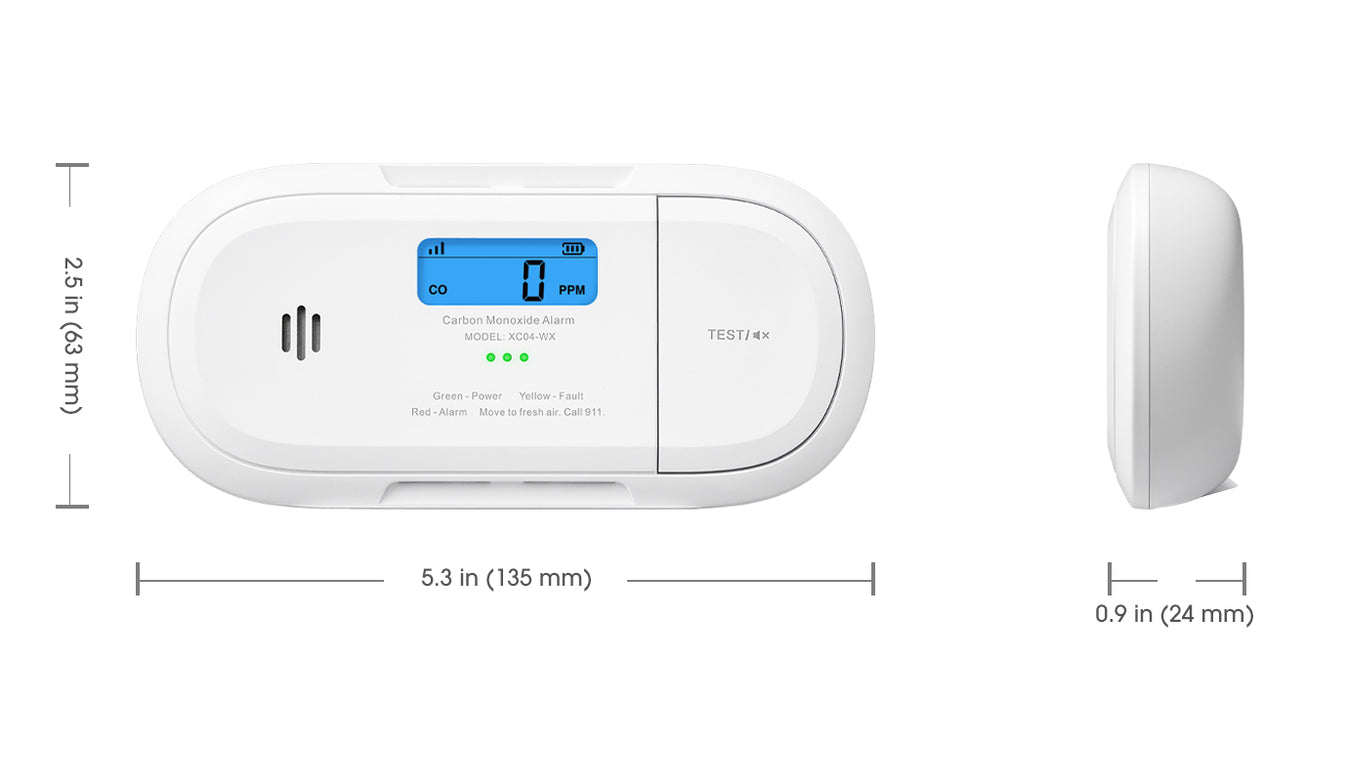 | | | | |
| --- | --- | --- | --- |
| Item Model Number | XC04-WX | Display | LCD |
| Operating Life | 10 years | Indicator Light | LED (red/yellow/green) |
| Power Source | CR123A (replaceable battery) | Color | White |
| Sensor Type | Electrochemical | Material | ABS |
| Safety Standards | UL 2034 and EN 50291:2018 | Installation Method | Screw fixings supplied |
| Standby Current | < 7 µA (avg.) | Product Weight | 0.19 lb (88 g) |
| Alarm Current | < 70 mA (avg.) | Product Dimensions | 5.3 × 2.5 × 0.9 inches (135 × 63 × 24 mm) |
| Operating Temperature | 40–100°F (4.4–37.8°C) | Package Contents | 1 × Alarm Unit + 2 × Screws + 2 × Anchor Plugs + 1 × User Manual |
| Operating Relative Humidity | 10%–85% (non-condensing) | App | X-Sense Home Security (both Android and iOS supported) |
| Alarm Loudness | ≥ 85 dB at 10 ft (3 m) | Wireless Frequency | 2.4 GHz (incompatible with 5 GHz Wi-Fi Network) |
| Silence Duration | ≤ 9 minutes | Wireless Protocol | IEEE 802.11b/g/n |
FAQs
What are the differences among the XC04-WX, XC01-R, and XC01-WR?

 

XC04-WX: A smart Wi-Fi carbon monoxide alarm that can be connected to Wi-Fi via the X-Sense Home Security app. Find out what's going on in and around your home from the app notifications while you're away.
XC01-R: A standalone carbon monoxide alarm that can quickly and accurately detect CO. However, it cannot be interlinked with other X-Sense Link⁺ wireless alarms.
XC01-WR: A wireless interconnected carbon monoxide alarm that can be interlinked with up to 24 X-Sense Link⁺ wireless alarms.
Does this alarm issue a low-battery warning?

 

Yes, the LCD display alternates between "Lb" (low battery) and the current CO level. And the LED indicator flashes yellow once every 60 seconds, indicating it's time to replace the battery.
Will cooking trigger false alarms?

 

False alarms are highly unlikely. Unlike smoke alarms, CO alarms are not affected by factors such as dust, steam, or cooking fumes.
Do they have a light that flashes periodically and lets you know that the unit is on and working?

 

Yes, if your carbon monoxide alarm flashes green once every 60 seconds, it means it is functioning. For more details, please refer to the user manual.
How do I add more users to the app so they can all monitor the alarms on their phones in the X-Sense app?

 

Go to the carbon monoxide alarm's Device Settings interface and select Device Sharing. Then enter the X-Sense accounts that you'd like to share with.
How many Wi-Fi CO alarms can be connected to the app?

 

You may add up to 24 X-Sense XC04-WX CO alarms in one home. You may also give them different names so that you know which one has been triggered when you receive a push notification.
Why is it not accessing the Wi-Fi?

 

Make sure you have a stable 2.4 GHz Wi-Fi network and have enabled Bluetooth on your phone. Then add the X-Sense XC04-WX carbon monoxide alarm to the app. Please ensure that you connect to the same Wi-Fi network when you add the device to the app.