Description
Specifications
FAQs
Reviews
Learn More About the X-Sense XC01-WR Wireless Interconnected Carbon Monoxide Detector
Wireless Interconnection

Cutting-edge technology allows you to connect your
X-Sense Link⁺ alarms so that when one alarm sounds, all interlinked alarms will as well.

Full Home Coverage

Create a wireless safety network with up to 24 X-Sense Link⁺ series wireless alarms, placing your entire home security at your fingertips.

LCD with Peak CO Memory

The LCD shows peak CO levels since the previous reset, letting you know of any potential dangers while you were away.

10-Year Sensor Life

Equipped with a Figaro electrochemical CO sensor to deliver reliable and stable performance for 10 years.

Low Battery Warning

When the battery level is low, the unit will beep once every 60 seconds, indicating that it's time for a battery replacement to ensure continuous protection.

Self-Check Function

An automatic self-test functions every 60 seconds to ensure the critical circuit and sensor are functioning properly.
Expandable Wireless Safety Network
These wireless interlinked alarms communicate with each other via radio frequency (RF). If one alarm detects danger, it will send a signal to all other alarms, which will also then sound an alarm. This ensures maximum coverage and immediate alerting of all household members.
Easy Location of Source Alarm
All interconnected alarms will trigger when one alarm sounds, so it is important to determine where the source of danger is coming from. The color of the flashing LED makes this easy—the source alarm will flash red, while all other units will alternate flashing red and green.
Customizable Wireless Network
X-Sense wireless interlinked alarms in a multi-pack have already been interconnected. If you want to customize this network, you can add new devices to the existing network, or disconnect the devices from the network to create new networks.
Easy and Flexible Installation
This detector is designed with feet that allow it to be placed on a countertop or bedside table for instant and accurate CO detection. To ensure fixed installation, use the included screws and anchor plugs to mount it onto a wall.
Electrochemical Sensing Technology
This carbon monoxide detector is equipped with the latest electrochemical sensing technology and can measure CO concentrations from 30 to 999 ppm. If dangerous CO levels are detected, the alarm will respond instantly, providing you with the earliest possible warning and allowing your family the time you need to escape.
Specifications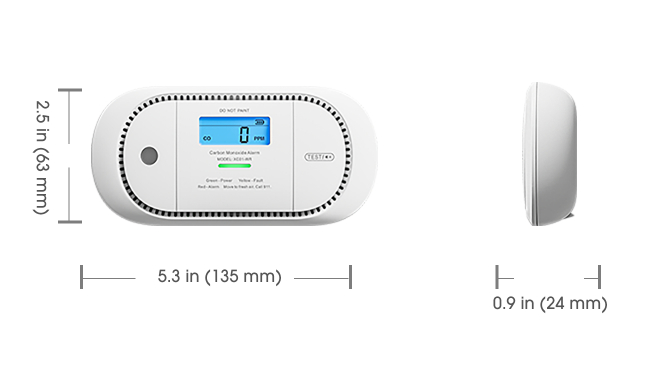 | | |
| --- | --- |
| Item Model Number | XC01-WR |
| Operating Life | 10 years |
| Battery Life | 5 years |
| Power Source | Replaceable 3 V CR123A lithium battery |
| Sensor Type | Electrochemical |
| Safety Standards | UL 2034, EN 50291-1:2018 |
| Certification | TÜV and CE listed |
| Standby Current | < 15 uA (avg.) |
| Alarm Current | < 90 mA (avg.) |
| Operating Temperature | 40–100°F (4–38°C) |
| Operating Relative Humidity | 10%–85% RH (non-condensing) |
| Alarm Loudness | ≥ 85 dB at 10 ft (3 m) |
| Silence Duration | ≤ 9 minutes |
| Operating Frequency | 915 MHz (UL), 868 MHz (TÜV) |
| Maximum Number of Interconnected Units | 24 wireless units (only compatible with X-Sense Link⁺ wireless alarms) |
| Indicator Light | LED (red/yellow/green) |
| Color | White |
| Material | ABS |
| Installation Method | Screw fixings and anchor plugs supplied |
| Usage | Indoor use only |
| Product Weight | 0.20 lb (92 g) |
| Product Dimensions | 5.3 × 2.5 × 0.9 inches (135 × 63 × 24 mm) |
| Package Contents | 1 × Alarm Unit + 2 × Screws + 2 × Anchor Plugs + 1 × User Manual |
FAQs
What are the differences between the XC01 and XC01-WR?

XC01: A standalone carbon monoxide detector that can quickly and accurately detect CO. However, it cannot be interlinked with other X-Sense Link⁺ wireless alarms.

XC01-WR: A wireless interconnected carbon monoxide detector that can be interlinked with up to 24 X-Sense Link⁺ wireless alarms.

RC01 Pro: RC01 Pro remote controller only works with X-Sense Link⁺ series wireless alarms, including the XC01-WR wireless interconnected carbon monoxide detector.

Are batteries included?

Yes, this device is installed with a CR123A lithium battery that can be easily replaced.

Does this CO alarm also detect smoke?

No, this is a carbon monoxide alarm that can only detect CO. If you would like to detect smoke as well, smoke alarms and combination smoke and CO alarms are on sale in our store.

Is the green LED always on?

No, the LED flashes green once every 60 seconds while in standby mode. This light is fairy dim and won't disturb your sleep.

Can I customize the wireless network?

Yes, of course! X-Sense wireless alarms in a multi-pack have been pre-connected, but you can easily disconnect them from the network and reconnect devices to create new networks based on your needs.

How do I add a new device to the network?

First, turn on your wireless alarms. Quickly press the test/silence button on an existing unit 4 times, then press the test/silence button on the new unit twice. After successful pairing, both units will beep once.