Description
Specifications
FAQs
Reviews
X-Sense SC01 Combination Smoke and Carbon Monoxide Alarm
2-in-1 Protection

Equipped with dual sensors to protect your home from both smoke and carbon monoxide.

Low-Battery Warning

Notifies you when it's time to change the battery via a flashing yellow light and a beep once every 60 seconds.

Intelligent Chipset

Built with an intelligent chipset to deliver more accurate detection of smoke and CO levels.

10-Year Battery

Built with a sealed lithium battery to enable up to a decade of home protection with no need for battery replacement.

LED Indicator

Multi-colored LED informs you of alarm status and notifies you of any faults.

Self-Check Function

Constantly monitors itself and quickly warns you of any faults or a low battery.

Informative LCD

Displays real-time CO concentrations (30-999 ppm), battery status, and working status.

ETL Approved

Rigorously tested to meet the UL 217 and UL 2034 safety standards and is approved by the ETL.
Dual-Sensor Alarm for Complete Protection
This combination alarm combines photoelectric and electrochemical technologies to detect both smoke from fast-burning, smoldering fires and dangerous CO concentrations, delivering the best protection and saving you the hassle of having to install 2 separate alarms.
Built-in LCD with Multiple Indicators
An easy-to-read LCD allows you to tell if carbon monoxide is present and gives you time to respond before it becomes dangerous. It also informs you of the battery status, notifies you of any faults, and will warn you when the device reaches its end of life.
Peace of Mind with a 10-Year Battery
This device has a sealed 10-year lithium battery that will last the full lifetime of the alarm, so you won't ever have to worry about replacing batteries! When the battery is low, you will hear a beep once every 60 seconds paired with a flashing yellow LED.
Premium Quality Material
Made with an upgraded PC plastic housing, this alarm is high-temperature resistant and corrosion-resistant to ensure exceptional quality. The internal stainless-steel meshing is insect-proof to help prevent false alarms.
Specifications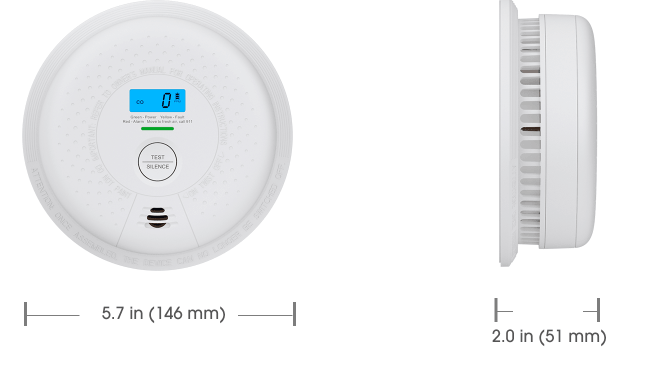 | | |
| --- | --- |
| Item Model Number | SC01 |
| Operating Life | 10 years |
| Power Source | 3 V CR123A lithium battery (non-replaceable) |
| Sensor Type | Smoke: photoelectric; CO: electrochemical |
| Safety Standards | UL 217, UL 2034, ULC S531, CSA 6.19-01, EN 14604:2005, EN 50291 |
| Certification | Kitemark and ETL listed |
| Standby Current | < 6 µA (avg.) |
| Alarm Current | < 60 mA (avg.) |
| Operating Temperature | 40–100°F (4.4–37.8°C) |
| Operating Relative Humidity | 10%–85% (non-condensing) |
| Alarm Loudness | ≥ 85 dB at 10 ft (3 m) |
| Silence Duration | Smoke: ≤ 9 minutes; CO: ≤ 6 minutes |
| Display | LCD |
| Indicator Light | LED (red/yellow/green) |
| Color | White |
| Material | ABS/PC |
| Installation Method | Screw fixings and mounting bracket supplied |
| Usage | Indoor use only |
| Product Weight | 0.66 lb (300 g) |
| Product Dimensions | 5.7 x 5.7 x 2.0 inches (146 x 146 x 51 mm) |
| Package Contents | 1 x Alarm Unit + 1 x Mounting Bracket + 3 x Screws + 3 x Anchor Plugs + 1 x User Manual |
FAQs
How do I replace the battery?

There is no need to replace the battery, as this alarm has a built-in 10-year lithium battery that cannot be replaced. When the battery is low, you should replace the entire device.

What is the difference between the SC01 and SC03 models?

The SC01 and SC03 have the same basic functions. The only difference is that the SC01 features an LCD, and the SC03 does not. The LCD indicates real-time carbon monoxide concentrations in the surrounding air, the remaining battery life, and the alarm's working status. You can purchase the SC01 or SC03 based on your preferences.

Does the LCD display concentration values lower than 30 ppm?

Like most units, it shows CO levels above 30 ppm. Individuals with medical conditions that may make them more sensitive to carbon monoxide may consider using warning devices that provide audible and visual signals for carbon monoxide concentrations under 30 ppm.

What is the lowest carbon monoxide ppm level this alarm will detect?

Like most units, it shows CO levels above 30 ppm. When the reading reaches 70 ppm, an alarm will be triggered. An alarm's response time will vary depending on different CO levels in the air: within 60–240 minutes at a level of 70 ppm, within 10–50 minutes at a level of 150 ppm, and within 4–15 minutes at a level of 400 ppm.

What are the UL 217 and UL 2034 standards?

Our product meets both UL 217 and UL 2034 standards, which are the authoritative safety requirements for smoke alarms and carbon monoxide alarms used in residential and indoor environments.

Does this have a UL 2034-2005 listing for RV use?

This detector has been rigorously tested to meet the UL 217 and UL 2034 standards and is approved by the ETL. It is suitable for residential and indoor use, but is not suitable for RV use.

Does this alarm use a voice alarm during an emergency?

No, this alarm doesn't have a voice function. You can identify its working status by the flashing LED and buzzer.

How can I tell if smoke or CO triggered an alarm?

You can identify whether the alarm is triggered by smoke or carbon monoxide by beeps from the alarm. When the device is triggered by smoke, it will deliver 3 long beeps every 1.5 seconds. When the device is triggered by carbon monoxide, it will deliver 4 quick beeps every 5.8 seconds.

Does this alarm flash every few minutes?

Yes, the LED indicator flashes green once every 60 seconds in standby mode, indicating it is functioning properly. However, the light is fairly dim and should not disturb your sleep.

What is the operating temperature range?

The optimum operating temperature is between 40°F (4.4°C) to 100°F (37.8°C). If you place this unit in a lower or higher temperature environment, the product performance and lifetime will be affected. Therefore, it is recommended to use this product in its optimum temperature range.

Is this smoke detector approved by the State of California?

Yes, this detector has passed rigorous testing and is approved by the California State Fire Marshal.