Description
Specifications
FAQs
Reviews
XS01-WR Wireless Interconnected Smoke Detector
Wireless Interconnection

If one detector is triggered, all detectors will alarm.

Full Home Coverage

Up to 24 detectors can be interlinked to protect your entire home.

Market Recognition and Approval

Compliant with UL 217 standard, ensuring high quality and durability.

Insect-Proof Design

Eliminates unwanted interference of detector performance.

Accurate Smoke Detection

Smoke concentration analyzed at least 3 times every 10 seconds.

Battery Replacement Reminder

Replace the battery in time for uninterrupted monitoring.
Interconnected for Comprehensive Protection
X-Sense's expertise in wireless interconnection allows you to stay informed of the safety conditions in your entire home and handle any abnormalities.
Wide Coverage for the Entire Home
Using RF communication technology, the 
X-Sense smoke detector allows you to build a home security network of up to 24 detectors and control the security of your entire home.  
Instant Smoke Concentration Analysis
This X-Sense smoke detector has been upgraded to collect and analyze at least 3 air samples every 10 seconds, delivering more accurate alarms.  
Timely Battery Replacement Reminder
This smoke detector has a battery life of 5 years and a device lifespan of 10 years. A low battery warning will remind you to replace the battery in time to ensure continuous monitoring.
Specifications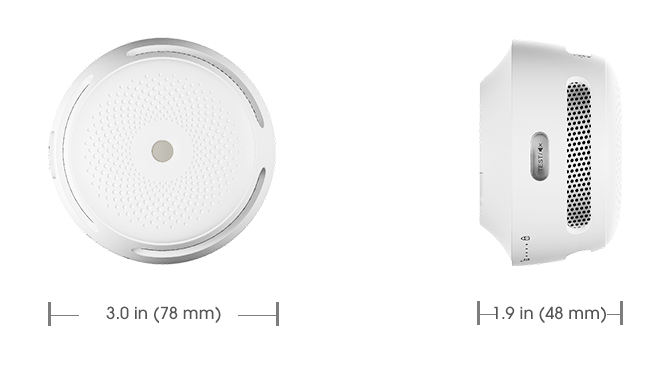 | | |
| --- | --- |
| Item Model Number | XS01-WR |
| Operating Life | 10 years |
| Battery Life | 5 years |
| Power Source | Replaceable 3 V CR123A lithium battery |
| Sensor Type | Photoelectric |
| Safety Standard | UL 217, EN 14604:2005 |
| Certification | TÜV and CE listed |
| Standby Current | < 15 uA (avg.) |
| Alarm Current | < 150 mA (avg.) |
| Operating Temperature | 40–100°F (4.4–37.8°C) |
| Operating Relative Humidity | ≤ 85% RH (non-condensing) |
| Alarm Loudness | ≥ 85 dB at 10 ft (3 m) |
| Silence Duration | ≤ 9 minutes |
| Operating Frequency | 915 MHz (UL), 868 MHz (TÜV) |
| Maximum Number of Interconnected Units | 24 wireless units (only compatible with X-Sense wireless alarms) |
| Indicator Light | Red LED |
| Color | White |
| Material | ABS |
| Installation Method | Screw fixings and mounting bracket supplied |
| Usage | Indoor use only |
| Product Weight | 0.20 lb (92 g) |
| Product Dimensions | 3.0 × 3.0 × 1.9 inches (78 × 78 × 48 mm) |
| Package Contents | 1 × Alarm Unit + 1 × Mounting Bracket + 2 × Screws + 2 × Anchor Plugs + 1 × User Manual |
FAQs
What are the differences among the XS01, XS01-WR, and XS01-WT?

XS01: A standalone smoke detector that can quickly and accurately detect smoldering fires. However, it cannot be interconnected or connected to Wi-Fi via the app.

XS01-WR: A wireless interconnected smoke detector that can be interlinked with up to 24 X-Sense wireless alarms. If one detector is triggered, all detectors will alarm, delivering earlier alerts.

XS01-WT: A smart Wi-Fi smoke alarm that can be connected to Wi-Fi via the app. It sends alerts to your phone and lets you know what's going on in and around your home, even when you're away.

RC01: RC01 remote controller only works with XS01-WR (interconnected) smoke detector.

If you want to learn more about XS01 Series, CLICK HERE.

How can I tell if real fire can be detected without just using the button?

If possible, you can use smoke to conduct a test. Please make sure that the smoke flows into the device. If the smoke concentration doesn't reach the alarm level, the alarm will not be triggered.

Is there a voice activation feature that will speak to you, telling you where smoke has been detected once the alarms go off?

X-Sense model XS01-WR devices do not provide voiced alarms. When the alarm goes off, the red LED indicator will flash once every second and the device will beep quickly.

Are the mounting holes the same for the mini device as they are for the standard size detectors? In other words, can I mount this mini device in the same place a standard alarm was installed?

The mini product size is 3.0 × 3.0 × 1.9 inches, substantially smaller than
X-Sense SD series and most products of other brands. So, the mini detector cannot be mounted in the standard holes. For more information, please contact our customer service.

Is this compatible with Alexa?

X-Sense model XS01-WR cannot currently integrate with Alexa, but we are working on it.

What frequency does the detector use to communicate? Will it introduce noise on the Wi-Fi network?

X-Sense products use 915 MHz communication and will not interfere with Wi-Fi signals. With X-Sense's communication protocol, our products will not be affected by other products.

What happens if the unit is outside of the 40–100 temperature range? Considering getting one of these for a garage that occasionally is outside this range.

The ambient temperature range is 40–100°F. Extreme high or low temperature will hurt its performance and service life.

Is there a mobile app that can control these alarms?

Sorry, this device cannot be connected to Wi-Fi via the app. You can buy XS01-WT in the X-Sense store.