Description
Specifications
FAQs
Reviews
Learn More About the X-Sense XC01 Carbon Monoxide Detector
LED Indicator

A multi-colored LED and buzzer provide visual and audible indications of the detector's status.

10-Year Battery

Powered by a sealed 10-year lithium battery for continuous monitoring during the lifetime of the unit.

Informative LCD

Updates you on the real-time CO concentrations in your home and keeps you informed 24/7.

Test/Silence Button

Both silences any false alarms and allows you to test the unit's functionality.

Low Battery Warning

Beeps once every 60 seconds to let you know when to replace the unit.

Self-Check Function

Equipped with an automatic self-test function to ensure the alarm is always functioning properly.
Informative, Easy-to-Read LCD
This CO detector protects your home and family by monitoring the air and displaying the real-time CO concentration (PPM) on an easy-to-read LCD. This display will also inform you of any faults, low batteries, and an end-of-life indication, allowing you to determine the status of the device at a glance.
Faster Response to Dangerous CO Levels
Every second counts, so we've equipped this carbon monoxide detector with a cutting-edge Figaro electrochemical CO sensor to deliver accurate CO detection and respond quickly, providing you and your family with the earliest possible warning and allowing you to escape during an emergency.
Free-Standing or Wall Mounted
Installation is a breeze! Simply place this detector (using the integrated feet) on a bedroom desktop for instant and accurate CO detection. If you would rather mount it to a wall, you can install it using the included screws and anchor plugs.
10-Year Battery for Constant Monitoring
This carbon monoxide detector features a built-in 10-year sealed battery that provides continuous power for the life of the detector. There is no need to change the batteries, and an end-of-life warning lets you know when the detector should be replaced.
Specifications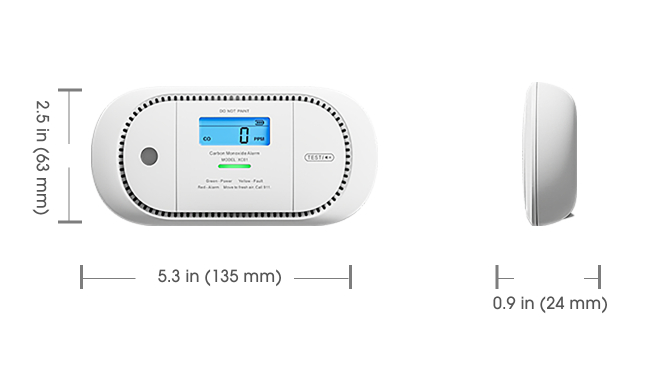 | | |
| --- | --- |
| Item Model Number | XC01 |
| Operating Life | 10 years |
| Power Source | 3 V CR123A lithium battery (non-replaceable) |
| Sensor Type | Electrochemical |
| Safety Standards | UL 2034 and EN 50291:2018 |
| Standby Current | < 7 µA (avg.) |
| Alarm Current | < 70 mA (avg.) |
| Operating Temperature | 40–100°F (4.4–37.8°C) |
| Operating Relative Humidity | 10%–85% (non-condensing) |
| Alarm Loudness | ≥ 85 dB at 10 ft (3 m) |
| Silence Duration | ≤ 9 minutes |
| Display | LCD |
| Indicator Light | LED (red/yellow/green) |
| Color | White |
| Material | ABS |
| Installation Method | Screw fixings supplied |
| Usage | Indoor use only |
| Product Weight | 0.19 lb (88 g) |
| Product Dimensions | 5.3 × 2.5 × 0.9 inches (135 × 63 × 24 mm) |
| Package Contents | 1 × Alarm Unit + 2 × Screws + 2 × Anchor Plugs + 1 × User Manual |
FAQs
Are the batteries included?

Yes, this device has a sealed lithium battery which has a 10-year lifetime and can't be replaced.

Does this alarm issue a low-battery warning?

Yes, the LED will flash yellow with one beep every 60 seconds, indicating it is time to replace the whole unit.

Does this CO alarm also detect smoke?

No, this is a carbon monoxide alarm that can only detect CO. If you would like an alarm that can also detect smoke, smoke alarms and combination smoke and CO alarms are on sale in our store.

Is the green LED always on?

No, the LED flashes green once every 60 seconds when in standby mode. This light is fairly dim, and won't disturb your sleep.

Can cooking trigger false alarms?

False alarms are highly unlikely. Unlike smoke alarms, CO alarms are not affected by factors such as dust, steam, or cooking fumes.