Description
Specifications
FAQs
Reviews
X-Sense SC07 Combination Smoke and Carbon Monoxide Alarm
2-in-1 Protection

Equipped with both photoelectric and electrochemical sensors to detect smoke and CO levels, protecting you from 2 deadly threats.

Informative LCD

Displays real-time carbon monoxide concentrations in the surrounding air, allowing you to instantly determine if there are any dangerous CO leaks.

Intelligent Chipset

Equipped with a state-of-the-art chipset to ensure rapid, accurate alerts of potential dangers.

10-Year Battery

Built with a 10-year lithium battery that provides continuous power with no need for battery replacements during the unit's lifetime.

LED Indicator

Allows you to easily discern the alarm's working status at a glance by the color of the LED indicator (red, green, or yellow).

Self-Check Function

Automatically performs a self-check every 60 seconds and notifies you of any malfunctions via a flashing LED and beeping pattern.
Comprehensive Protection for Your Home
A photoelectric sensor detects smoke from fast-burning and smoldering fires, and an electrochemical sensor detects carbon monoxide leaks from faulty fuel-burning appliances. This combination alarm provides monitoring of both deadly threats in one device.
Built-in Informative LCD
An easy-to-read LCD indicates real-time CO concentrations (30-999 ppm), battery status, and the alarm's working status, allowing you to know what's going on at a glance.
10-Year Battery for Uninterrupted Monitoring
This alarm features a sealed 10-year lithium battery to provide continuous protection of your home from potentially deadly threats for up to a decade.
Easy Installation and Slim Design
Free from any exterior wiring, it is easy to install anywhere with the included mounting hardware. A sleek, elegant design allows this alarm to blend into any home décor style perfectly.
Specifications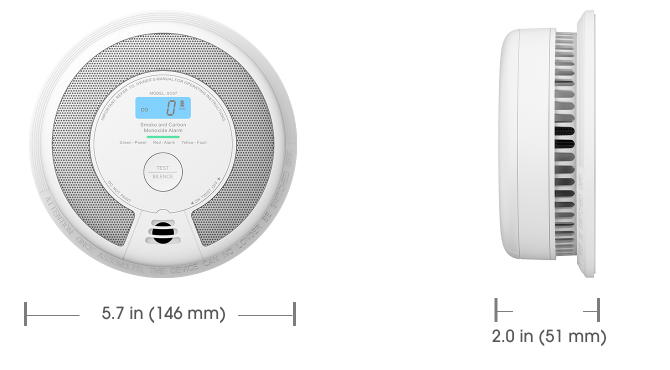 | | |
| --- | --- |
| Item Model Number | SC07 |
| Operating Life | 10 years |
| Power Source | 3 V CR123A lithium battery (non-replaceable) |
| Sensor Type | Smoke: photoelectric; CO: electrochemical |
| Safety Standards | EN 14604:2005, EN 50291 |
| Standby Current | < 6 µA (avg.) |
| Alarm Current | < 60 mA (avg.) |
| Operating Temperature | 40–100°F (4.4–37.8°C) |
| Operating Relative Humidity | 10%–85% (non-condensing) |
| Alarm Loudness | ≥ 85 dB at 10 ft (3 m) |
| Silence Duration | Smoke: ≤ 9 minutes; CO: ≤ 6 minutes |
| Display | LCD |
| Indicator Light | LED (red/yellow/green) |
| Color | White |
| Material | ABS/PC |
| Installation Method | Screw fixings and mounting bracket supplied |
| Usage | Indoor use only |
| Product Weight | 0.66 lb (300 g) |
| Product Dimensions | 5.7 x 5.7 x 2.0 inches (146 x 146 x 51 mm) |
| Package Contents | 1 x Alarm Unit + 1 x Mounting Bracket + 3 x Screws + 3 x Anchor Plugs + 1 x User Manual |
FAQs
Is it safe to install with heavy-duty fasteners or magnetic pads?

No, to ensure proper functioning, it is recommended to mount this alarm on any wall or ceiling with our included mounting bracket, screws, and anchor plugs.

Does this comply with the UL 217 and UL 2034 standards?

Yes, this product is certified to meet the UL 217 and UL 2034 standards.

Can it be connected to Amazon Alexa?

No, this unit is a traditional standalone alarm and is not Wi-Fi compatible, so it cannot be controlled via a smartphone app. If you want a Wi-Fi alarm, you should check out the X-Sense XS01-WT Wi-Fi smoke alarm.

How do I know that the alarm is working? Is a light supposed to blink?

In standby mode, the LED indicator flashes green once every 60 seconds, indicating it is functioning properly.

What is the difference between the SC07 and the SC01?

The SC07 and SC01 are combination alarms with the same basic functions but different appearances.

Does it work in non-heated hallways?

Yes, but it is not recommended to be installed in hallways near the bathroom. This can prevent malfunction due to too much steam.

Does the ppm read the actual count, ranging from 1 to 1000 ppm, or is the readout displayed only in the alarm ranges?

Yes, but like most units, it shows CO levels above 30 ppm (30–999 ppm). Individuals with medical conditions that may make them more sensitive to carbon monoxide may consider using warning devices that provide audible and visual signals for carbon monoxide concentrations under 30 ppm. When the reading reaches 70 ppm, an alarm will be triggered.

Does this unit come with a 10-year non-replaceable battery?

Yes, this unit comes with a sealed lithium battery that can last for 10 years.

What is the lowest carbon monoxide ppm level that this alarm will detect?

Like most units, it shows CO levels above 30 ppm. When the reading reaches 70 ppm, an alarm will be triggered. An alarm's response time will vary depending on different CO levels in the air: within 60–240 minutes at a level of 70 ppm, within 10–50 minutes at a level of 150 ppm, and within 4–15 minutes at a level of 400 ppm.

Does it have a backboard for mounting?

Yes, all accessories are provided for your installation, including a mounting bracket, 3 screws, and 3 anchor plugs.