Description
Specifications
FAQs
Reviews
Learn More About X-Sense SC07-W Wireless Interconnected Smoke and Carbon Monoxide Detector
Wireless Interconnection

Wireless interconnected alarms are linked to each other which means if one alarm is activated, all alarms in the home will automatically go off.

2-in-1 Protection

Combining smoke and carbon monoxide detection into one device, the X-Sense SC07-W is a must-have safety detector to protect both your home and family from fire and CO poisoning.

Full Home Coverage

Up to 24 Link⁺ series wireless interconnected detectors can be linked together, creating a home safety network that provides you with total home coverage to help save lives.

10-Year Battery

The use of a 10-year sealed lithium battery helps reduce the waste and inconvenience of changing batteries, plus it is always on giving you constant protection.

Easy-to-Read LCD

The LCD displays the present concentration level of carbon monoxide measured in ppm, so you can instantly know whether there are any dangerous CO leaks in your room.

LED Indicator

Allows you to easily discern the detector's working status at a glance by a combination of audible beeps and visual flashes of green, red, or yellow.
Customizable Wireless Network
Multipack X-Sense Link⁺ detectors are pre-connected, so they are linked together ready to install and use immediately. Of course, you can add any Link⁺ smoke alarms, CO alarms, and combination alarms to the existing network, or disconnect the devices and create a new grouped network.
More Secure Network Connection
No matter if you create a new network or add devices to an existing network, the detectors should be connected to each other successfully so there is communication between them. This greatly reduces the possibility of signal interference and improves network security.
Quick Location of Source Alarm
Installing a group of up to 24 X-Sense Link⁺ wireless alarms around your home creates a safety network of smoke and carbon monoxide detection. During an emergency, the source alarm that detects danger will flash red while the other units will alternate flashing red and green, so you can quickly find where the danger is coming from.
Dual Sensors to Double the Protection
This combination detector features a photoelectric smoke sensor and an electrochemical carbon monoxide sensor that operate independently of each other to detect both smoke and dangerous CO levels as soon as possible in the case of an emergency.
Built-In Informative LCD
The large, easy-to-read LCD helps you stay informed by indicating the carbon monoxide level in parts per million (PPM), showing the battery life, and displaying the device's status.
Specifications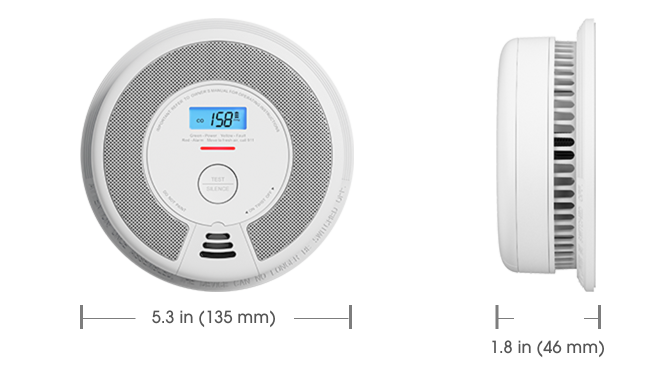 | | |
| --- | --- |
| Item Model Number | SC07-W |
| Operating Life | 10 years |
| Power Source | 3 V CR123A lithium battery (non-replaceable) |
| Sensor Type | Smoke: photoelectric; CO: electrochemical |
| Safety Standards | UL 217, UL 2034, EN 14604:2005, EN 50291 |
| Standby Current | < 6 µA (avg.) |
| Alarm Current | < 60 mA (avg.) |
| Operating Temperature | 40–100°F (4.4–37.8°C) |
| Operating Relative Humidity | 10%–85% (non-condensing) |
| Alarm Loudness | ≥ 85 dB at 10 ft (3 m) |
| Silence Duration | Smoke: ≤ 9 minutes; CO: ≤ 6 minutes |
| Display | LCD |
| Operating Frequency | 915 MHz (UL), 868 MHz (TÜV) |
| Maximum Number of Interconnected Units | 24 wireless units (only compatible with X-Sense Link⁺ wireless alarms) |
| Indicator Light | LED (red/yellow/green) |
| Color | White |
| Material | ABS/PC |
| Installation Method | Screw fixings and mounting bracket supplied |
| Usage | Indoor use only |
| Product Weight | 0.66 lb (300 g) |
| Product Dimensions | 5.7 x 5.7 x 2.0 inches (146 x 146 x 51 mm) |
| Package Contents | 1 x Alarm Unit + 1 x Mounting Bracket + 3 x Screws + 3 x Anchor Plugs + 1 x User Manual |
FAQs
What is the difference between the SC07-W and the SC07?

The SC07-W is a wireless interconnected smoke and carbon monoxide detector that can be interconnected to other X-Sense Link⁺ series detectors, while the SC07 is a traditional standalone combination smoke and carbon monoxide detector that cannot be interconnected to other wireless detectors.

Can this detector be connected to Amazon Alexa?

Though this unit is a wireless interconnected combination detector, it is not Wi-Fi compatible, so it cannot be controlled by an app nor work with any AI assistants. However, you should check out the X-Sense XS01-WT smart Wi-Fi smoke detector if you want a Wi-Fi alarm.

Does this unit come with a 10-year non-replaceable battery?

Yes! This unit comes with a sealed lithium battery that can last for 10 years without needing to be replaced.

Is it safe to install the detector with heavy-duty fasteners or magnetic pads?

It is not recommended to use heavy-duty fasteners or magnetic pads which could interfere with the device working properly. Instead, mount the alarm to a wall or ceiling with the included mounting bracket, screws, and anchor plugs for safe use.

Does the detector work in non-heated hallways?

Yes, the detector can be used in non-heated hallways, however, it is not recommended to install a detector in hallways near the bathroom which could cause a malfunction from too much steam.

What is the lowest carbon monoxide ppm level that this alarm will detect?

This detector shows CO levels above 30 ppm the same as most units. When the reading reaches 70 ppm, an alarm will be triggered. The alarm's response time will vary depending on different CO levels in the air: within 60–240 minutes at 70 ppm, within 10–50 minutes at 150 ppm, and within 4–15 minutes at 400 ppm.