Description
Specifications
FAQs
Reviews
X-Sense CO03D Carbon Monoxide Detector
10-Year Sensor Life

A long-lasting design ensures 10 years of stable, reliable performance for complete peace of mind.

3 LED Indicators

Multiple LED indicators with clear, intuitive instructions inform you when and how to act.

Easy Installation

The provided tools, easy-to-hold mounting bracket, and a twist-lock design help complete installation within minutes.

Test & Silence Function

Test to confirm device condition and mute an alarm in less than a second with the same, easily accessible button.

Replaceable Batteries

3 replaceable AA batteries continuously power the CO monitoring device.

Self-Check Function

A regular self-check function helps detect faults and ensures product integrity.
Informative LCD, Always Informed
The constant reading on the LCD screen will not only confirm that you are breathing in fresh air, but will also determine if you have an ongoing, low-level CO leak that is not at a dangerous level yet, always ensuring you are well-informed.
Faster CO Response, Fewer Dangers
The adoption of an advanced, sensitive sensor guarantees that the device will react to corresponding CO levels in the air within the required time span without delay, giving you every second of critical survival time and every additional second that can be spared.
Easy, Efficient Test/Hush Button
A supposedly life-saving CO detector can become life-taking if it is not working properly during a CO leak. The Test/Hush button helps maintain excellent device condition 24/7 with a simple press, and can mute a test warning with another quick and easy press.
Sensitive Sensor, Secured Safety
A premium electrochemical CO sensor is equipped to collect traces of contaminated air, and an advanced chipset with more memory, lower power consumption, and higher stability than other leading brands will then accurately analyze the sample before issuing a warning.
Specifications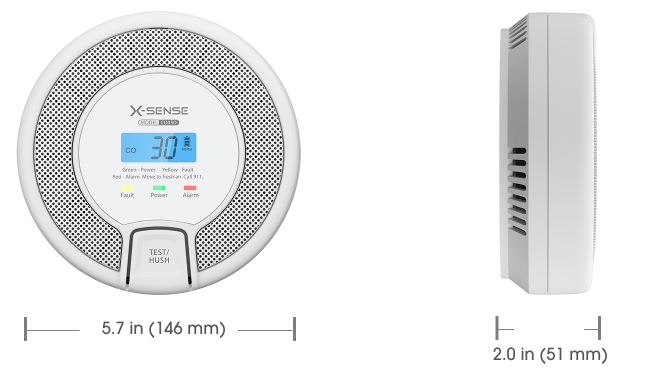 | | |
| --- | --- |
| Item Model Number | CO03D |
| Operating Life | 10 years |
| Power Source | 3 x 1.5 V AA alkaline batteries (replaceable) |
| Sensor Type | Electrochemical |
| Safety Standards | EN 50291:2010 |
| Certification | Kitemark and CE listed |
| Standby Current | < 20 µA (avg.) |
| Alarm Current | < 45 mA (avg.) |
| Operating Temperature | 40–100°F (4.4–37.8°C) |
| Operating Relative Humidity | 10%–85% (non-condensing) |
| Alarm Loudness | ≥ 85 dB at 3.28 ft (1 m) |
| Silence Duration | ≤ 6 minutes |
| Indicator Light | LED (red/yellow/green) |
| Display | LCD |
| Color | White |
| Material | ABS |
| Installation Method | Screw fixings and mounting bracket supplied |
| Usage | Indoor use only |
| Product Weight | 0.29 lb (133 g) |
| Product Dimensions | 4.3 x 4.3 x 1.5 inches (110 x 110 x 37 mm) |
| Package Contents | 1 x Alarm Unit + 1 x Mounting Bracket + 3 x 1.5 V AA Batteries + 2 x Screws + 2 x Anchor Plugs + 1 x User Manual |
FAQs
Does it also display the peak CO level?

It just shows current CO levels from 30-999 ppm without peak level memory function.

What is the minimum CO level this alarm will show?

How long do the batteries last?

At least three years under normal conditions. It needs three 1.5 V AA alkaline batteries and you can replace them.

Can I forgo the drill when installing?

No, you need to drill three holes and complete the installation with the included anchor plugs and screws

Can this detector be installed on a standard round electrical box?

No, the distance of the screw holes in the mounting bracket is 2.7 inches (68.6 mm). If you want to know whether this alarm can cover your existing electrical box, please check the size of the electrical box.

What is the recommended installation location and height level?

A wall is the ideal location for this alarm, as carbon monoxide is slightly lighter than air, and it is found with warm, rising air. The alarm should be placed on a wall about 59 inches (1.5 m) above the floor. Keep it at a horizontal distance of 60 inches from the potential CO source.

How do I know if the device is functioning properly and monitoring for CO leaks?

If the alarm senses a dangerous CO concentration level, the LCD will display the CO level from 30-999 ppm. This unit will alarm in the following time range when exposed to the corresponding levels of CO: 70 ppm for 60-240 minutes, 150 ppm for 10-50 minutes, and 400 ppm for 4-15 minutes.

Do I have to manually run a weekly test, or does the detector automatically run the test?

The carbon monoxide alarm has an automatic self-check function that ensures that the key sensor and critical circuits are working properly. However, we recommend that you also press the test/silence button once a week to verify that the alarm is still working properly.

Will cooking trigger false alarms?

False alarms are highly unlikely. Unlike smoke alarms, CO alarms are not affected by factors such as dust, steam, or cooking fumes.