You can always find reasons to have a barbecue. Celebrations, important dates, or want to share with our family and friends because yes, the grill men know that you only need the desire to enjoy. And for everything to be a success, we must know and apply the necessary care to keep the grill in optimal condition.
Taking care of our grill will allow us to extend its useful life, in addition to avoiding accidents due to lack of maintenance. So, here we have come up with the ultimate grilling safety tips in 2021. Let's check them out.
Related Post: Candle Safety Tips in 2021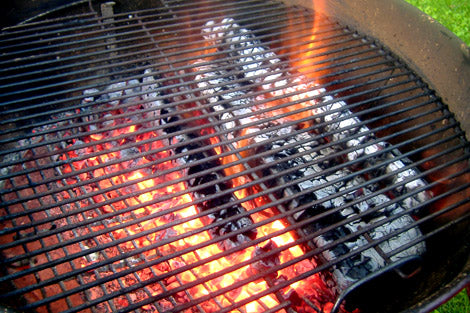 Ensure Enough Space Around
A grill is set up straight and stable. There must be enough space around in case a grill is knocked over. No flammable or highly flammable materials should be in the vicinity.
Also consider the rising heat, for example under a gazebo. It is not a mistake to have a fire extinguisher or fire blanket handy in case of fire. With electric grills, you should refrain from using water (risk of electric shock), and hot fat must not be extinguished with water.
Keep It Clean
Developing the habit of cleaning your grill before and after use will always be good practice for barbecue safety. With the help of the metal brush, clean the grill, you can also use a paper towel dipped in oil to clean the grates.
Direct Cooking vs. Heat
On the grill, it is more common to grill over direct heat, regardless of whether you are using a gas or charcoal grill. Direct cooking is ideal for most meats, but when preparing very thick cuts of meat, it is best to use the indirect cooking technique.
To do this, simply move the charcoal to the side of the grill and place the meat on the charcoal-free area. If you are using a gas grill, simply reduce the heat and don't cook the food right on top of it.
Keep Away from the Children
Whoever grills not only has a responsibility to himself, but also the people or guests present. Particular attention should be paid to children, as they do not know the dangers of a hot grill and tend to forget about them in their playful exuberance. Children should keep a minimum distance of 3 meters from the grill - always!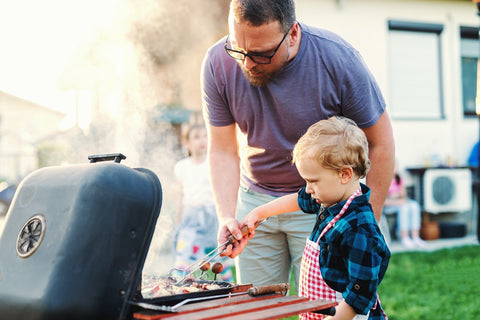 Handle the Charcoal Grill Safely
It is recommended to wear appropriate clothing when grilling. Heat-resistant gloves, barbecue tongs, and shoes are a minimum.
The worst mistake when using a charcoal grill (but also with other fireplaces) is the use of liquid fire accelerators (alcohol). Every year serious barbecue accidents can be traced back to the use of alcohol when barbecuing.
During combustion, alcohol cannot be controlled due to the development of gas. A cloud of mixture forms, which can be ignited by a spark (cigarette embers, for example). So, never heat a charcoal grill with liquid fire accelerators!
Also, when using a charcoal grill, glowing pieces of charcoal may fall to the floor. Therefore, wear shoes near the grill and watch out for children running around.
Never Dispose of Barbecue Ash in Flammable Garbage Cans
This is one of the important grilling safety tips which you need to remember. When the grilling is over, the danger is not over yet. The time it takes to burn charcoal is often underestimated. The scorching heat can linger under the ashes until the next day. Never dispose of barbecue ash in flammable garbage cans (or with flammable filling) without prior checking. It is best to extinguish extensively with water beforehand.
Never Extinguish the Electric Grill with Water
Electric grills are often used on balconies or in apartments. In this case, a hot electric grill must not be left unattended. Even after it has been switched off, it can still give off enough heat to cause fires.
In the event of a fire, never extinguish the electric grill with water, there is a risk of electric shock. Furthermore, hot fat must also not be extinguished with water, as this would cause a deflagration and burning fat spread throughout the apartment.
Turn on the Gas Grill with Its Lid Open
This is one of the most important Grilling Safety Tips which you should not forget. When you start the gas grill every time, keep its lid open that allows its excess and unburned to escape safely. If you will keep it closed, it can create anaerobic air and suddenly it will combust when its lid is opened and so oxygen enters in.
Always Make Sure to Close Your Grill Correctly
Many times, an accident happens because a grill is not closed correctly. Charcoal is hot incredibly, even after its ashes are over. So, one of the best grilling safety tips to shutdown it correctly.
If you are using a gas grill, ensure to disconnect its propane tank and do not go close after using. Also make sure, that all the valves are closed firmly so there will be no gas leakage when you start it again.
And if you are using a charcoal grill, it is recommended to wait for 48 hours to make sure that the ashes are cooled off entirely.
Tips for Each Grill
Here in the following, we have provided the best grilling safety tips for each type.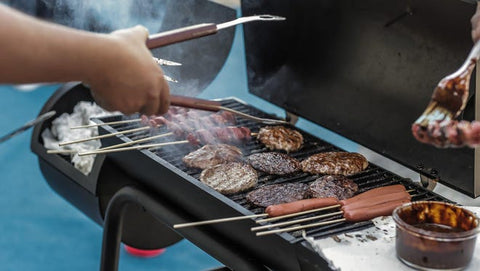 Charcoal Grills
For grilling safety, do not use flammable liquids to start the fire. It is also not recommended to throw easily burning papers, as they can easily blow away in the wind and start a fire.
Always keep a container of water near the grill so you can react in an emergency. At the end of the roast, make sure that the embers are well extinguished.
Install the grill in a clear area, away from trees or flammable items. Do not forget that this type of appliance requires good ventilation, so you must favor open spaces or with the necessary draft so that the flames do not pose a danger.
Avoid children and animals near the grill. Explain to them the dangers of being by the fire.
Keep an eye on the grill. If you must go out or do something away from her, find a relief that can keep an eye out for the fire.
Gas Grills
Here are some gas grill safety tips for you:
If you are going to buy a safety grill, choose one that has the quality seal of the SEC, a guarantee that it meets the safety requirements of the superintendency.
For grill safety, check that both the flexible and the gas regulator work correctly and do not show damage or cracks.
When lighting the grill, always do so with its lid open to prevent the gas from concentrating and causing an explosion. Also, remember to check that the flames are blue, so you can confirm that the combustion is correct.
Do not forget that liquefied gas is a flammable material, that it should not be exposed to the sun or handled or stored in closed environments.
FAQs on Grilling Safety
Here we are going to discuss the Frequently Asked Questions on grill safety.
1. What to Do If the Grill Is on Fire?
If you can reach near the grill's knob, first of all, turn off it and then take off the food and throw some baking soda, kosher salt, or sand on the grills to smother the flames.
2. Can the Grill Explode?
Generally, propane grills are very safe to use but they also can explode if their gas valve is left open. Also, if the temperature goes more than 160°, it can increase the pressure in the tank, and then it leads to an explosion.
3. Why Did My Grill Catch on Fire?
If you will not keep the grill clean, its heated grease can accumulate vaporize and liquify which causes fire. If you will keep the grill cleaned consistently, it will significantly decrease the fire risk. In case, it catches fire, first of all, make sure to turn off gas and keep the lid open and let grease burn off.
4. Can You Put Water on a Grill Fire?
Do not use water to extinguish a grease fire and also never spray water on a grease fire. It will increase the blazes and increase the burning grease to a wider area. To smother the flame, you can use baking soda, sand, or salt.
Conclusion
Grilling is a very nice social pastime. Unfortunately, there are thousands of accidents involving barbecues every year. Most of these accidents could have been avoided if simple above-mentioned grilling safety tips and rules had been followed. So that, you too can enjoy grilling in all its interesting facets without hesitation.
10% OFF
X-Sense Wi-Fi Smoke Detector, Smart Fire Alarm
You'll receive a real-time notification on your smartphone whenever an alarm sounds.
Continuously checks its battery status and Wi-Fi connection.
Allows you to silence any annoying alarms via the app.
Upgraded photoelectric sensor significantly increases the alarm's sensitivity.
Easy to install the smoke alarm and connect it to Wi-Fi in a few minutes.