As much as we enjoy many comforts from the innovations and the automations, we also risk our lives caused by the making the certain products. A serious outcome of manufacturing is the generation a poisonous gas, Carbon Monoxide that can endanger our lives. The prevalence of this gas in the atmosphere should be detected, on time, to take you away from it. This article guides you how to choose a carbon monoxide detector that is most effective, accurate and reliable.
How to Choose the Best Carbon Monoxide Detector?
1. Power Source
The devices used to detect Carbon monoxide come in three different categories. They could either be hard-wired, or a plug-in device, or powered by battery. Hard-wired models may be connected to each other but have disadvantage of inability to function, if the electric power sockets become unavailable. Plug-in devices with battery backups may not be preferred, because if the presence of gases rise, placing devices everywhere may not be feasible. If they are extensively used, periodic replacement of the batteries every six months becomes important. Battery-operated units are much simpler to install and will not fail.
2. Digital CO Display
The concentration of CO is measured in parts per million and digital CO sensor displays this value. There are certain models with stock ticker-like readout the present level of CO. Some models have history as a timeline, recording the CO concentration for ascertaining and alerting potential dangers. There are more features available that have some significant advantages.
3. Electrochemical sensor:
Electrochemical sensors with alert alarms are reliable because they are not affected by the temperature and humidity as well as the common chemicals in the household. Kidde's CO alarms employ Nighthawk technology sensing CO concentration, accurately and so adapted by most major manufacturers.
4. End-of-life warning:
End of life specified on the products helps users to replace the alarm, much before they fail on time. Kidde, a major manufacturer tests its CO alarms for long-term usability and a mark is made to show the end-of-life.
5. UL or CSA Listed:
Underwriters Laboratories (UL) and the Canadian Standards Association (CSA) are the reputed third party organizations that certify the CO alarms. A label as UL Listed or as CSA Listed must be marked on the product's packaging. Kidde is the only manufacturer that make the CO alarms that comply with the standards of UL and CSA.
6. Accuracy:
A certification marked on the package for the accuracy of the CO sensor alarm means that it has UL listing and meets the accuracy standard of UL.
7. Battery-Operated:
A battery-powered alarm for detecting CO is the preferred product for the users in the areas with power outages and for business with generator powered by gas. These sensors also can work 24 by 7. The backlit digital display shows the CO level even when it is dark, placed anywhere and be moved from place to place.
8. Peak-Level Memory:
It is also important that the people at home know the peak level of CO. A feature to record this is an added attraction for appropriate corrective actions.
9. Plug-in with Battery Backup:
A 9V battery backed device can be plugged in wherever there is an electrical socket.
10. Voice Warning:
A threat of high concentration of CO announced by voice is better than the alarm and so is welcome for added safety to protect from smoke and CO.
The Best Carbon Monoxide Detector for You to Choose:
X-Sense is one among few that only makes a range of The Best Carbon Monoxide Detector For You To Choose for the household. As you review the range of their products, you will appreciate that X-Sense only have a range of detectors to choose from. This company designs products that deploy the advanced technologies to benefit from the recent advancements. X-Sense also considers that the quality of the product is certified by the recognized organizations. So X-Sense has obtained the required recognition by independent third party reviewing committees, with standards for safety of both ETL and UL as well as TÜV and BSI.
Their products come with inherent design to cater to accuracy, sensitivity and quality. Broad categories of the products from X-Sense are for detection of smoke, CO and a combination product for both smoke and CO. All the products aim at instant and secure alarm that protect lives and properties. They only use replaceable lithium batteries with 10 year life.
It is but necessary to highlight the technologies. X-Sense uses of microcontroller unit made in a single small chip that does not require much power. The products even show up low battery condition for immediate attention. They use wireless technology to trigger the alarms that can be located away from sensors that are also networked for added safety from fire and CO. Smoke alarms adopt the photoelectric sensors that detect the smoke emerging from slow-burning or smoldering fire by finding the interception of light in the chamber well in advance.
10% OFF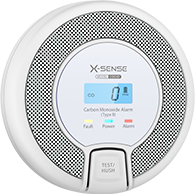 X-Sense CO03D Carbon Monoxide Detector
Digital LCD clearly displays real-time CO concentration levels and battery power.
10-year sensor life with replaceable batteries provides uninterrupted 24/7 protection.
Detects CO threats accurately with the advanced Figaro electrochemical CO sensor.
Easy to install onto any wall or ceiling without hardwiring.
Meets safety standards UL 2034 (US) and EN 50291 (EU).
Finding best CO Detectors, especially for use at home, should focus on sure and accurate identification of the CO over the other features, because the protecting humans is the only objective.