Rating a carbon monoxide detector in the list of top 10 CO detectors depends on different factors, which include its specifications, reliability and its lifespan in terms of service. We are going to look at the finer details to ascertain what aspects qualify one to be rated as the best carbon monoxide detector.
X-Sense is on the top brands of carbon monoxide detectors and it's one of the best detectors we shall look at amidst nine other top-rated detectors. This is because they embrace different modern technologies and have both electrochemical and photoelectric sensors.
Why You Need a Carbon Monoxide Detector?
Carbon monoxide detectors are essential in any household, just like smoke detectors. Despite this being the case, many people tend to forget or simply overlook them. This is very unfortunate because, in most of our homes, several appliances produce carbon monoxide.
Most of them are used on a daily basis. Good examples include gas heaters, furnaces and generators. According to a study by the CDC(Centers for Disease Control and Prevention) in the year 2011, over 15,000 serious emergency cases were treated annually. The cases were, however, not related to carbon monoxide emanating from fire sources but non-fire related source. To make matters worse, almost 500 people succumb to the same annually. These statistics, therefore, indicate how vital the installation of CO detectors are in protecting our households.
In the research, the CDC also gave a list of the common CO sources in our home. They include the appliance listed below:
Space heaters
Gas and oil furnaces
Gas/stove range
Gas water heaters
Generators
Leaks in gas lines
Motor vehicles
How to Choose a Carbon Monoxide Detector
Choosing the best carbon monoxide detector has never been this easy. Below we shall outline the tips that will enable you to select a CO detector that will serve you right.
1. Power
Carbon monoxide alarms are available in three different variations; in terms of the power source. They include those with plug-in connections, hardwired, and others with batteries and 10-year sealed battery powered. The plug-in types are very easy to install. For the hardwired type, they have a consistent flow of power and do not require battery replacement.
However, inefficient in case of a power outage. Battery operated detectors, on the other hand, are not affected by power outage, but their batteries will need replacement from time to time. Choosing the best CO detectors in terms of power will depend entirely on the most convenient power source for you.
2. Digital Display
CO detectors with digital displays enable you to monitor the levels of carbon monoxide in your home. The critical levels of carbon monoxide are those above 101 PPM, Where this stands for the measurements in Parts per Million. When the detector detects such levels, they will trigger an alarm, which will need immediate evacuation.
3. Dual-Sensing
Present-day carbon monoxide detectors have two different sensors, and this enables them to detect and sound alarms in case they detect smoke or CO gas in your home. This ensures your home is fully protected by installing a single unit. The sensors also have specific alerts, and therefore, you will be sure which danger they are addressing.
The Types of Carbon Monoxide Detectors
We shall look at the four common sensors used in sensing, detecting and alerting in instances of carbon monoxide.
1. Biomimetic sensors
This type of sensor has a lifespan of up to three years. It uses elements that are gel-like and liquids that change color. They both work in combination with detecting the presence of carbon monoxide in the air in their surrounding environment.
2. Metal oxide semiconductor
Such a detector has a 10-year lifespan. They use wired circuits in detecting carbon monoxide.
3. Electrochemical sensor
They are among the detectors that belong to a category of detectors with a long life span. In addition to that, they are among the best class of sensors. This is because they offer the best protection in most favorable home temperatures. They have electrochemical CO detectors and scientific combinations that generate current, which shows the amounts of CO detected.
4. Optochemical sensor
They are cost-effective and affordable. Despite this desirable trait, they are limited to detecting the presence or absence of toxic carbon monoxide gas. The level of the poisonous gas is not determined in this case. They have a pad that changes color in the event that they detect carbon monoxide.
Top 10 Carbon Monoxide Detectors of 2020
1. Kidde C3010 carbon monoxide alarm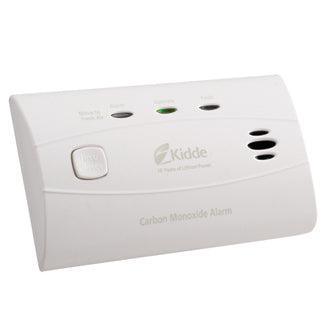 They are powered by 10 years lithium battery hence the 10 years life span guarantee, and fitted with an electrochemical sensor. Have three different LED lights for different alerts and a digital display to shoe the CO concentration levels. Finally, it has a test button to check for proper functionality and reset purposes.
Pros:
Self-activation function when attached to the mounting bracket
No wiring is required hence it is very easy to install
10 years of service guarantee and can be used outdoor as well
Cons:
It lacks interconnection capabilities
No battery backup option
It sounds an alarm at a high PPM (70) which is not desirable by many users
2. First Alert SCO5CN Carbon Monoxide Detector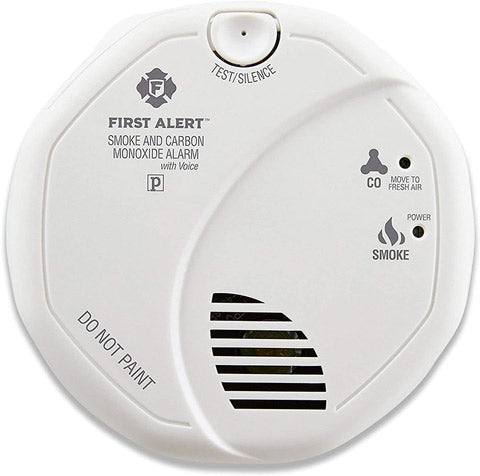 It has both photoelectric and electrochemical sensors, LED indicator lights on its interface for different alerts, and it is powered by a battery
Pros:
It has sensors which can detect both smoke and CO gas
Can be interconnected
It offers a 5-year guarantee of service
Cons:
It lacks the voice feature
3. X-Sense CD01 Carbon Monoxide Detector
They are fitted with a 10-year non-replaceable lithium battery and an electrochemical sensor type. Have LCD with green, red and green display indicator lights. It operates on a 3V power supply. They are Kitemark and ETL certified. Finally, they have a real-time display of the CO level concentration.
Pros:
It has an automatic self-check function, which checks if the battery is working.
Low battery alert function
LED display when the alarm goes off
Cons:
It lacks extra functions like smoke detection
4. Nest Protect and Carbon Monoxide Detector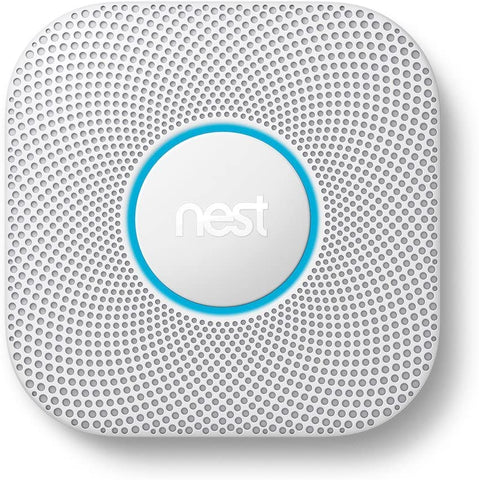 It has both the electrochemical and photoelectric sensors. Has a 10 years lifespan and guarantee of seamless service. Has an LED display light for different functionalities including a path light for evacuation. It comes with long-life lithium energizer back up batteries.
Pros:
It can be connected with android devices for real-time alerts
It does not have any hazardous substances
It detects the presence of smoke and carbon monoxide at a fast rate
It runs self-checks automatically to ensure it is working
Nest works with Bluetooth technology to connect with other smart home devices.
Cons:
It is very costly
The device interoperability is minimal for smart home devices
5. First alert CO615FF Carbon Monoxide Detector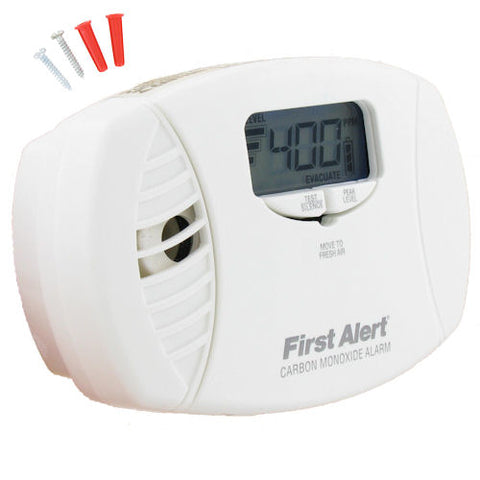 It is a pug-in CO detector with a digital display and backup battery. It's fitted with an electrochemical sensor. 7- Years warranty of service and has both display and voice alert feature.
Pros:
It has a backlight, and easy to read digital display
It has an advanced electrochemical sensor
The installation process is simple
Cons:
Due to the simple installation process may install it in the wrong places
It is difficult to position it with the eye level.
6. Kiddle KN-COB-B-LP Carbon Monoxide Detector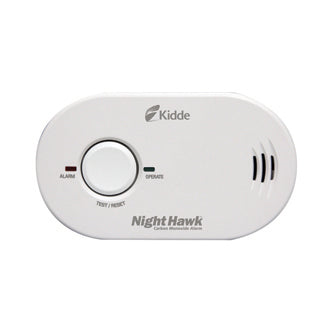 It is a battery-operated detector with a test and reset button. Has three different LED lights for different alerts, including low battery, high levels of CO, and proper functionality. It works with an electrochemical sensor.
Pros:
Audible signals to alert your family in case of dangerous levels of carbon monoxide
It continues to function during power outages
It is easy to install
It alerts in case the battery is low
Cons:
It is battery specific and can be used with the specified types only
The safeguard battery cover prevents it from closing when all batteries are not in place
7. X-Sense CO03D Carbon Monoxide Detector
It has a life span of 10 years with alkaline replaceable batteries. It is Kitemark and CE certified and has an electrochemical type of sensor. It is fitted with LED display lights with green, yellow and red lights.
Pros:
They can be relied on even when there are power outages
Long lifespan with assured service
Cons:
It is not certified because it failed the British detection standard tests
8. Lecoolife Combination Carbon Monoxide Detector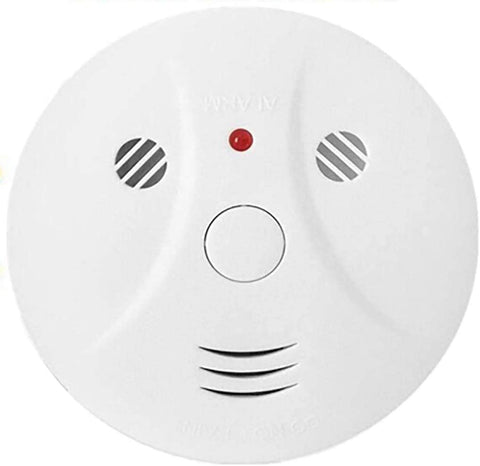 It is fitted with both photoelectric and electrochemical sensors. It is powered by a 10-year lithium battery with both sound and LED light alerts.
Pros:
The dual sensor technology in the type of detector gives your home full protection
The photoelectric sensor is less likely to trigger false alarms.
Cons:
It is not efficient in detecting fast flaming fires
9. Arikon Smoke and Carbon Monoxide Detector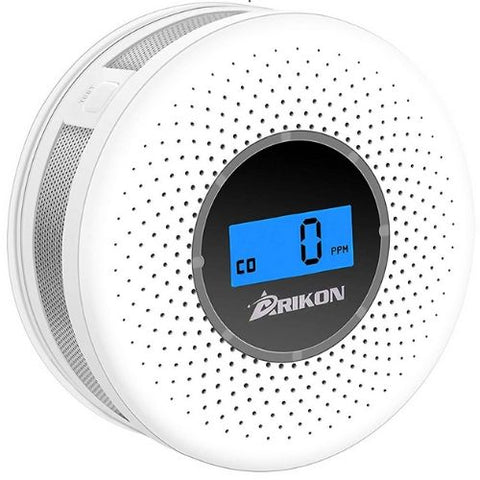 It uses photoelectric and electrochemical sensors. It is powered by 9v battery and has red LED lights for alerts and offers LCD alerts in the display screen in combination with sound alert.
Pros:
It is easy to install you, therefore. do not require the services of an electrician
It offers protection against home fires and carbon monoxide gas poisoning
Cons:
Requires frequent maintenance checks
It cannot detect combustible gas from sources like methane and natural gas
10. First Alert CO605 Carbon Monoxide Detector
Easy to operate with a single test and silence button on its interface. The detector can be plugged into a conventional electrical socket. It uses electrochemical sensors with a 7-year period warranty
Pros:
It has backup batteries hence continues to operate in a power outage.
User friendly
End of lifespan alert
Cons:
It lacks a digital display
The process of installing backup batteries is quite difficult
Where Should You Install a Carbon Monoxide Detector?
When installing carbon monoxide detectors in your home, ensure everyone will have the chance to hear them when they go off. There are three locations that are crucial when installing detectors:
Close to each bedroom
Just by the doors attached to garages
All levels of your house including the attic and basement
The local laws and manufacturer guide will also help in guidance in other areas that require detectors apart from the above three. Some manufacturers' advice on the installation of sensors in utility rooms, more information on the best places to install detectors is available on our guide.
How Many Carbon Monoxide Detectors You Need?
The number of detectors one needs cannot be narrowed down to a specific figure for every household. Having said that, there are set laws that will guide you on the same issue. First, you will have to check with your local laws.
Most of them, however, recommend that each bedroom in your house be fitted with one sensor. In some other instances, there is a specific distance from each bedroom where a detector should be installed. This, therefore, allows installing a sensor in the hallway, and it will be shared by the bedrooms within its proximity.
When that is the case, there is an overlap of the first rule, which requires sensors in each bedroom.
How Long Will a Carbon Monoxide Detector Last?
Each Carbon Monoxide Detector has an expiry date. This is because all of them have special electrochemical which are useful in analyzing the quality of air in their surrounding environment. Besides the yearly requirements to change their batteries, most of them have a life span of at least three years. Despite that, some CO detectors like the X-Sense CD001 have a life span with a lithium battery that lasts 10 years.
More Information
The waste gas carbon monoxide (CO2) is well known by most people. Its excess levels pose a threat to the health of human beings; proper ventilation of houses though keeps this at bay. The gas is, however, more toxic in low concentration as well. Lack of adequate ventilation not only in buildings but also around them makes them vulnerable to the increased concentration of this poisonous gas.
Carbon Monoxide Detectors are similar to smoke detectors in very many aspects. In some cases, the two are combined as a single unit. The bases of detectors hold special chemicals and sensors which analyze the air in their surrounding environment and detect the presence of CO in case of its presence. The Carbon Monoxide Detectors require replacement after some specific time, which is because the life of the electrochemical is limited.