In this article, you will learn about X-Sense's different types of smoke alarms and combination smoke and CO alarms. Depending on your needs, you will surely find the alarm that suits your home the best. X-Sense's products are equipped with world-class technology that ensures functionality and reliability.
Overview of X-Sense Smoke Alarms
X-Sense is known for its manufacturing excellence in the field of home safety products and solutions since they launched their company in 2014. Over the years, they have produced a wide range of well-performing smoke detectors and carbon monoxide alarms. All of which are equipped with top-notch features. This includes photoelectric sensors for smoke detectors and electrochemical sensors for carbon monoxide alarms.
Furthermore, they also employ proprietary technology that sets them apart from other competitors in the field. Currently, they are in the process of developing their SmartLink security system product line. 
Types of X-Sense Smoke Alarms
With its 10-year battery life, you won't have to bother to remember changing the batteries for quite a long time. Its compact size (78x44 mm) also makes it a highly versatile piece that you can install anywhere without too much hassle. However, don't be fooled by its small form factor. The XS01 gets extremely loud (about 85 dB) when triggered by the sensors. Along with the flashing LED indicator, this small smoke detector will give you ample time to control the fire in your home.
10% OFF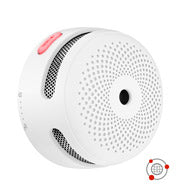 X-Sense XS01-WR Wireless Smoke Detector
Wireless technology uses radio frequency to transmit and receive messages.
If one alarm goes off, the rest of the interconnected alarms will alert as well.
5-year replaceable battery and 10-year sensor life.
Advanced photoelectric sensor is more sensitive and reduces false alarms.
The SD01 smoke detector definitely packs a lot of features in its compact design. It features a 3-color LED indicator that tells you the state of your smoke alarm. Moreover, its unique X-Sense Air Channel design certainly sets it apart from other models. The smoke flows through the vents and its sensors will accurately determine whether it's harmless smoke such as cooking fumes or steam or actual dangerous smoke. Thus, avoiding inconvenient false alarms. Lastly, it features a Test/Silence button that allows you to shut off the alarm with one press during false alarms. It also enables you to test the device for one week to check if it's working properly.
The SD03 fire alarm allows you to minimize false alarms through its high-performance photoelectric sensor. The sensor analyzes the environment three times before it alarms, making it efficient and accurate. Furthermore, it detects both fast and slow-burning fires.
This particular model has a Self-Check function that works every 10 seconds to make sure sensors and inner circuits are well-functioning. Typical for X-Sense smoke alarms, the SD03 is also powered by a high-capacity lithium battery that gets it up and running for 10 years straight.
Types of X-Sense Combination Smoke and Carbon Monoxide Alarms
The SC01 brings you dual protection with its smoke and carbon monoxide detector and alarm. Its carbon monoxide detector is powered by the FIGARO® sensor for ensured accuracy and reliability. Furthermore, its LCD display also gives you real-time measurement of CO levels in the space.
There's also a LED indicator that flashes in different colors (green, yellow, red) depending on the alarm's status. Thus, you are alerted all the time for possible different scenarios. No need to worry about replacing batteries from time to time. With the SC01, you and your family can sleep soundly because of its extremely long battery life of 10 years, thanks to its high-power batteries.
The SC03 protects your home from its double-sensor alarm system. It is a 2-in-1 detector and alarm for smoke and carbon monoxide. Thus, it protects you from visible and invisible smoke that is extremely dangerous. It boasts of its high-performance STMicroelectronics micro-controller in its system.
Moreover, its alarm horn is also reliable and long-lasting compared to other alarm systems. Thus, you are protected 24/7. Apart from its extra loud 85 dB buzzer, the SC03's alarm horn is designed to be dustproof and durable.
As with any of X-Sense products, you get uninterrupted protection from its high-capacity 10-year life lithium battery. Thus, ensuring your excellent protection at all times.
The X-Sense SC07 is one of the best looking smoke and carbon monoxide alarms in the market. The SC07 is not all looks. It boasts of various features that make it stand out from other models. It is sleek and compact, making it easy to blend into your ceilings or walls. Despite this, the SC07 conducts 360˚ monitoring of your surroundings 24/7. Its design allows smoke to flow through the vents quickly, allowing it to detect both smoke and CO immediately. Furthermore, the built-in LCD display shows you the real-time CO concentration.
Just like with other X-Sense products, the SC07 is a breeze to install. It comes with screw fixings and mounting brackets for a hassle-free and secure installation.
How Many X-Sense Smoke Alarms Are Required in Your House
You are only as safe as how well your whole house is covered and protected. The National Fire Protection Association has specific guidelines to fully protect your home. It is recommended to install one smoke alarm in every bedroom or enclosed space. Also, place them in a stairway and on every floor of the house for full protection. This also includes the basement, if you have one.
Strictly following these guidelines will help you fully maximize the use of X-Sense's security products. For other queries regarding installations and alarms, visit www.x-sense.com
X-Sense's products for home safety are one of the most reliable pieces you can get for your home. All of their alarms are TUV certified. Moreover, they are ETL and BSI approved. Despite their innovative technology, they still remain to make their products accessible to all because of their prices.
X-Sense's smoke alarms are also reasonably priced. For as low as $19.99, you can already get yourself a 10-year life smoke alarm. And for $37.99, you get high value from a dual smoke and carbon monoxide detector and alarm.

You may also like: