Description
Specifications
FAQs
Reviews
X-Sense CD01 Carbon Monoxide Detector
Informative LCD Display

Equipped with a CO read-out that is clear and readable, informing you of the device status at a glance.

10-Year Battery

A long-lasting 10-year battery powers the device 24/7 and guarantees a decade of home protection.

3-Color LED Indicator

A user-friendly multi-colored indicator is easy to spot and understand, so even your kids will know what to do in case of an alert.

Test & Silence Function

The noticeable button helps confirm that the CO detector is always functioning properly.

ETL Listed and UL 2034 Compliant

Internationally endorsed quality and practicality, assuring enhanced performance.

Self-Check Function

The carbon monoxide detector performs regular self-checks to maintain 24/7 monitoring.
Informative LCD, Informed Decisions
In addition to the noticeable alarm, a useful LCD display has been integrated to indicate real-time CO levels in your house, assisting you in making a more informed decision in case of CO leakage. The read-out stays on in working mode, but the backlight will turn off to save battery.
Electrochemical Sensor, Accurate CO Detection
Based on accurate chemical reaction measurements, a built-in electrochemical sensor helps draw your attention to the life-killing, odorless, colorless gas, wasting no time in issuing a loud 85 dB warning with a blinking LED light, alerting you before permanent damage is caused.
10-Year Battery Life, Nonstop Protection
A high-quality 10-year battery ensures constant protection of you and your family, eliminating the risk of failing to alarm due to a dead battery, and removing the hassle of constant battery replacement, helping people who forget easily or who have a busy schedule.
3-Color LED Indicator, Clear Instructions
A multi-colored LED indicator conforms to common color associations, helping you react to CO leakage on instinct, saving you from failing to act due to panic. The well-known red, green, yellow color-scheme is also helpful for small children and lets them know when there is danger.
Specifications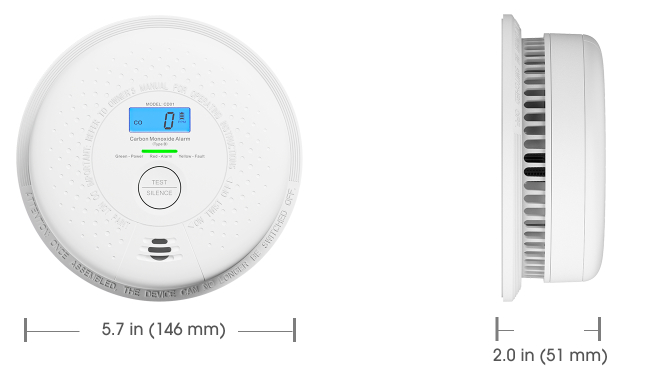 | | |
| --- | --- |
| Item Model Number | CD01 |
| Operating Life | 10 years |
| Power Source | 3 V CR123A lithium battery (non-replaceable) |
| Sensor Type | Electrochemical |
| Safety Standards | UL 2034, CSA 6.19-01, EN 50291:2010 |
| Certification | Kitemark and ETL listed |
| Standby Current | < 6 µA (avg.) |
| Alarm Current | < 60 mA (avg.) |
| Operating Temperature | 40–100°F (4.4–37.8°C) |
| Operating Relative Humidity | 10%–85% (non-condensing) |
| Alarm Loudness | ≥ 85 dB at 10 ft (3 m) |
| Silence Duration | ≤ 6 minutes |
| Display | LCD |
| Indicator Light | LED (red/yellow/green) |
| Color | White |
| Material | ABS/PC |
| Installation Method | Screw fixings and mounting bracket supplied |
| Usage | Indoor use only |
| Product Weight | 0.58 lb (211 g) |
| Product Dimensions | 5.7 x 5.7 x 2.0 inches (146 x 146 x 51 mm) |
| Package Contents | 1 x Alarm Unit + 1 x Mounting Bracket + 3 x Screws + 3 x Anchor Plugs + 1 x User Manual |
FAQs
What does the LCD show?

The LCD display provides a range of information such as CO concentrations (30-999 ppm), battery level, and working status.

Does the LCD only show CO levels above 30 ppm?

Like most units, it shows CO levels above 30 ppm. Individuals with medical conditions that may make them more sensitive to carbon monoxide may consider using warning devices that provide audible and visual signals for carbon monoxide concentrations under 30 ppm.

What does the "PAS" code mean during my weekly tests?

The code "PAS" on the LCD display means the alarm worked normally when you ran the weekly test.

Does this CO detector stop working during a power outage?

No, this CO alarm is battery-operated, so it still works during power outages. It has a sealed-in 10-year lithium battery without the need for AC wiring or a power outlet.

Is the green LED indicator always on?

No, the LED indicator flashes green once every 60 seconds in standby mode.

Is the monitoring range of this detector sufficient for an entire house?

This depends on the size of your home, as it has a limited detection range. At a minimum, each home should have one CO alarm on each floor, one in or just outside each sleeping area. In homes where multiple bedrooms adjoin a common hallway, a single alarm in the hallway can provide protection for all rooms.

Can this detector be installed in a boat cabin?

No, this product is intended for use in ordinary indoor residential areas, and we do not recommend use in a cabin or on a boat.

Does this CO alarm also detect smoke?

This alarm only detects CO and does not sense smoke. If you want a combination smoke and CO alarm, you can visit our website.

Can this detector interconnect with other devices?

No, this standalone device is not interconnectable. Wireless interlinked smoke alarms are currently available, and we will launch wireless interconnected CO alarms later.

Is this CO detector wireless? Is it compatible with Z-wave or other smart control panels?

No, it's a standalone CO alarm, not a wireless one, and is not compatible with Z-wave or a smart control panel.