Description
Specifications
FAQs
Reviews
X-Sense CD07 Carbon Monoxide Detector
Informative LCD Display

A noticeable LCD display updates you on the real-time CO level in your house and keeps you informed 24/7.

Tri-Colored LED Indicator

3 different colors clearly suggest device status and give clear information in addition to the CO read-out.

Low Battery Warning

A low battery warning ensures that the odorless, colorless CO will always be closely monitored.

Self-Check Function

The 60-second self-check interval frees you from constantly worrying about the device condition and operation status.

Test & Silence Function

The easy-to-access button confirms the normal operation of the device and gives back your peace of mind with just one press.

10-Year Battery

A long-lasting 10-year battery enables constant monitoring and premium safety protection.
CO Read-Out, Updated Home Safety
The LCD screen with a real-time CO concentration will not only update you on your home safety, but will also guarantee that you are always well-informed of any life-threatening CO leaks, if they've been properly taken care of, and when it's safe to come back inside after an alarm sounds.
Electrochemical Sensor, Accurate CO Detection
With a built-in sensitive electrochemical sensor, even the slightest trace of carbon monoxide will be captured and thoroughly analyzed before any warning is issued. You will only be notified of the real life-threatening leaks, not a constant barrage of annoying beeping and false alarms.
Self-Check Function, 24/7 Guarantee
Unlike other toxic gases, carbon monoxide does not draw much attention due to its colorless, odorless, tasteless nature, and therefore it can be extremely dangerous when CO-monitoring devices break down unnoticed. The CD07's regular self-check function ensures that this will never happen.
10-Year Battery, 10-Year Convenience
The 10-year working life of this battery saves the unnecessary weekly cost of purchasing replaceable batteries, removes the nuisance of constantly muting low-battery alarms, and frees you from the unexpected and startling warning sirens, especially while you're asleep!
Specifications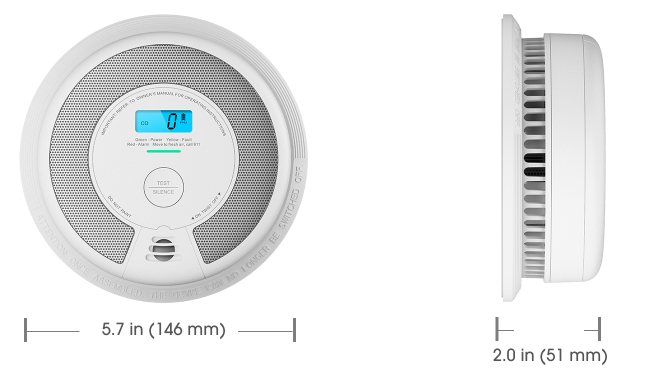 | | |
| --- | --- |
| Item Model Number | CD07 |
| Operating Life | 10 years |
| Power Source | 3 V CR123A lithium battery (non-replaceable) |
| Sensor Type | Electrochemical |
| Safety Standards | UL 2034, CSA 6.19-01, EN 50291:2010 |
| Standby Current | < 6 µA (avg.) |
| Alarm Current | < 60 mA (avg.) |
| Operating Temperature | 40–100°F (4.4–37.8°C) |
| Operating Relative Humidity | 10%–85% (non-condensing) |
| Alarm Loudness | ≥ 85 dB at 10 ft (3 m) |
| Silence Duration | ≤ 6 minutes |
| Display | LCD |
| Indicator Light | LED (red/yellow/green) |
| Color | White |
| Material | ABS/PC |
| Installation Method | Screw fixings and mounting bracket supplied |
| Usage | Indoor use only |
| Product Weight | 0.58 lb (211 g) |
| Product Dimensions | 5.7 × 5.7 × 2.0 inches (146 × 146 × 51 mm) |
| Package Contents | 1 × Alarm Unit + 1 × Mounting Bracket + 3 × Screws + 3 × Anchor Plugs + 1 × User Manual |
FAQs
What CO levels will trigger the alarm?

The CO sensor will not alarm to levels of CO below 70 ppm and the LCD shows the CO levels of 30-70 ppm. This unit will alarm in the following time range when exposed to the corresponding levels of CO: 70 ppm for 60-240 minutes, 150 ppm for 10-50 minutes, and 400 ppm for 4-15 minutes.

Are batteries included?

Yes, the battery is sealed in the device, which has a 10-year lifetime and can't be replaced.

Does this alarm issue a low-battery warning?

Yes, the LED indicator will flash yellow with one beep every 60 seconds.

Is the green LED always on?

No, the LED indicator flashes green once every 60 seconds in standby mode.

Can this alarm be installed on a ceiling?

It can be installed on the ceiling, but a wall is the ideal location, as CO gas is slightly lighter than air, and we have provided all the accessories needed. If ceiling mounted, install it at least 12 inches from any wall and keep a horizontal distance of 5 ft from the potential CO source.

Can this alarm be connected with other wireless devices from X-Sense?

No, it is not a wireless interlinked alarm. We will launch wireless CO alarms and wireless combination alarms later this year.

Does this CO alarm also detect smoke?

No, it's a carbon monoxide alarm that can detect CO instead of smoke. If you want a combination smoke and CO alarm, you can visit our website.

How loud is this detector?

In accordance with European safety standards, we have set the alarm level to 85 dB within one meter, which can be heard by your entire family and alert you in case of a CO threat.

Is there a wireless battery-operated CO detector available from X-Sense?

No, we will launch wireless CO alarms and wireless combination alarms later this year. Please stay tuned to hear about our latest updates.

Is this detector UL-listed?

It is ETL listed, compliant with the UL 2034 standard, and its Intertek Report Number is 5013211.