In this write-up, we are going to shed some light on the 10 year smoke detector. We will see what it means and what are its benefits? and why should you, as a consumer goes for a 10 year smoke detector. We will also briefly discuss some popular models of 10 year smoke detectors.
What Is a 10 Year Smoke Detector?
The name says it all. A 10 year smoke detector is the one that has a lifespan of 10 years. It is powered by lithium batteries that run for 10 years. This means you do not need to worry about their replacement or maintenance. After the expiry of 10 years, you will get an alert in the form of an alarm or a flashing light indicating that the batteries have lived their lives and a replacement is in order.
Benefits of Trusting a 10 Year Smoke Detector
There are some obvious benefits to enjoy if you go for a 10 year smoke detector. We list some of the major ones below
It gives you peace of mind. You know you will change the batteries after a decade. You do not need to check every fortnight or every month to see if they are running fine.
Often, the smoke detector starts producing alarm during night indicating a dying battery. You do not have to get up in the night to fix this issue by having a 10 year smoke detector. Because it will trouble you only once after 10 years.
All the 10 year smoke detectors have this in-built feature that informs you about the health of the battery after their expiry. If you forget to change it, don't worry your smoke detector won't.
You know that after 10 years, you will replace the complete unit of smoke detector and you do that and most probably you will end up buying another 10 year smoke detector.
Does a 10 Year Smoke Detector Last That Long?
Modern smoke detectors built with modern technology (low circuitry) and having modern lithium batteries do last for 10 years. But in some cases, the efficiency of the batteries comes down to around 90% after 7-8 years and by the 10th year, it goes down further to 50%. The point to remember is, if you replace your batteries after 7-8 years and do not change the entire unit, it won't last for ten years. To achieve the optimal level of performance batteries, have to work with the smoke detector that is engineered in a way that it consumes less power. After 7-8 years it also starts nearing its end. You cannot expect the same level of performance from it, even if you change the batteries. The quality of battery also matters a lot, if it has to last that long. Most smoke detectors use alkaline batteries. They have a terminal voltage of 1.5v and most lithium cells run out at 3.6v.
Why Should You Invest in a 10 Year Smoke Detector?
There can be several weighty arguments convincing you to invest in a 10 year smoke detector. Some of the important ones can be
1. Cost-effective
It will prove to be economical as you won't have to change the batteries periodically. There will be a onetime cost of changing the entire unit after the expiry of 10 years. In between, there are no replacement costs.
2. Maintenance-free
There won't be any maintenance required in a 10 year smoke detector as the batteries are properly secured and sealed and they cannot be tampered with. At the most, you can wipe them off with a duster and that's about it. They require no maintenance during their lifetime.
3. 24/7 Coverage
With a 10 year smoke detector, you get a comprehensive round the clock coverage against possible fire outbreaks. If the detector is hard-wired and a power failure occurs your smoke detector will still be up and running because of batteries' backup. In short, you are completely covered for 10 long years.
The 10 year smoke detector effectively takes care of your fire detection for a decade. You do not have to worry about periodically change the batteries to test them if they are working fine. No wonder, more and more people are opting for it and some US states like California and New York are devising rules about their across the board deployment.
The Options for 10 Year Smoke Detector
We will now look at some of the popular models of 10-year battery smoke detectors. So in no particular order let's begin
1. Kidde i9010 10-Year Battery Smoke Alarm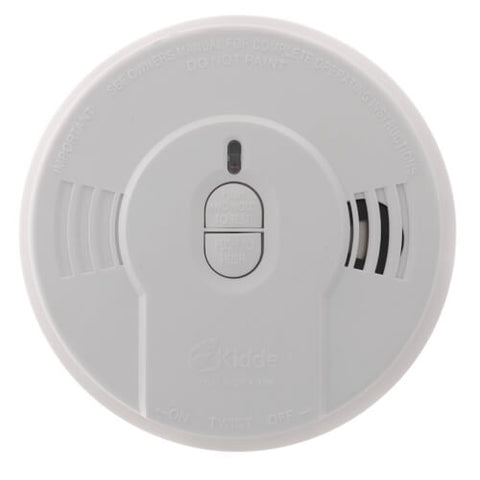 The Kidde i9010 10-year battery smoke alarm works on ionization technology. It has an in-built sealed lithium battery that keeps it running for 10 years.
It has a self-activation mechanism. All you have to do is mount this alarm on the ceiling or the wall and once installed the battery will automatically activate it.
Its deactivation is also very simple. Just remove it from the wall or ceiling and that's it. The deactivated alarm is useless now, you cannot use it even if you install new batteries in it. This is a security feature in it.
The alarm has a hush technology sensor, for temporarily shutting off false alarms. It also has an alarm memory.
It works alright for ten years and automatically indicates when the battery has finished.
2. First Alert 10-Year Smoke Detector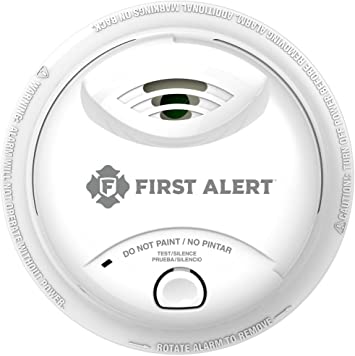 This is another popular 10 year smoke detector. It will also alert you automatically after 10 years and you will know it is time to replace your smoke detector.
Its other important features include the secure placement of batteries. They cannot be removed or tampered with for other uses. There is a single button available for testing purposes. A mute button for shutting down false alarms.
There is also a limited warranty for 10 years.
Besides alarm, LED is also available for alerting you.
3. X-Sense 10-Year Battery Smoke Alarm
10% OFF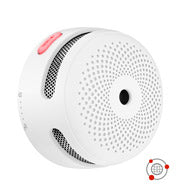 X-Sense XS01-WR Wireless Smoke Detector
Wireless technology uses radio frequency to transmit and receive messages.
If one alarm goes off, the rest of the interconnected alarms will alert as well.
5-year replaceable battery and 10-year sensor life.
Advanced photoelectric sensor is more sensitive and reduces false alarms.
This one is also good for 10 years. It has a photoelectric sensor that is very efficient and effective. The installation is very easy and requires no formal expertise. This alarm has the silence option for nuisance/false alarms. It is approved by TUV and meets all the important European quality standards and certifications.
4. FireAngel Smoke Alarm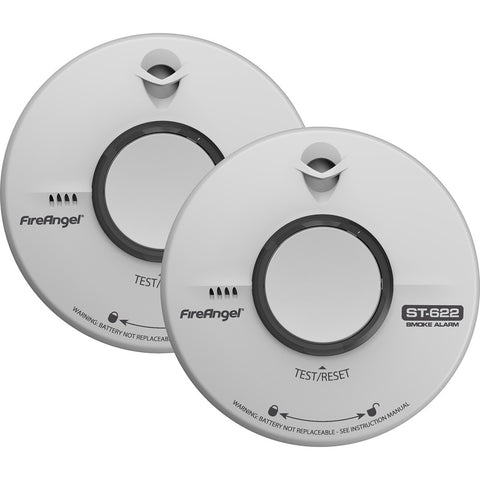 The FireAngel smoke alarm is guaranteed to run for 10 years. The lithium batteries are sealed and well protected to save from any tampering or misuse. The product meets all the relevant European quality standards. There is a hush/test button for use accordingly. Its unique feature is the use of Thermoptek optical smoke sensing technology. This means the sensors are thermally enhanced for more effective detection of fire. The sensor is also toast proof that means it is less likely to trigger false alarms, although it is not recommended for use in the kitchen or garage.
5. Radio-Interlinked Smoke Alarm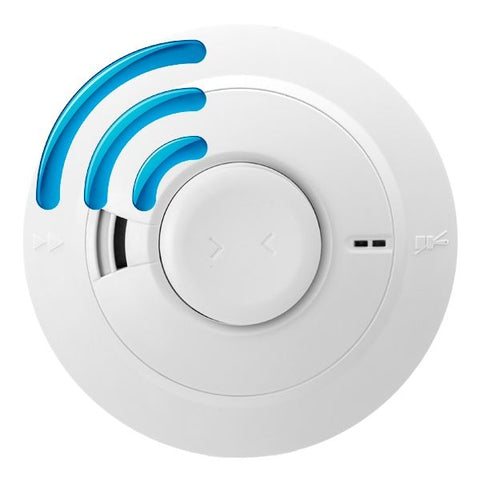 The Radiolink + module that is in-built in this smoke detector allows for the integration of this device with other devices of the same company. The connectivity will be done via radio signals. The smoke detector is good enough for large rooms, bedrooms, hallways, etc. The company provides 5 years' warranty. It has 2 LED lights. The red LED denotes normal status while the blue one is for Radiolink + module status.
There you have it. All the basic and relevant information is here regarding 10 year smoke detector. We are all aware of the various benefits of this device now and know why it is worth it to have one in the house. We hope this has been helpful.
You may also like: