Wireless Smoke Detector VS Wi-Fi Smoke Detector
Thu, Jan 28, 2021
Looking for smoke detectors? Did you know that there are two types of smoke detectors available on the market – a wireless smoke detector and a Wi-Fi smoke detector?
Before buying and installing a fire alarm system in your home and/or office, you should know about both of these smoke detectors. In the following article, we will talk about the difference between these two smoke detectors, and will also examine their benefits.
How Does a Wireless Smoke Detector Work?
These small alarms are part of an integral fire prevention system inside homes and buildings. They are equipped with a sensor (siren) that is activated when it detects the presence of smoke or flames.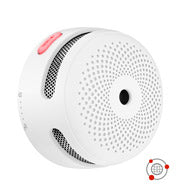 X-Sense XS01-WR Wireless Smoke Detector
Wireless technology uses radio frequency to transmit and receive messages.
If one alarm goes off, the rest of the interconnected alarms will alert as well.
5-year replaceable battery and 10-year sensor life.
Advanced photoelectric sensor is more sensitive and reduces false alarms.
In this way, it warns the homeowner of fire in its early stage, and, if possible, you put it out it with the help of an extinguisher.
Although we all know these devices as "smoke detectors," technically this is incorrect. We could also be referring to a gas detector, carbon monoxide detector, etc. The correct term is "fire detectors."
A wireless alarm has the ability to send a wireless signal to an alarm panel and report any event through programmed means. It also has a built-in acoustic alarm signal that allows an instant alert at the scene of the event.
A wireless smoke detector communicates via radio frequency. Each detector has a dip switch on the back of the unit. Since all switches are set to the same settings, all smoke detectors will sound when the Test/Silence button is pressed.
This alarm type also has an anti-collision protocol, automatic power control, and very high sensitivity that allows the detector to cover large areas.
Also, through the diagnostic screen for wireless detectors, it is possible to observe the received signal strength, zone assignment, and memory location. In this way, the homeowner will have all the necessary information for an optimum installation.
How Does a Wi-Fi Smoke Alarm Work?
Wi-Fi smoke detectors are another widely used type of smoke detector. It works by connecting electricity and backup batteries. It connects to the Wi-Fi network and communicates with an application that is downloaded to a mobile phone.
X-Sense XS01-WT Wi-Fi Smoke Detector
You'll receive a real-time notification on your smartphone whenever an alarm sounds.
Continuously checks its battery status and Wi-Fi connection.
Allows you to silence any annoying alarms via the app.
Upgraded photoelectric sensor significantly increases the alarm's sensitivity.
Easy to install the smoke alarm and connect it to Wi-Fi in a few minutes.
It is used to detect and alert when smoke or carbon monoxide is detected, which it does via both an audible alarm and a sent notification to your mobile application. Connecting an alarm to your phone allows you to receive real-time alerts and updates about events inside your home.
If you have multiple smart smoke alarms synced up and any of them triggers, all detectors will sound.
Wireless or Wi-Fi Smoke Alarm?
What if you're not sure which alarm type is right for you? Don't worry! Here are the benefits of both types of smoke detectors.
Benefits of a wireless smoke alarm system:
One of the main concerns that come up when you think about the possibility of installing an alarm system is whether it will work correctly in an emergency situation.
One of the main disadvantages that often accompany wireless alarms is their increased susceptibility to tampering.
In many cases, thieves can use a frequency jammer to bypass the system sensors and prevent them from sending a signal to the central monitoring station.
In this way, they would have free access to the house! Thankfully, to counter this, many wireless alarms have incorporated new technological advances to prevent such an event from occurring. Today, most wireless systems are as efficient and trustworthy as their wired counterpart.
- Both the purchase of the system and the assembly have a lower cost than wired alarms.
- No rewiring of the house is necessary for installation. Installing a wireless alarm system is both incredibly easy and fast.
- Thanks to their design, wireless alarms can be placed anywhere.
- In the event that an alarm is no longer necessary, uninstalling it wirelessly is easier done than said!
- New wireless models allow access from a mobile phone or other devices to view current states, as well as to activate or deactivate an alarm.
- As a general rule, wireless systems are more aesthetically pleasing, and the finish is usually much cleaner so as not to interfere with your home decor.
Benefits of a Wi-Fi smoke alarm system:
Simply put, a Wi-Fi alarm system connects directly to the wireless router. For this reason, we do not need to use a SIM card for communication, since this is done through the internet via a router. A Wi-Fi alarm system is more innovative than GSM and has many distinct advantages.
- To communicate via the internet, it is not necessary for the alarm kit to have a SIM card installed. This means no monthly fees to the user, and no need for maintenance and notifications to the alarm center. 
- Wi-Fi alarms allow you to send constant information at no additional cost and in real-time, including images recorded by indoor and outdoor cameras.
- There is no need for maintenance on the GSM line (checking to see if the card has a balance, if the SIM card is operational, etc.)
- You do not have to worry about placing the wireless alarm in isolated locations which might not have GSM coverage, since the alarm is not connected to the router .
- From the same application you can manage different Wi-Fi sockets, the alarm, or the IP cameras.
It does not really matter if you choose a wireless smoke detector or Wi-Fi smoke detector, as both are effective protection elements that increase your home security.
And in addition to being effective while family members are away, they are also essential while members are inside. An alarm system can be activated even if there are people inside the house.
And of course, it enables more control over the home and office. In fact, many systems include surveillance cameras, motion sensors, etc. In this way, you will always have complete control over what happens in the home in real-time.
You may also like: X-Sense Wireless Interconnected Smoke Alarms FAQ