Can You Add a Security System to Your Apartment?
No matter whether you are the owner of the apartment or a renter, apartment security system is something you will need nevertheless. Hence the question arrives- whether you can add a security system to your apartment. Firstly, you can install DIY security systems in the apartment as many professional security system installers do not offer this to apartment dwellers.
Secondly, if you are a renter, you will also need to have permission from your apartment owner or landlord. As commonly observed, quite a number of owners and landlords do not allow it. Hence, the terms of your lease will decide it. If it allows you to install apartment security system, you can do so. Nevertheless, if you own the apartment, you won't have to go through such terms and permissions.
5 Best Apartment Security Systems in 2021
Installing just any security system won't do the work. Instead, you must use the best when it comes to security concerns. Based on different features, equipment type and monthly planning, we have come up with the top 5 apartment security systems in 2021. Following are their features and why they stand out.
1.
SimpliSafe

Apartment Security System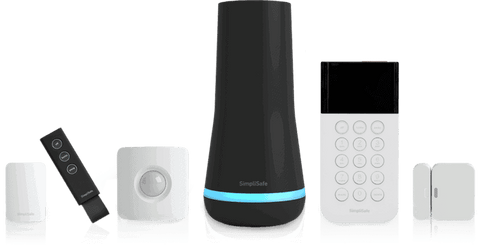 The SimpliSafe Apartment Security System has made the top of our list. If you are on a budget and still looking for the best, SimpliSafe is the perfect option for you. It offers full home protection with its outstanding security equipment and 24/7 monitoring by professionals. Any person with technically average knowledge can install it without much of a hassle. The security system is highly trusted by its users, which explains its position among the tops.
Key features:
Do-It-Yourself installation
Live professional alert system
Visual integration with outdoor cameras
Wireless
Arming or disarming from your phone right away
Compatible with Alexa, Google Assistant, Apple Watch, and so many more.
Why it stands out:
The entry-level package of SimpliSafe starts from $229 only with the standard monthly plan being $14.99. You can install the security system yourself, even without that much technical knowledge. Also, the monitoring and controlling is more than easy. With the mobile application, you can control it right from your phone. It comes with two cameras, which make the visual integration easier. Besides, the system provides protection against leaks, fires, floods, etc., as well. Furthermore, it allows connectivity over both Wi-Fi and cellular.
2. X-Sense Home Security System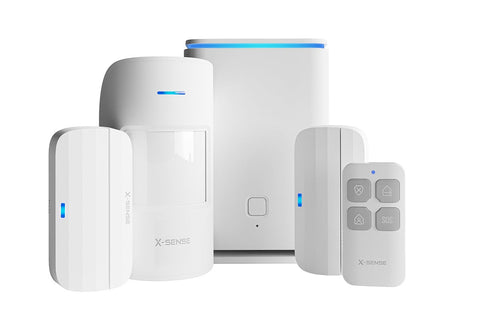 X-Sense offers a wide variety of services in terms of home security. Offering best services at a low cost made it among the top security systems. The security system offers a comprehensive package, comprising of applications and technologies to ensure your home safety.
Key features:
Control over the whole home security through your phone
Motion sensors to monitor the area of coverage nonstop
Switching between modes with a single button
Wireless range of up to 1.25 miles
Compatible with voice assistant, like Amazon Alexa.
Why it stands out:
The X-Sense is one of the home security systems for apartments that you can try. The system allows you to make your whole home security-ensured with wireless connection among up to 24 devices. Furthermore, after the initial setup, there is no additional contracts or subscription fees. You can also connect additional security devices, like motion sensors and smoke detectors to make sure your home is extra safe.
3. Ring Apartment Security System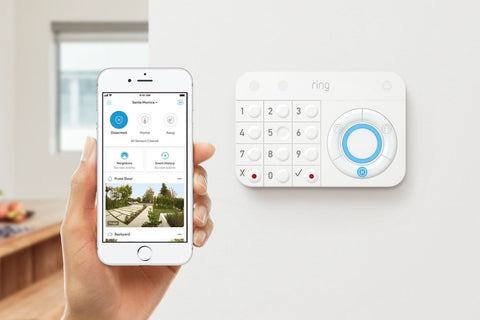 Ring apartment security system is one of the cheap alarm systems for apartments that you can try in 2021. The system is owned by Amazon and hence integrates with Alexa, Amazon's voice assistant. The pricing starts from only $199 with additional monthly fee of only $10 for the professional monitoring service. With a wide range of device options that can be integrated with the system, you can make your home more secured.
Key features:
Security alerts on smartphones via the mobile app
Built-in siren of 110 Decibel
Wide option for cameras, some with night vision
Offers several wireless protocols
Do-It-Yourself installation
Integration with voice assistant- Amazon Alexa
Why it stands out:
If you are looking for an affordable security system for your apartment, this might be the one for you. After installation, you will have to pay only $10 per month to get professional monitoring service. Also, as the system does not require professional installation, you can do it yourself, lowering the costs to quite an extent. Furthermore, you can include additional security devices, like panic button, contact sensors, and so on in the security system.
4. FrontPoint Home Security System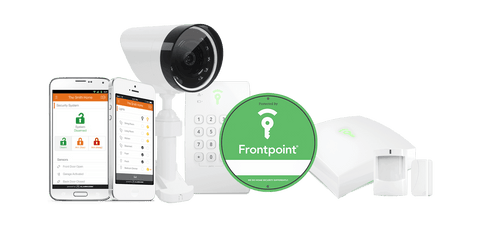 If you are looking for a security system that you can install within minutes, Frontpoint home security system is the best option for you. The home security package starts only from $99. Also, the shipping is free, and you get free doorbell camera with the package, ensuring better safety of your home. As a whole, Frontpoint security system ensures the complete security towards your entire home.
Key features:
Customization according to the user's requirements
Highly advanced voice-activated system
24/7, 365 days professional monitoring of your home, included with all packages
Installation with full phone support
3-year system warranty
Why it stands out:
Frontpoint security system is easy and quick to install. With all the equipment in the package, you don't need much of an experience to install the system. Also, the pricing starts from only $99. This price includes a free doorbell camera, taking the whole security standard to another level. The shipping is also free, leaving you in no extra worry for additional charges.
5. ADT Apartment Security System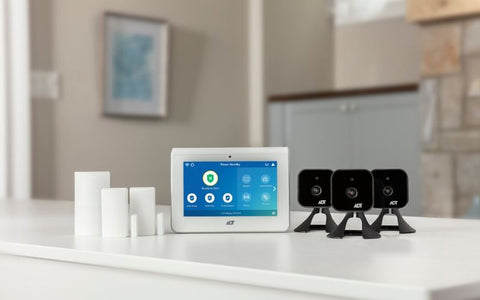 ADT is a new, still a leading company in the field of security systems. Beyond that, it has amazingly managed to be the largest company for residential and commercial security. Its affordability has brought it to this position. The system comes in several packages, the base price being $179. Based on your requirements, you can also include additional security devices in the system, which can later be monitored and controlled as a single system.
Key features:
Control through mobile application
Customization based on the variety of requirements of different customers
Long wireless range, almost three times of other wireless connections
Record and save video clips
Professional installation
24/7 monitoring
Why it stands out:
The ADT apartment security system is a service offered by the ADT company itself. Being a top company in the field, it offers so many additional devices that will work just right with your security system. Also, you get 24/7 professional monitoring, allowing you to rest easy. The longer wireless coverage allows you to have your home secured, even if it is a large one, with a single security system.
How to Choose the Best Apartment Security System?
There are plenty of apartment security system options where you can choose from. These include systems offered by big national companies as well as DIY security systems. Nevertheless, if you are to receive the best service, you have to choose the best security system for apartments. In this pursuit, you will have to keep the budget and comfort in mind, as well.
Decide What You Want to Protect
Firstly, you will have to decide what you are trying to protect. Based on that, your preferences will vary and so should be your choice of security system. You will find three basic security system packages. One of them is smart home automation, which adjusts automatically to the schedule and preferences of your family. They can turn on and off lights and other systems of the house depending on what they are set to do. Another type is the security equipment, which includes traditional security devices. Burglar alarms, outdoor cameras, glass-break detectors, etc., are some of the common security equipment. And the third one is environmental monitoring, which includes equipment like smoke alarms, leak detectors, pipe-freezing detectors, etc. Homes with elderly people should emphasize on such environmental monitoring devices.
Don't Go Beyond Your Budget
At some point of our life, we don't care much about the budget. However, that should not be the case for apartment security systems. As you will have to pay a monthly monitoring plan, you must make sure that you can afford it. Therefore, choose the company you can afford.
Determine the Place and Procedure of Installing the Equipment
For the placement of the equipment, you must make sure that it covers the area it is intended to cover. And for the procedure, DIY company representatives will provide advice. However, it is better if you know what you are up to because you are the one going to make the decision.
Don't Leave Even a Single Term Unattended
As you cannot change the security system every once in a while and you are going to pay monthly fees for the service, you must make sure you know all the contract terms. Once you check out all the contract terms and are sure that you are comfortable with it, you can proceed.
Installing an Apartment Security System
People now like to go for DIY tools. It is no different for apartment security systems. Installing such a system yourself can take as low as half an hour to as long as several hours. That depends mostly on the amount of equipment, the coverage area, and most importantly, your electronic and mechanical skills. However, if you are going to choose from the best apartment security systems mentioned here, you will not require much of an expertise. That is because all of them offer easy installation without requiring much technical knowledge.
The main part of such a security system is the main hub, which controls it over Wi-Fi. Next come the sensors for entrances, like doors and windows. These sensors may be detecting motion or any other use they are intended for. Also, some security systems offer security cameras within the package. Now for the operating part, the hub is controlled by a smartphone or such device or a simple keypad. Along with these basic parts, you can add more equipment later on based on your need.
Here are the basic steps of installing an apartment security system. Based on what system you got, these may vary to some extent.
Installing the Wireless Hub
As the hub will require a power source, it is better to place it in such a spot which is near a power outlet. This can be near the front of the house or any other part. While installing, you can mount it on the wall with a mounting bracket. As it is part of a wireless apartment security system, that won't be an issue.
Install the Other Parts
Now, you will have to place the sensors and other associated tools across your apartment. Based on how much equipment the security system comes with, the number of sensors and other parts will vary.
Test the Security System
As you complete the installation process, it is time to check if it is worth it. You don't want to get alarmed after an incident. Hence, it is better if you check the system beforehand and be sure about it. Also, setting off alarms accidentally is a common scene. Practicing it will make sure less of these accidents. While testing the system, you must follow the instruction manual from the manufacturer.
Conclusion
The best alarm system for apartments can ensure proper safety, while the wrong choice can make things worse. Check your requirements and choose the best one from this list that suits your home environment and requirements.