The installation of smoke detectors is essential for every building. If you search for the best smoke alarm for your home or office, first alert 9120b is the best choice. If you install First alert model 9120b in your building, you can feel absolute peace of mind. BRK owns the first Alert brand, and it is well known for manufacturing varieties of home safety devices. First Alert has introduced many smoke detectors so far apart from brk 9120b. Every product from First Alert is reliable and comes with its own pros and cons and special features. Let us look at all the details about the first alert smoke alarm 9120b.
Overview of First Alert 9120B Smoke Detector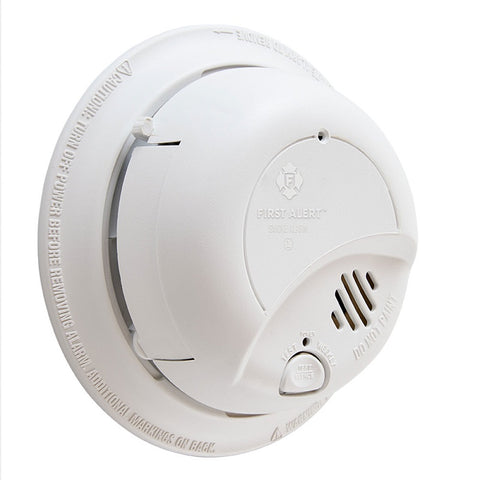 First alert 9120b is a smoke alarm, and it is available in white color. This smoke detector is hardwired, which means it uses your electrical system power to function. The alarm measures 5.6 inches in diameter and 2 inches in height, and hence it is reasonably compact. This alarm's coolest feature is that the power supply will be uninterpreted because it works with electricity and 9V batteries. Hence even if the power outage happens, the battery backup help to operate normally. In this device, the battery compartment is easily accessible, and consequently, the battery's replacement is a breeze. And the good thing is you do not need to take the smoke detector down to replace the battery. It allows the alarms to perform the job even while replacing the battery with electrical power. This device overall provides great.
Key Features of First Alert 9120B
Sensors
Brk first alert 9120b comes with dual-chamber ionization detection sensors. These sensors are capable of alarming even if there are tiny smoke particles, and it is quite common in fire breakouts. For example, it can easily activate the alarm in the events of paper burning, fire catch to the kitchen grease. So it is hard to miss any fire incident. However, this is not a photoelectric detector, and consequently, it is more difficult to identify the smoke particles that come out of a smoldering fire.
Warranty
Warranty is a key thing one must see before buying any smoke detectors. If you buy any First Alert alarms, you need not worry about the warranty since they provide a warranty for long terms. This device comes with a limited warranty for 10 years. The thing is, fire detectors should be replaced after every ten years, and that means you are getting a warranty for the entire lifetime. The customer service of First Alert is excellent and hence getting the warranty coverage is effortless.
LED Indication
The device comes with a LED light; this indicator lets you know the status of the device regularly. This is an important feature that should be there in every smoke alarm to verify whether the device is working properly or not. If the LED indicator shows a green light, that means it is working normally and using the AC power and completely operational. If the battery power is low, the device makes a chirping sound, and it is accompanied by the red light that flashes at every 60 seconds intervals.
Good alarm system
This device is equipped with an effective alarm system. If it detects the fire, it continuously flashes a red LED light. It also provides a sound alert. The sound alert will be three beeps and pauses, and it continues this pattern. That means you will get both types of alerts. You can see and also hear if there is any fire or smoke in your house. The unique technology is included in this device; it will not turn off due to shower steam or cooking. However, if you know that the alarm is not because of a real threat, you can easily turn it off by pressing a single button. This will make the device silent for ten minutes. The same button is also used to test the alarm.
If you have interconnected the alarms, sometimes identifying the location that caught fire becomes a problem. In this system, you will not get such issues. In case the device's sensor detects some level of smoke or fire, it triggers the alarm, and the latching indicator activates with that. This feature helps you or technicians to determine the first alarm that is activated. It will help in locating the area that started the problem. You can reset the alarm once you identify the location and necessary steps are taken care of. This first alert smoke alarm with battery 9120b can be easily interconnected to 18 other devices to create a secured atmosphere. Out of these 18 devices, 12 can be smoke detectors.
Overall first alert 9120b is an excellent device, and it is easy to use. The two-way alerts (visual and sound) are a good feature that enhances safety.
Pros and Cons of First Alert 9120B
Pros
Low battery indication feature with both sound and visual.
Complete ten years warranty, which covers the entire lifespan of the smoke alarm.
It provides loud alarm sounds with 85 dB. It is the recommend sound level.
The easy installation process and the device is completely UL certified.
The excellent sensor can detect effectively detect fast flaming fire.
It can be connected with 18 other devices, including 12 smoke alarms.
Cons
It is unable to detect and notify smoldering fires.
The occurrence of false alarms is more.
The Alternative to First Alert 9120B
The thing is, every product should have a similar alternative to compare and select the best one as per the requirements of the users. So, the best alternative for first alert 9120b is X-sense(XS01-WT) Wi-Fi Smoke Detector.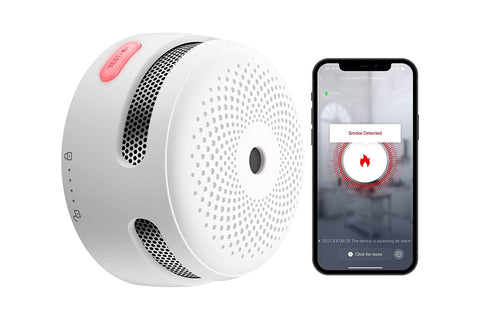 The hardwired smoke detector connection is an old-school method, and installing and monitoring them is cumbersome. In the modern digital world, everything is moving to digital, and connection is establishing wirelessly. Hence, it is not surprising to see wireless smoke detectors in modern buildings. X-sense is one of the trusted brands when it comes to alarms and home safety devices. It is the perfect and more or less a better alternative to First Alert 9120B. This device is easy to install and gives better control using smartphones.
Key Features
Easy Installation
The installation process of this smoke detector is smooth. This device is ready to install right out of the box, and you can install it on the ceiling or wherever you want. Once installed, you just need to connect it to the official app to start using its features.
Self-check
One of the main problems of alarms is it needs regular monitoring. But in this smart smoke detector, the device itself monitors the performance and alerts you if there is an issue. It regularly monitors the Wi-Fi and battery performance, and if it finds any irregularity, it will notify by activating the alarm, and the LED indicator also flashes red. Additionally, you will get the notification in your app.
Low battery indication
This feature helps the users to replace the battery and get uninterrupted service. Once the battery level reaches the low level, this device will send a notification to you through the mobile app. Additionally, the smoke detector beep once at every 60 seconds interval along with a red LED flash. This battery indicator lets you know the low battery and also if the battery is recovered.
Replaceable battery
The device operates using a lithium battery, and it can last for one year. The device's overall lifespan is ten years, and hence you need to change the battery every year. Replacing the battery is also simple.
Easy Wi-Fi connection
One can connect the X-sense XS01 device to a Wi-Fi network easily. It uses a 2.4GHZ connection, and the best part is even there is no Wi-Fi connection, the alarm works normally. However, it will not be able to send notifications if there is no Wi-Fi connection.
Malfunction alert
One of the excellent features of this device is that even if the device is not working also, you get alerts. If smoke alarm software is not working as expected or any malfunction, the LED indicator flashes two times after every 40 seconds, and it makes 2 beeps after every 40 seconds. If you are out of your building, also you can get to know about this since it also sends you the notification to your smartphone.
Pros
Regular self-monitoring to check battery and wi-fi connection.
It works like a normal alarm if the wi-fi connection is gone.
Upgraded photoelectric sensor for increased protection and better sensitivity.
Easy to install and easy to connect to a Wi-Fi network.
Conclusion
The 9120b smoke detector is an excellent device to protect your home and other premises. The sensors are excellent, and they can alert you if there is slight smoke or fire. The warranty is also available through its lifetime, and hence you can get full value for your money. However, if you are looking to install other smoke alarms without compromising the security features, X-sense (XS01-WT) is the best choice.